Criminal lawyers in British Columbia have been given free access to an online sentencing tool accessible via their smartphones.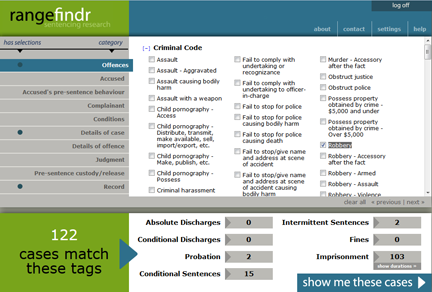 Rangefindr.ca
is being made available through Courthouse Libraries B.C., to which all the members of the province's law society have access.
The move demonstrates the increasing range of digital products aimed at legal research, and the way in which law libraries are seeking ways to supplement traditional services.
Rangefindr.ca
allows users to click on tags such as "addiction," "financial difficulties," and "injured due to offence" to see the types of sentences imposed.
Founder Matthew Oleynik, a Toronto-based research lawyer with a criminal law background, says the tool started as a "personal project" after he become "annoyed" at the limited information available on sentencing.
Rangefindr.ca
was launched last year and is available to lawyers across Canada, primarily through their firms. It normally costs around $30 a month per lawyer user.
Courthouse Libraries B.C. decided to link up with the tool as part of its new criminal practice portal. Alex McNeur, manager of web development for Courthouse Libraries B.C, said, when the library spoke to lawyers in the course of developing the portal, many said they needed access to a sentencing tool.
"Whether you're at your desk, in your home, or in the elevator, the tools you need are with you," says McNeur.
Oleynik says another province is interested in rangefinder.ca and that the number of users per month is currently in the "hundreds."
"That might not sound a lot, but the number of criminal lawyers is also in the hundreds," he says.
David Whelan, manager of legal information at Osgoode Hall's Great Library, says libraries' ability to provide online apps and tools to users can be restricted by licensing rules and finances. But he sees plenty of opportunity for developers to market niche products that build on data available through existing databases such as CanLii.
"The challenge is finding information that's available and [concentrating on areas of law] where there are similarities between the types of cases coming out," he says. Family law is one potentially untapped area, he believes.