The Insurance Corporation of British Columbia has lost an appeal in which it sought to wrest control of the domain
ICBCadvice.com
from the owners of a web site providing basic advice and marketing the services of insurance lawyers.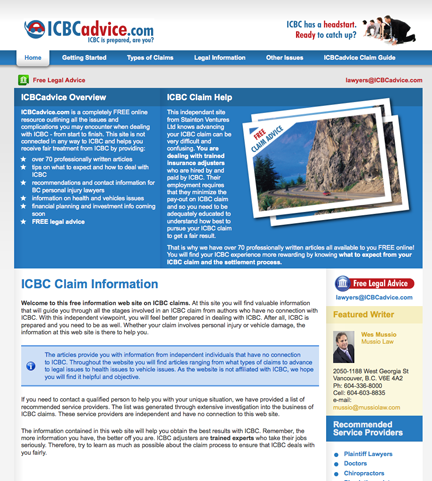 ICBC filed the initial suit against Stainton Ventures, which owns and operates the web site in 2009, claiming the use of "ICBC" in the domain would confuse consumers and violated the official mark and trademark of the Crown corporation.
The B.C. Supreme Court ruled against ICBC in 2012, and the B.C. Court of Appeal upheld the result in a
judgment
released Tuesday.
The ruling is relevant to the B.C. insurance bar because many lawyers own domains that include "ICBC" in the name, such as i
cbccases.com
,
icbc-injury.com
, and
icbc-claims.com
, to advertise their services.
ICBC argued consumers would be led to think the website was operated by the insurance provider. But the three-justice panel disagreed.
"I am unable to accept this argument as it fails to give the 'relevant consumer,' i.e., an Internet user, credit for even the most basic understanding of the function of a domain name," wrote Justice David Frankel for the three-judge panel.
ICBC, like other Crown corporations, the Canadian Armed Forces, and universities, can register official marks which have broader protections given to them than trademarks.
The test for determining an infringement of an official mark, like the acronym "ICBC," is not the same as for a trademark. For trademarks, a number of circumstances are taken into account to determine whether or not the mark could cause confusion. To be infringing on an official mark, however, the only important factor is the resemblance between the two marks and if a person could mistake them for another.
The appeal court ruled a reasonable person wouldn't come to that conclusion in the case of
ICBCadvice.com
.
"Even though there is some resemblance between ICBCadvice.com and ICBC's family of marks, the average Internet user with an imperfect recollection of ICBC's marks would not likely be mistaken by the domain name," wrote Frankel. "They understand, for example, that a domain name which, in part, contains the name of a business or its acronym will not necessarily be affiliated with or endorsed by that business and may, instead, be the subject matter of the website or entirely unrelated to that business. "
ICBCadvice.com
had numerous disclaimers on its web site stating it was not affiliated with ICBC in any way and any writing on the site was done by people with no connection to ICBC, something the court took into account.