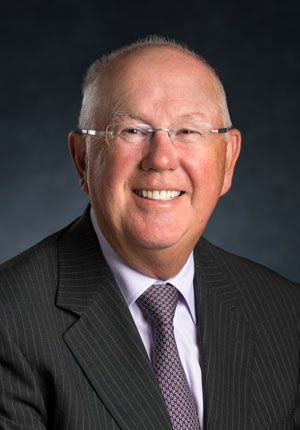 Former Justice Joseph Robertson is returning to his roots as the newest jurist-in-residence at the University of New Brunswick, Faculty of Law.
"I started at UNB as a law student and then continued on as a professor for about 13 years before being appointed to the Federal Court of Appeal," says Robertson. "I was delighted when the faculty extended a formal invitation for me to join as jurist-in-residence."
UNB Law dean John Williamson says Robertson brings a "compassionate attitude" that facilitates a better learning experience for students.
"It's good to have him home," says Williamson. "It's a nice advantage for law students at the University of New Brunswick to have a respected jurist of such depth and knowledge right here at hand, available to guide and mentor them."
UNB law students will study some of the former Justice's decisions from the Federal Court of Appeal and the New Brunswick Court of Appeal, and Robertson will be able to give insight and answer questions about cases he wrote just a few years ago.
Robertson says he is thrilled to have an outlet for sharing some of his experience gained over the last 23 years on the bench.
His judicial career started on the Federal Court of Appeal in Ottawa in 1992, and he was then transferred in 2000 to the New Brunswick court of appeal at his request due to family reasons.
Biggest lesson
"I can place some of the jurisprudence in a different perspective, in other words, trying to explain how legal rules are actually applied in practice, the ambiguities in the law, and developments in the law," says Robertson.
Most students start from the premise that what they are going to learn is the law and the former Justice wants to instill a greater question: "What should the law be? Where is the law moving?"
Oftentimes, he explains, "the law is purposely ambiguous or is in a state of flux."
Students have to appreciate that what they are acquiring in law school are the analytical skills to solve problems for which there is no obvious or immediate answer. During his years in the classroom Robertson has learned that he must untangle cases in that context. Students must articulate the legal problem to dissect various arguments, and at times, to use the art of persuasion to sway the audience to one result over another.
Robertson has found showcasing these skills is particularly useful during mooting programs where students develop their analytical skills.
Future of legal profession
Robertson says there are several developments he has noticed during his years on the bench.
For commercial litigation or personal injury litigation, there has certainly been a change in New Brunswick, he says. "The litigation practice has changed, there is not as much coming through the court system up to the court of appeal," he says. "There are insurance reforms, capping damage awards, [and] the cost of litigation is another aspect [to keep in mind]."
There are also alternative dispute resolution mechanisms and settlement conferences in the courts, which allow for matters to be resolved at the lower level.
When it comes to public law, challenges to the closure of schools and courthouses have been taking place partially due to the fact that litigation is not costly, with resolutions taking place by way of judicial review, and a simplified process.
What has surprised him as well is the number of class-action lawsuits taking place today, whereas such cases were unheard of 15 years ago.
Memorable cases
Robertson says the most difficult cases were those involving family matters and the custody of children — especially those where the parent lost all custody rights.
One of his most memorable cases was
Dunsmuir v. New Brunswick
[2008], which went to the Supreme Court of Canada.
The most amusing case he recalls was a small claims case on an eBay transaction gone sour. A University of Moncton student spent $2,500 on car parts he never received.
"By the time it ended up in the court of appeal there were about eight lawyers and one university student," he says.
The student was successful in the lower courts, but not successful on a point of law in the court of appeal.
Biggest contribution
Listening to both sides and making coherent decisions in accordance with the rules, while keeping in mind what direction the law is going, is what the former Justice would consider to be his biggest contribution to the law profession.
But, he jokes, "Just remember that at least 50 per cent of the litigants are unhappy with the decision; sometimes, it's more than 50 per cent. Even the winners aren't happy!"