After seven years working in-house, Alan Belaiche has left his role as general counsel with St. Michael's Hospital in Toronto to open his own law practice focused on health care.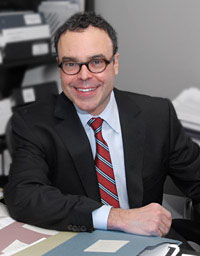 Operating under the name Belaiche Law, he will continue his practice in health, corporate and commercial, privacy and access to information, and employment law, and conflict management and dispute resolution in the health care environment.
Michelle Moldofsky, a policy and legal adviser at St. Michael's hospital is taking over as interim general counsel.
After working both in-house at St. Mike's and as legal counsel at the Ontario Ministry of Health and Long Term Care, and in a firm environment at Miller Thomson LLP, Belaiche says he decided the next step in his career would be to go solo.
"Working at a firm and in-house both have their pluses and minuses but what I've never tried is to be my own boss," says Belaiche. "Before I decided to start my own practice I thought about going back into private practice in a firm but I've always tried to be nimble in my career and the reality is law firms tend to be the opposite of nimble. This gives me the opportunity to carve out my own practice and do what I want to do."
Belaiche says hospital legal departments are under incredible pressure these days and he hopes to be able to provide assistance in core areas specific to the sector.
"As a general counsel at a hospital you always have to be ready for those emergency pop-ups when you get a phone call from a clinician in the emergency department or [intensive care unit] about a patient case and you have to drop what you're doing. You never know what is going to come your way or what resources you're going to need," he says.
Taking a cue from lawyer and futurist Richard Susskind who suggests lawyers need to find a niche to be successful in the future, Belaiche decided to combine his law firm background with his in-house health care experience and target a specific client base.
"I don't want to have a general practice, I really want to focus on health care and on those areas of law in which I've done a lot of work in and around corporate and commercial law, procurement, and regulated health professional issues and public sector labour law," he says, noting he expects health care in Ontario will be going under considerable restructuring in the next few years following the release of the Drummond report last month.
Hospitals in Ontario are also now subject to requests under the Freedom of Information and Protection of Privacy Act, effective Jan. 1. Before he left St. Mike's, Belaiche was co-chairing the hospital's FIPPA readiness task force.
"I know the health industry from a variety of different perspectives and I know hospitals from the inside out so I really want to capitalize on that expertise from the front line to help other healthy industry clients who have not had the benefit of having in-house counsel," says Belaiche.