Politicians stepping forward to defy court decisions or break the law is a dangerous trend emerging in Canada, says former Supreme Court of Canada Justice Ian Binnie, speaking last week at the Law Society of British Columbia's Rule of Law Lecture which focused on social justice.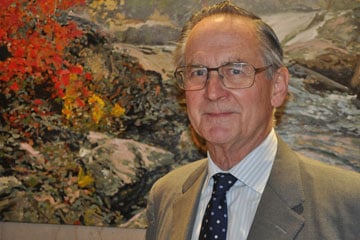 Politicians stepping forward to defy court decisions or break the law is a dangerous trend emerging in Canada, says former Supreme Court of Canada Justice Ian Binnie, speaking last week at the Law Society of British Columbia's Rule of Law Lecture, which focused on social justice.
"I think the recent popularity amongst political leaders denouncing judicial outcomes is extremely dangerous," he says, responding to a question regarding social justice as a tool to effect change and the Kinder Morgan Trans Mountain Pipeline protest, which saw federal Green Party leader Elizabeth May and Burnaby South New Democrat MP Kennedy Stewart defy a court order placing limitations on protesters.
Binnie also referred to comments made by both Prime Minister Justin Trudeau and Justice Minister Jody Wilson-Raybould following the court decision that found Saskatchewan farmer Gerald Stanley acquitted in the shooting death of Colten Boushie earlier this year. He also cited the 2015 incident where Montreal's then-mayor Denis Coderre, as a protest against Canada Post's planned termination of home delivery, took a jackhammer to a postal box slab.
Public protest and demonstration has always been a mainstay of Canadian society.
"Social protest certainly has a role,'" Binnie says. "Nevertheless, it strikes me that political leaders and the judges have to uphold the law as it is."
Binnie shared the panel discussion with University of B.C.'s Allard School of Law dean Catherine Dauvergne and National Post columnist Jonathan Kay. The discussion centred on the rule of law and how social justice played a role in reforming or hampering law.
Panelists touched on how rule of law can be undermined by governing self-interests such as the Nazi government's self-interests and South African government practising apartheid. Binnie also pointed out that Canada played a role in imposing this kind of one-sided governance on its First Nations people.
Binnie said these examples were not true rule of law but "an exercise in raw political power dressed up as the rule of law." In the case of the South African government, he says, it "had the power to impose its will and the will was subscribed as rule and the judges enforced it." In cases such as these, he said, the rule of law becomes substantively altered to a purpose such as military or apartheid, rather than serving the purposes of a democratic society as a whole.
Instead, Binnie said, rule of law draws a balance between unbiased procedural rules or processes that underscore it and objective values.
"The rule of law carries with it the notion it advances beneficial politics, not just a major exercise in power," he said.
The panel discussion also looked at how social media can detract from the rule of law such as the public outcry that emerged when the Boushie decision was handed down and there was not a proper understanding of processes leading to a verdict. Dauvergne said there is a mandate for the legal profession to promote better understanding of the legal system and the importance of the processes underpinning it.
She said the rule of law is a core commitment to a legal justice system with robust processes and access to justice for all societal individuals, while social justice is more of a political concept. The difficulty with the concept of social justice is that in a diverse society there exist diverging views and opinions, she said.
Dauvergne said the basis of the rule of law is sustained by a democratic government, all persons despite their economic or social standing having access to justice, as well as a belief that all individuals are equal in society and entitled to civil liberties.
"There is a great deal to be said about rule of law as a thin, unbreakable rail," she said, adding that the arguments that exist in social justice are often focused on the concept of how thick the rail should be.
Binnie said that while public protection has occurred and legal arguments are presented, the courts — especially over the last 15 years — have made significant strides in attempting to provide balance in the rule of law with changing societal views. He pointed to the courts sharply limiting the sexual history of a complainant as one example.
"To say that the process fails," he said, "I won't say is correct as a generalization."
However, he said, the courts are limited to go beyond what the law states.
Kay spoke of Dovey Johnson Roundtree, a black U.S. lawyer who died at the age of 104 in May. She was instrumental in effecting social change as she fought for impoverished black people and black community groups. Her most noted case was in the mid-1960s when she successfully defended a black man, Raymond Crump Jr., accused in the 1964 killing of Mary Pinchot Meyer, a white woman. It was an era when a black person in such a situation was condemned by the white society before a trial even took place.
Kay also spoke about the rule of law playing a role in the restructuring of nations after conflict, pointing to the rapid rebuilding of post-war West Germany, which saw the Nazi rule of law replaced with the U.S. democratic system as German officials were used to adhering to a system of laws. In places such as Afghanistan, the U.S. has not had similar success as the country did not have a solid rule of law system in place but was riddled with corruption at many levels, he said.