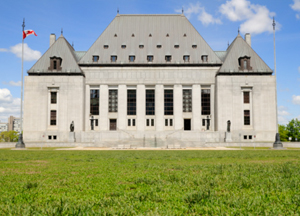 The Supreme Court of Canada announced today it has granted a leave to appeal application in a case involving a British Columbia woman who suffered a severe traumatic brain injury during a motorcycle accident.
As is customary, the country's highest court did not disclose its reasons for agreeing to hear arguments in the case of
Clements (Litigation Guardian of) v. Clements
.
The matter involves Joan Clements, who suffered her injuries while riding in rainy conditions on a Harley-Davidson motorcycle driven by her husband, Joseph Clements. The trial judge at the Supreme Court of British Columbia, Justice Christopher Grauer, ruled the husband was negligent in two ways: first, he was driving at an excessive speed — at least 120 km/h in a 100 km/h zone — and, second, his 1998 Harley-Davidson Road Glide touring bike was overloaded by 100 lbs. more than the gross vehicle weight rating in the owner's manual.
Grauer applied the material-contribution test after finding that the wife had failed to meet the generally applicable but-for test for causation, and ruled that causation had been established, making the husband liable for the wife's injuries.
The B.C. Court of Appeal overturned that decision in December 2010 and dismissed the action.
Justice David Frankel, writing for the unanimous appeal court panel, noted Grauer found that the wife's counsel had failed to show that the motorcycle wouldn't have capsized but for the husband's negligence.
Once that determination was made, said Frankel, the trial judge should have ruled that causation was not proven.
"This is not a case involving either circular or dependency causation," wrote Frankel, referring to considerations applicable to the material contribution test. "Rather, it is a case like many others in which, given the current state of knowledge, it is not possible to prove whether the negligent actions of a defendant caused harm. I do not consider it either unfair or unjust . . . not to fix Mr. Clements with liability when Mrs. Clements has been unable to show factually that his negligence was a cause of her damages."