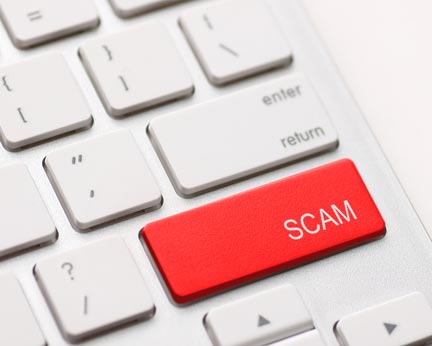 A Toronto man has been sentenced to 12.5 years in an American jail for running an international $13-million Internet fraud scheme.
Alex Sualim, 44, a foreign national from Nigeria who was using advanced technology tools to prey on American victims, was sentenced Monday by U.S. District judge Susan R. Bolton in Arizona and ordered to pay more than $13 million in restitution. Earlier this year he pleaded guilty to conspiracy to commit wire fraud.
Sualim operated what law enforcement officials refer to as a "sophisticated international fraud scheme" that crossed four continents and swindled millions of dollars from more than a dozen victims. In a statement, a U.S. Internal Revenue Service special agent said the sentence "reflects the severity of his egregious crimes."
When he was running the e-mail scheme, Sualim lived in a multi-million dollar waterfront home in Toronto and had a fleet of luxury cars including a Porsche and a Tesla. Under his plea agreement, Sualim agreed to liquidate more than $2 million of his Canadian assets, to repay victims.
Between 2008 and 2013, Sualim helped operate a scheme in which he would create a web site for a Canadian company that claimed to manufacture semiconductor chips. He would then set up passports, e-mail accounts, and toll-free phone numbers for the Canadian company's fake employees. He then sent millions of solicitation e-mails to Americans whose addresses he had purchased from a spam vendor.
The e-mails explained the Canadian company needed a product called "silicon germanium" to manufacture its semiconductor chips, and that it needed to enlist an American distributor to obtain the product from China, and the Canadian company would cover the entire upfront cost of the product.
Victims who expressed interest would be sent a series of e-mails with purchase orders, proposed contracts, and other documents created to make the transaction look legitimate. However, on the eve of the first shipment from China, the victim would be told the Canadian company's financing had fallen through and the American distributor needed to supply some of the upfront cost.
If the victim agreed, the would be told how to wire his or her portion to an overseas bank account — usually in Cyprus, Greece, Hong Kong or China. Several other layers of communication and pleas for more money ensued. Victims who continued to send money ultimately received packages that were filled with worthless filler material.
Once victims discovered they were being scammed, their supposed Chinese and Canadian counterparts would stop responding to e-mails and phone calls.
The scheme Sualim created is similar to ones that have "been going on for decades" says Mark Hayes of Hayes eLaw LLP, first by mail, then fax, and now e-mail over the last decade or so.
"The interesting part about this one is that the scammer lived in Toronto — most of them live overseas somewhere and it's much harder for authorities to identify and extradite them," he says.
The FBI and IRS work together with the RCMP on the investigation over several years.
Last year, in Massa v. Sualim, Ontario Superior Court Justice Thomas Lederer looked at whether or not the RCMP was authorized to disclose information concerning Sualim to a lawyer at a private firm acting for Leon Massa.
"The defendant wrongly believed being outside the United States gave him the freedom to carry out his criminal activities. The FBI remains committed to pursue these criminals wherever they may hide. This case is a fine example of the partnership the FBI has with our international law enforcement partners through our legal attaches, as well as with domestic law enforcement agencies – all working together to bring justice on behalf of our citizens," said FBI special agent in charge Douglas Price.