Province passes bill to increase number of puisne judges to 95, creating nine unfilled vacancies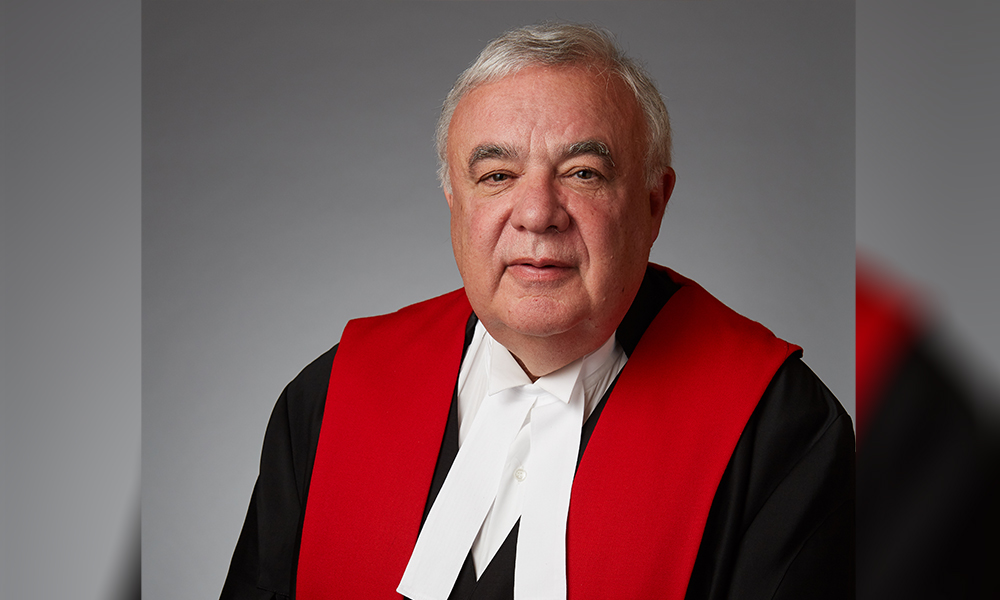 The B.C. Supreme Court is facing a judge shortage that could lead to long delays, says Chief Justice Christopher Hinkson, with the Covid-19 pandemic potentially making it even more difficult for the court system to catch up on hearing cases, especially civil matters.
"We have had a dramatic increase in population in the province in the last 20 years, we've had a dramatic increase in the number of filings of civil claims in our courts," Hinkson says, but "there hasn't been any real increase" in the court since the mid-1990s.
As a result, he says "we've seen an increase in the length of time before which we can schedule a hearing, whether that be a trial or some other kind of hearing."
The Chief Justice says the increase in the number of "bumped hearings" — hearings that have been scheduled for which there is no available judge — has increased dramatically, to 218 in 2017 from 69 in 2008, and rising to 281 in 2019.
"What happens with those cases is they go back to the bottom of the list, because we have fully scheduled judges for the following 12 to 18 months," he says. This is a problem for access to justice, he adds, as lawyers not working on contingency must "down their tools" and come back a year or so later.
"Clients have to pay for lawyers to prepare again," he says, since lawyers "can't be expected to retain what they need to try a case over that length of time. That is an added expense to litigants."
The Covid-19 pandemic is also having an impact, Hinkson says, pointing out the court had 1,114 trials, including criminal cases, cancelled during the time when courtrooms were closed. Of those, 531 have since been rescheduled, but there still is a backlog that will have to be addressed, Hinkson says.
"That's another reason why it would be helpful to have a full court with no vacancies," he says, adding that the pandemic has meant court proceedings will be taking longer, even to accommodate things like sanitizing witness boxes.
Hinkson says that B.C. Supreme Court has had a "chronic problem" with the number of outstanding vacancies at any given time. At one point it was as high as 14 vacancies, which is about 15 per cent of the court. Compared to other provinces, the average judge per capita in B.C. is 43,000, the lowest in Canada, which has a national average of one per 31,000.
Until recently the B.C. Supreme Court Act provided there should be 90 puisne judges, plus a chief justice and an associate chief justice, which would bring the total to 92. However, Hinkson says the federal government has not filled the 90th puisne position, leaving three recognized vacancies, which Hinkson says is "certainly better than the 14 vacancies in the past."
As a rule, the court can accommodate court business for a short time with these three vacancies, Hinkson says. "The difficulty is if we have too many vacancies, the existing judges are pressed to give up vacation time and reserve writing time so that we can get the cases heard, which delays the length of time people have to wait for a result, which isn't satisfactory, and it burns out the judges."
Hinkson says the shortage is affecting civil cases more than criminal cases. Those criminal cases rubbing up against a timeline that would constitute an unreasonable delay are given priority, he says, as are urgent cases such as family law cases requiring quick action, so "generally it is the civil cases that have to wait."
Earlier this summer, the B.C. government passed legislation that would increase the number of judges in the court to 95, from 90, plus a chief justice and an associate chief justice, theoretically bringing the total to 97, if the 90th position were recognized by the federal government.
"Amending the Supreme Court Act to allow for the appointment of 95 Supreme Court judges aligns with the ministry's mandate of improving access to justice in British Columbia," the ministry of the Attorney General said at the time the legislation was passed.
Hinkson says while the federal government some time ago "notionally" allotted those five new positions to the B.C. Supreme Court, he has been told "they no longer exist."
The positions "have evaporated from the pool because they were there for too long," Hinkson says, "so the federal government would have to provide in a budget for five additional positions, which they have not done."
If one goes by the provincial legislation, "the court is actually now missing nine appointments," Hinkson says, but "according to Ottawa, there are only three vacancies."
Hinkson also notes that B.C. is in a "unique" situation when it comes to dealing with claims of First Nations. There are five treaties in the province, which covers a very small portion of the province, he says, "so when there are issues over land claims, we have no treaty to revert to."
The result is that the courts must go through a lengthy factual analysis of First Nation claims. There are now five in the province, with hearing days ranging from two to 500. "If we assume that judges in British Columbia are going to sit 141 days a year, a 200-day hearing is a year and a half for one judge, and a 500-day hearing is more like three-plus years." With judges devoted to these cases, they "simply aren't available to hear anything else."
Hinkson says a new Abbotsford courthouse, due to open next year, is another complicating factor. The $150 million, 16,500-square-metre project is intended to have 14 courtrooms, along with rooms suitable for case conferences, restorative justice and Indigenous justice cases.
The new facility has three Supreme Court courtrooms, and three of the vacancies Hinkson is looking to fill would be notionally earmarked for Abbotsford, Hinkson says. However, he says he'd prefer to have at least some of the Abbotsford positions filled by existing judges in the province who would be willing to move to Abbotsford, and then slot new judges into other locations.
"I would prefer to have some varying experience [in Abbotsford] to help judges and to ensure that there is sufficient expertise for litigants to be confident that they are getting their cases heard I an appropriate fashion."
However, "it's not always certain that a sufficient number of judges will be prepared to move" Hinkson says, so the other solution would be to move judges "in and out of Abbotsford, which is not ideally what I would like to be doing."