Decision based on a few days of consultation could yield unintended consequences, says letter obtained by Canadian Lawyer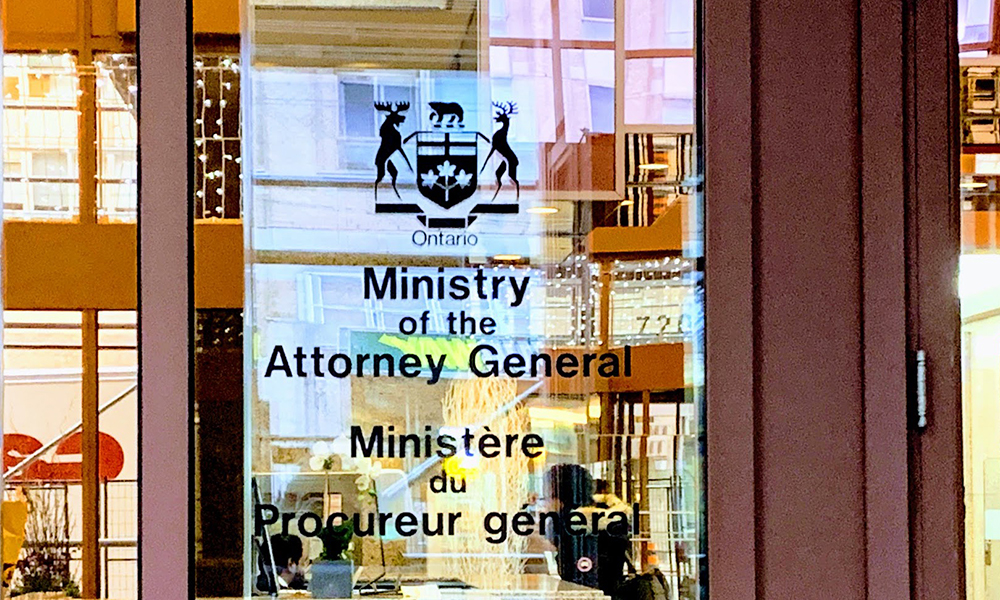 The Federation of Ontario Law Associations says the province's attorney general needs more than a 10-day consultation to justify a permanent elimination of civil juries.
A letter from the chair of FOLA says that the MAG's recently completed consultation — which began after-hours on a Friday and spanned just five business days — put its 12,000 lawyer members in an impossible and unreasonable spot.
"Although we fully appreciate the current health crisis that is being faced as a result of the COVID-19 pandemic, we suggest that the fundamental right to a jury trial in a civil case requires more careful consideration before it is eliminated," says the letter, obtained by Canadian Lawyer. "We have concerns about the unintended consequences of such a significant change in our judicial system without the benefit of a more complete review. . . . At this stage, we do not have sufficient information to simply answer the questions you have posed, nor do we feel that appropriate review and consultation has occurred."
The debate over the presence of jury trials in civil proceedings has spanned 150 years, by FOLA's estimate. The most recent version of the debate comes as the COVID-19 pandemic, and subsequent court closures, has created a backlog of proceedings. When the consultation asking the legal community about potentially eliminating juries from civil trials was first reported by Canadian Lawyer on June 9, lawyers said their clients are in limbo, with no trial date in sight after months of adjournments.
However, FOLA chair William Woodward wrote in the letter to the attorney general that many of the anecdotes raised in the debate over civil juries have been refuted by statistics, particularly those gathered in a comprehensive 1990s report. That report indicated that the presence of juries did not have an impact on the predictability or cost of a case's resolution.
"Although the request for input received last week does not suggest any reason for considering the elimination of civil juries at this time, beyond the current health crisis, it appears that the same foundations for such a fundamental change of our system of civil justice continue to be advanced now, just as they were 24 years ago," wrote Woodward. "We have not been provided any data or studies that would suggest that such a fundamental right should be eliminated in response to a discrete event such as the pandemic we are currently facing."
Rather than eliminate civil jury trials amid the global pandemic, the associations urged Attorney General Doug Downey to consider temporary measures.
"Temporarily suspending jury trials will allow a chance to clear the backlog created by Covid-19 and allow more time for meaningful consultation and study on the long term jury retention issue," wrote Woodward, who practises insurance defence but evaluated the MAG's consultation alongside a plaintiff personal injury lawyer. Woodward also noted that "the backlog of civil jury cases has not been created solely by the pandemic."
"In most, if not all, judicial regions, systemic issues within our administration of justice, including the lack of judicial resources, developments in the law which prioritize criminal and family matters and the lack and/or deterioration of infrastructure to support the legal needs of our expanding population has resulted in significant civil trial delays," said the letter.
Omar Ha-Redeye, the executive director of Durham Community Legal Clinic, argued in his submission that eliminating juries will not reduce the current backlogs in the court system.
"Rather, the removal of civil juries will prevent individuals from having their case heard by their peers, and may further entrench the divide between marginalized and low-income individuals and members of the bench," wrote Ha-Redeye. "If reforms are needed to the civil jury system, a better place to start is with the deductible in personal injury cases. This is the only example in Ontario where civil juries are creating an unnecessary use of judicial resources. It is a problem that can be addressed without dispensing of the jury system itself."