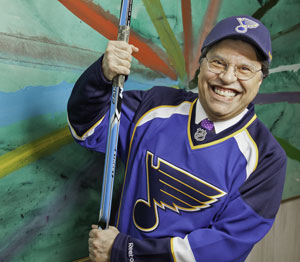 Jim Rossiter isn't afraid to get his elbows up with some of the most important figures in the NHL and if he doesn't get his nose dirty, he knows he's not doing his job.

Fourth-line enforcer for the Winnipeg Jets? The job description sure sounds like it, but the Toronto-based hockey wars veteran has never lined up for a single professional face-off. Instead, he's the team leader of Dentons' sports group, overseeing a global crew that works on buying and selling teams, financing them, and developing, building, and financing the venues they play in.

Rossiter began his career as a tax lawyer but once he got pulled into a tax-flavoured financing for the Ottawa Senators in 2000 — he represented Lehman Brothers — he was hooked.

A quick check of Rossiter's career statistics shows assists on more than a dozen acquisitions and/or financings of NHL teams in the U.S. and Canada, amounting to more than $1.6 billion worth of deals. They include the financing of the Edmonton Oilers and its arena, Rexall Place, and similar work for the Dallas Stars, St. Louis Blues, Ottawa Senators, Montreal Canadiens, Florida Panthers, and Arizona Coyotes. He doesn't score every time, however. Another 10 or so hockey deals that he acted on got away. You win some, you lose some.

Rossiter has worked across all sports and is quick to say he doesn't work in a practice group — it's an industry group. "There is no such thing as sports law. All you're doing is sports transactions.
What's unique is the industry. There's no such thing as sports law, it doesn't exist," he says.

If the persistent rumours about some franchises relocating — Florida Panthers, anyone? — or the NHL approving expansion to Las Vegas, Seattle, or Quebec City continue, the kinds of services Rossiter and his team provide will continue to be in high demand. Even if nothing happens, though, Rossiter figures to be busy because his skillset is transferable to other sports. (Does this make him the Bo Jackson of the legal world?) He's in the middle of a deal to buy an NBA franchise and has worked on a number of basketball-related deals in the past but it's overseas where he sees the biggest potential for growth. "There are a lot of football [soccer] clubs for sale in the U.K. and Spain," he says.

While he jumps from sport to sport, the one thing that doesn't seem to vary is the net worth of his clients. You don't buy a professional sports franchise of any kind without having a lot of zeroes in your bank account. Monster local, regional, and national television deals have driven the value of many sports teams to the stratosphere. "There's a lot of money in the system and a lot of really rich guys who want to buy teams. They are very sexy assets," he says.

When he was asked about the valuation methodology and justifying numbers while working on a deal for the NFL's Buffalo Bills last year — one that didn't make it across the goal line he joked — "I was asked, 'what's the multiple?' and I said 'it's equal to 10 per cent of the net worth of the richest guy at the table.' It's kind of true," he says with a laugh.

When surrounded by so many famous people, it's easy to get star struck in the sports business. Rossiter cautions it's important to keep your eye on the ball. "It's a lot of fun. I get paid to go to hockey games but you can't let that be what drives you," he says.

Indeed, when Rossiter was working on the financing of the Montreal Canadiens, he was very particular about who worked on the file. "We had young lawyers lined up outside my office but we didn't want any of them. We don't want fans. We want people who will do the job," he says. "It's about the business, I don't get mesmerized, no matter how fascinating it is. People don't hire me to go out and be a cheerleader. Basically, I'm buying the thing. When I do due diligence, I rip into the numbers. I've got a good track record of closing difficult deals and I've done some of the toughest deals in professional sport. It doesn't matter what's happening on the ice, court, or field, that's somebody else's job. You can get caught up in it and that can influence your judgment."

Perhaps the most challenging element of working in the sports business is the media. In no other legal space is there so much media coverage, particularly with hockey north of the 49th parallel.
"Stories will be written no matter what you do and leaks will occur no matter how hard you try to control the process. Sports reporters will be writing about your deal who do not have a business background. And, they'll be using sports metaphors," he says. "Ignore the stories, especially the bad ones. In the end, inaccurate media will not drive a deal unless those doing the deal start reacting to the media. Hire a media relations expert and let them handle it, they're worth their weight in gold."

Working on an NHL deal, or any other pro sports deal, is different from most transactions because there are more than just the two parties involved. The leagues take a very active role, which can throw people off. "You've got to understand the league's role, they're speaking for the other teams. They're like the securities regulator," he says.

Just as in other legal specialties, it didn't take Rossiter long to realize that delivering good service goes a long way towards retaining clients and benefitting from positive word of mouth. "I'm very dogged and determined. I have a long view. These deals take a long, long time and I'm very patient," he says.

Even after more than a decade in the field, Rossiter doesn't get tired of the rush and he wants to keep adding to his statistics. "If somebody calls me from San Diego and says 'I want to see you for lunch tomorrow about selling my team' then I'm on a flight to San Diego tonight," he says.