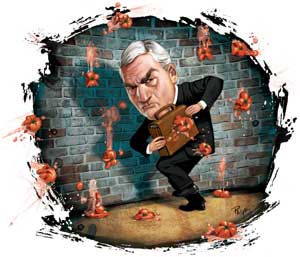 What do you think of the trial of Conrad Black? Hold your answer for a moment while you do a small thought experiment. Imagine if the Canadian on trial in Chicago wasn't a conservative media baron, but a liberal one. Those exist, too. Someone like the publisher of the Toronto Star.
Now go further, because Black isn't just a conservative businessman. He's a conservative champion, an activist. So a more accurate analogy would be Maude Barlow or Stephen Lewis, or Mel Hurtig at least. None of them have ever created billions of dollars of wealth in the private sector, but they'll do for our purposes.

Imagine if the prosecutor in Chicago wasn't a Democrat with impeccable anti-Bush credentials like Patrick Fitzgerald, who made a name for himself by chasing Dick Cheney. Imagine if the prosecutor was an arch-Republican, someone such as Ken Starr, who made a name for himself chasing Bill Clinton.
What if Hurtig had been indicted in the U.S. for a Canadian business deal — a deal that has not led to any charges under Canada's securities laws?

What if the U.S. Securities and Exchange Commission sought the extradition of Hurtig, and hit him with the largest bail — $20 million — ever levied in American history, more than extracted from the Enron or WorldCom defendants?

Is there any doubt about what the response from official Canada would be?

Amnesty International would call the charges against Hurtig political, and would issue a report, downgrading the independence of the U.S. judiciary. The report would be filed at the United Nations, amidst much clucking.
PEN and other freedom of the press groups would hold fundraising dinners in Hurtig's honour. Rubin "Hurricane" Carter would be the keynote speaker, talking about the excesses of American prosecutors. Nelson
Mandela would send his regards by video, from one freedom fighter to another.

Parliament would issue proclamations and declarations and execrations. How dare the United States seek jurisdiction over a Canadian publishing legend. How dare the Ontario Securities Commission meekly make way for the Securities Exchange Commission — even assist in its legwork? How dare the state of Illinois try to colonize the province of Ontario with its legal system?

The law reviews would describe how modern U.S. prosecutions crush defendants before trials even start, under the cost of endless motions and hearings, how anti-racketeering statutes have been abused against innocent businessmen, and how the overgrowth of corporate governance laws has become a bigger problem than that which they sought to remedy.

One clever law professor would propose Hurtig be granted diplomatic status for immunity from U.S. prosecution. The NDP would propose a motion to that effect in Parliament.

Free Hurtig T-shirts would sprout up alongside the Free Mumia and Che Guevara shirts on campuses. Hurtig would be made an honorary doctorate of laws. A Canadian Supreme Court justice would award it. There would be hugging.

And the media. The pages of the papers would be filled with lurid details of excess —not of Hurtig's personal extravagances, but those of the U.S. prosecutors, and how they and his civil antagonists have spent close to $100-million so far pursuing Hurtig, $100-million of taxpayers' money and shareholders' money, a sum already far greater than the total amount of the non-competition payments in question.

They would talk about how the out-of-control American culture of litigators of fortune — private lawyers out for massive fees, public lawyers out for politically favourable headlines — has destroyed a successful Canadian company, an international force for Canadian culture and temperament, brought to its knees by America.

But it's not Hurtig, an amiable if middling hero of the left, known more for relying on government grants to publish than for actually making any money at it. It's Black, an unapologetic conservative. And that has made all the difference.

It is tempting for many to wish Black the worst for reasons that have nothing to do with the merits of his case. Too much discussion of Black's trial has been coloured by the professional rivalries of other journalists and publishers; or ideological rivalries of leftist political partisans; or business rivalries of competing investors. That's too bad.

It is precisely defendants like Black, who so irritate the left, for whom liberals must insist on the dispassionate application of the rule of law. For whatever precedents are set in a political frenzy today lie in wait for another defendant tomorrow. Probably not Hurtig — he's not doing any big deals lately. Someone less pugnacious, with fewer resources to defend himself, for whom Canadian legal support will actually be needed.