Ben Irantalab, Liane Brown, Lara Fitzgerald-Husek, and Karen Vigmond join the firm's partnership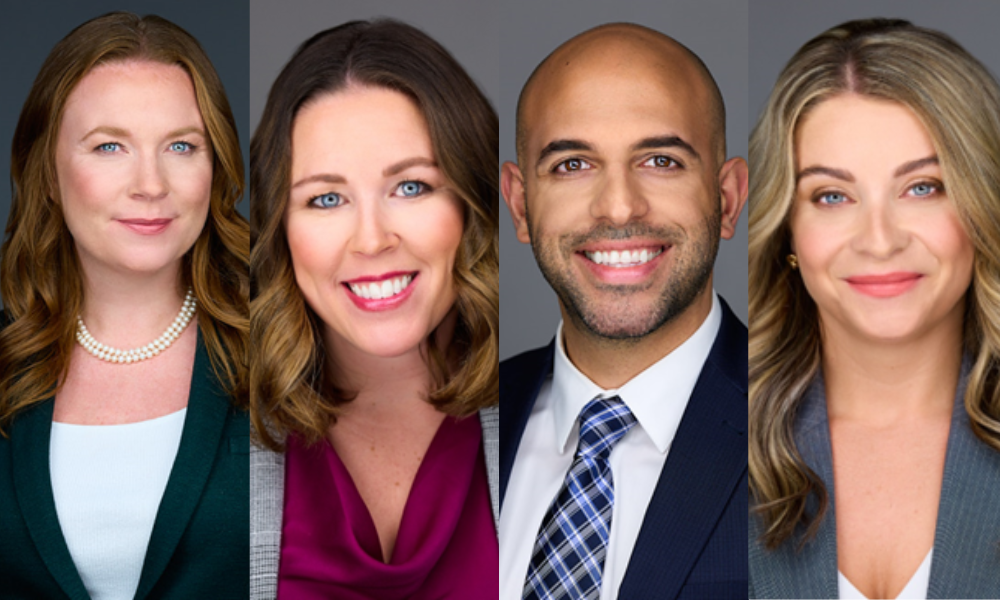 This article was produced in partnership with Oatley Vigmond
Greg Hudson of Canadian Lawyer spoke with Oatley Vigmond's new partners about mentorship and their love of litigation
Oatley Vigmond's four newest partners all share a love of litigation. They're also united by an appreciation for the mentorship and personal connections they've developed while at the firm.
When Ben Irantalab first joined at Oatley Vigmond as a summer student in 2013, the only thing he was certain about was that he wanted a career in litigation. His perspective broadened when an Oatley Vigmond partner invited him to join a meeting with a potential new client, a young hockey player who would never walk again. "It was there that I understood the important role that personal injury lawyers play in the lives of the severely injured, and it was then that I decided to become a personal injury lawyer," recalls Irantalab. Without that partner's invitation, and subsequent mentorship, Irantalab might never have had his realization about the unique way he could help people.
Irantalab isn't the only new partner influenced by Oatley Vigmond's commitment to helping young lawyers. It's why Liane Brown has spent her entire career at the firm, starting as a summer student in 2011. "The partners supported my development from eager law student to competent lawyer," she says. "I was given exceptional mentorship and the freedom and independence to run with various files. A mentor once told me never to copy another lawyer's style," Brown adds. "You have to find your own voice and way to do things. If you are not authentic, you won't be persuasive. The most persuasive lawyers are the ones who are sincere."
New partner Lara Fitzgerald-Husek also was influenced by the values and actions displayed by her mentoring partners at Oatley Vigmond. The lesson was clear: "Honesty and integrity can never be compromised," she says. "Keeping your word and being fair with clients and counsel are all cornerstones of a successful legal career. Being a partner means continuing to mentor the next generation of legal talent and to continue to promote diversity and inclusivity in the firm."
Karen Vigmond grew up watching her father work as a personal injury lawyer. She knew it was a challenging field, but she also saw the satisfaction he got from his job. "I, too, wanted a career where I could constantly be challenged and help people," she says. Although it was daunting to begin her career in her father's shadow, she began working at Oatley Vigmond in 2013.
What helped her distinguish herself was what had drawn her to Oatley Vigmond in the first place: mentorship. "The transition from articling student to lawyer is very quick. However, learning to run a file from beginning to end, to find solutions to the numerous problems that arise—that takes years of experience," she says. "I was lucky enough to have a mentor who has shaped my career in a very significant and positive way."
Oatley Vigmond's long-standing commitment to mentorship shouldn't be surprising, because it's an extension of the genuine care they extend to every client. It's one of the reasons the firm's new partners fit in so well: like their mentors before them, they each became lawyers to help people.
"These talented lawyers represent the firm's future, and we are delighted to welcome them to the partnership. Progressing to partner reflects many years of hard work and highly successful client advocacy," explains managing partner James Vigmond. "This promotion provides an important opportunity to celebrate our first female partners, as well as the depth of talent we have at Oatley Vigmond. Getting to see our younger lawyers from diverse backgrounds make partners is one of the highlights of being a law firm leader."
Oatley Vigmond is consistently ranked as one of the top personal injury law firms in Canada, with over 40 years of experience and a successful track record.