Law firms are increasingly looking to hire lawyers on a contract or temporary basis.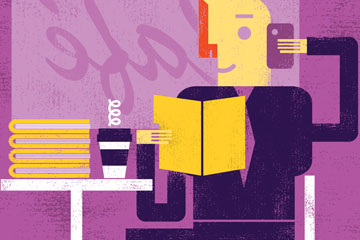 Law firms are increasingly looking to hire lawyers on a contract or temporary basis.
It was an overall lifestyle choice that prompted Bruce McMeekin to leave the Bay Street law firm where he had been practising for 25 years and convert space in his Port Hope, Ont. home into an office. But he burned no bridges on the journey to independence. He's still connected to the firm and is on the radar for other law firms that may call upon him for his expertise when there's a conflict or when their clients are concerned about costs.
The approach has allowed him to get the work-life balance he wanted while concentrating on niche areas of law. And on the flip side, for the firms as well as businesses seeking his services, they get access to someone with vast experience in anti-money laundering and other areas of strict regulation, often at a very attractive price, since he doesn't have the huge overhead of a downtown firm.
"There's nothing better than working for yourself and meeting your own expectations. I worked with a lot of great people at Miller Thomson and I still have a lot of friends there, but for me it's been a good move because it gave me as a person nearing 60 the freedom and flexibility I wanted," he says.
According to a 2016 Robert Half Legal survey of 350 lawyers at large law firms in Canada and the United States, a majority — 56 per cent — use lawyers on a contract or temporary basis for work on large projects that require more resources than are available at the firm, and 44 per cent use them for cases or matters requiring a specific type of expertise.
Lawyers looking for contract work might include those working part-time to raise children, those with other obligations and pursuits, such as additional education, or lawyers who have relocated and are trying out different firms and using it as a networking experience, says Marisa Ellis. As regional vice president for Robert Half Legal, which assists firms with lawyer recruitment, Ellis says she also sees "people that just sort of thrive on new experiences and kind of have an entrepreneurial spirit and are committed to ongoing learning and just want to be a consultant, and they don't want to do it on their own because they don't want to deal with the paperwork associated with working independently," she says. "I'm definitely seeing an uptick in it because companies have the opportunity to work with experienced consultants for special projects and they may not need [them] all year round or for interim roles."
Firms, she says, are being smart about their staffing models and may bring in talent for specific projects when it's required. It gives them the flexibility to balance the number of lawyers they have working full time and those they use for specialized or interim work. She points to needs outside of current budgets, which could necessitate extra help when there's no plan to add positions during that period.
She says commercial litigation, general business and corporate law and real estate are in demand in Canada. Ellis has also seen a recent increase in general counsel seeking contract lawyers for corporate transactions and labour and employment law.
Often, firms are getting help with high-volume work as well as litigation involving document review. "While we are not taking the place of outside counsel, we are able to come in and provide extremely cost-effective and scalable staffing resources on the front end of projects — first pass reviews, etc. — to leave the higher-level and more substantive work to the firm's billable staff. We are business partners with law firms providing a solution to their end clients that increases revenue potential and business wins without giving up client relationships. We've found law firms utilize Robert Half Legal's value proposition to actually win more business," says Ellis.
But that approach isn't exclusively used by Big Law. Anton Katz has a specific role in his Toronto small business practice that he contracts out to another lawyer he trusts. It's efficient and also profitable.
"I do contract out some research and drafting for my litigation files. I have been fortunate enough to find someone who does research and drafting and I have found him to be very effective and cost effective and his work is timely and can be relied upon and can be done at a lower price point than what I would bill out at my hourly rate," he says. "If you're in business, if you're an entrepreneur, I think you have to adopt a mindset that you're going to, as far as possible, just to free yourself up for the best use of your time and your mind."
McCarthy Tétrault LLP began using lawyers outside the firm about five years ago, starting with non-Canadian qualified lawyers offshore in South Africa and that expanded to onshore lawyers. Matthew Peters, the firm's national innovation leader, figures McCarthy's slate has 100 Canadian-qualified lawyers available to the firm, about 55 currently active and another eight to 10 offshore. Most of the contract work is related to due diligence and document review as well as discovery for litigation.
But McCarthy's use of contactors continues to develop and build as it works toward a seamless system in determining how the contractors are engaged and used as well as implications such as law society insurance. "The experience is really positive. What we really like about it is we hire incredibly talented young lawyers and we have the opportunity now to really expose them to more complicated sort of work earlier in their career. Things that are more rote and repetitive we can take off their plate and provide a better option for our client and a better option quite frankly for our young talented lawyers."
By freeing up staff lawyers from some of the routine work, they are able to delve deeper into files earlier in their careers. Reviewing hundreds of leases is no longer part of the professional development in the firm, says Peters. "It's a richer experience for the lawyers we're hiring and great alternatives for people who are looking for different career paths for those who want more flexibility and taking jobs as one may have time."
He sees it as positive for the profession, as well as the individual lawyers and the firms, which are constantly pressed to find efficiencies. The challenge, however, was managing the process and the dozens of contract lawyers working on the firm's files at any one time. McCarthy's found something of a symbiotic relationship building its legal contract outsourcing in to its legal project management process, which had been implemented a few years earlier. Project management conversations, Peters says, naturally lead to efficiencies and the inclusion of outside lawyers.
McCarthy's team involves project managers, technologists who can leverage and build out technology and quality control lawyers. That team, and the process and experience it has built, can then be used by the clients, freeing them from having to develop it themselves. Peters believes it's important to combine efficient, high-value service for the client.
Managing his network of 20 lawyers was also an issue for François Sauvageau's Sauvageau & Associates, which specializes in the recovery of debt out of offices in Quebec and Ontario. Outside lawyers are used primarily for court appearances in communities across the country. "We tend to handle the skilled process internally, in a centralized location," he says. "It's only when court appearance is necessary that we will contract with a local lawyer to assist us with the progress of matters."
With four lawyers, five regular contract lawyers and 40 support staff, Sauvageau is building a national practice. He has been called to the bar in Ontario, Quebec, Alberta and British Columbia and, before year's end, will add Saskatchewan and Manitoba to that list, but he still relies on the knowledge and expertise of local lawyers.
"But taking a case, which has [an] implication in a different jurisdiction, doesn't mean that we're comfortable handling the entire case, so that means a need to hire a local counsel as an expert or as a correspondent to attend court when required," he says. "The difficulty with this growing practice and growing tendency is the management of correspondents. A law firm like ours who find ourselves in the position of hiring many correspondents is dealing with the same problem that a large business would have when dealing with various external counsel."
The challenge was finding a platform he liked specific to a litigation practice. He found there was nothing to safely control the litigation process once it's assigned to a partner using a consistent process. So he developed his own to manage external counsel called Nucleus. It allows his firm to assign accounts without having to shoot off numerous emails and documents, as well as gather national metrics along the way with relevant data all in one place. It is also designed to allow him to seek the approval of local counsel automatically. The result, he says, is a more efficient practice, which reduces cost and cuts down on unnecessary communication between the office and the correspondents.
The idea behind the product, which is still in development but is being used internally, is to create a mini legal community connecting the firm to the client and external providers including lawyers, process servers and paralegals and provides them with the access they need without giving them the entire file. He expects to start marketing the product in about a year's time. The hope is that it will eventually connect with the court system as well.
McCarthy's Peters believes that law firms are behind other industries in contracting out work and looking at the other industries, and that there's still room to build and manoeuvre. "The good news is we're an industry behind many others, so we have great examples around us to show us what the examples look like so there's advantage to a slow-to-adopt industry to leverage what we can and not make the same mistakes."