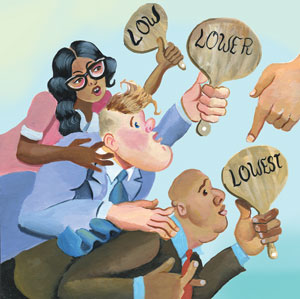 When McCarthy Tétrault LLP was asked to bid for work through a reverse auction, the Canadian law firm set out to explore the intricacies of the competitive bidding process. It then put together a team to develop a strategy on how it would proceed and created a tool allowing its members to immediately see an earnings analysis as bids changed in real time.
Reverse auctions build upon the approach typically employed in request for proposals and are primarily used for large-volume legal work in an attempt to clearly define the work required, identify appropriate firms that could do the work and then seek out competitive pricing. It's being used in the United States primarily by large corporations in search of creative alternative fee arrangements and is slowly being introduced into the Canadian legal marketplace through international companies.
But so far, it hasn't been embraced by Canada's business world and many lawyers have eyed the approach with a great deal of apprehension. There is a fear that firms are being pushed into a corner, far from their comfort zone of the billable hour, and are being asked to discount their rates.
McCarthys hadn't before bid on work through a reverse auction when it was invited to participate in one by a multi-national corporation. And the experience was not consistent with the fears expressed by the legal community. "The process is run very well" and the forum allows for development of the relationship, observes Matthew Peters, a partner at McCarthys and its national innovation leader. "Price is clearly a factor that they're taking into consideration and organizations weigh that differently." But, he adds, just like RFPs, price isn't the only consideration. Talent and expertise are also heavily weighted in the consideration.
The process begins very much like an RFP in that the corporation lays out what it expects from the firm, what the work entails and how it anticipates work will break down. The firms then respond, detailing their proposed approach, the team it expects will be involved and its relevant experience and specific expertise. The company then selects the firms it is interested in working with and invites them to participate in an auction. There are a variety of different ways the auction itself can be conducted, but a typical auction is a timed, real-time, online process that might last only 20 or 30 minutes.
The idea of reverse auctions is to get law firms to compete for the legal work by lowering their bid over a short period of time by seeing the bids made by other firms, although they aren't able to see the names of the other participating firms.
GlaxoSmithKline started using reverse auctions for legal services in 2010 and continues to use them almost exclusively for any legal project worldwide that is valued in excess of US$250,000. The pharmaceutical company uses third-party software to conduct the live online auction, but the entire event as well as the preparatory work is managed and handled internally.
For GSK, it begins with a request for proposal template where firms provide details on why they're the best fit for the task. GSK will provide its assumptions of what's involved, explains Justin Ergler, director of alternative fee intelligence and analytics. In a situation that involves litigation, for instance, that would include what motions are anticipated, the number of experts expected on each side, the length of the trial and the related work.
GSK seeks "the right value combination" — which it defines as a combination of price and quality. "If somebody says you know what, it doesn't matter the price because their experience just isn't on par with the other firms, well then they shouldn't be shortlisted because that's not fair to them and it's not fair to the other firms," says Ergler. "So we have a level playing field, based on the assumptions."
The project is laid out in stages so the total bid will be divided into areas. Each firm will provide its estimate for each section and that is put online for 24 hours, allowing all the participating firms to see where they rank in each stage of the project compared with the other firms. The firms can then have an internal discussion about their rankings for each section of the bidding and plan their auction strategy on whether to lower part of that bid if they've come out with a price that is higher than most of the others. But that 24-hour posting is just a viewing period that immediately precedes the auction, which lasts for only 20 minutes.
Ergler is careful to put fears of the commoditization of legal work to rest. The firms invited to the auction are chosen for their quality of work and he says only the firms that GSK would hire are invited to participate in the auction. "That's not to say the lowest-priced firm shouldn't be picked, but the decision needs to be made based on that value proposition: the financial and the substantive," he says.
Throughout, there's ongoing communication and the company strives to build confidence that it has developed a level playing field and that it maintains the integrity of the process.
"The firms, their goal at the end of the day, should be looking at the competition, seeing what they can do, and even if they're not ranked No. 1, when the timer hits zero, if they can say to themselves we have put together the best financial proposal we can." Then it's up to GSK to do an overall value assessment of the firms.
Canada has been slow to follow the lead of the U.S. in the use of reverse auctions for legal services, notes Sundar Kamakshisundaram, vice president of product marketing for SAP Ariba, which brought the technological tool for reverse auctions to the market about 20 years ago. "Not many companies in Canada are ready for this," he says. While he says it's not suited to all business needs, a slow economy is often an impetus for corporations to consider the process.
Reverse auctions explained
• A company will issue a request for proposal, detailing its assumptions of the work involved;
• Law firms respond by detailing their credentials, related experience and the team and resources they propose;
• A short list of firms invited to participate in the auction could be created at this point if it wasn't done earlier;
• The work might be broken down in stages where firms are asked to attach estimates for each area that all the other firms can see;
• The auction itself is quick, often 20 or 30 minutes, allowing firms to lower their bids while the timer counts down;
• The company then assesses a bid and announces the winner of the work.
Part of the hesitation here, says Norm Keith, partner at Fasken Martineau DuMoulin LLP, is concern over the involvement of third-party consultants who will run the auctions for a fee or percentage of the perceived savings. And while Keith expects he may, at some point, see a reverse auction in action, there is also a concern in the legal community that apples may not be adequately compared with apples in this process and that too much attention is paid to the bottom line and not enough to the quality of the work to be provided.
"It's an interesting trend. It's a trend that I don't think any large law firm can ignore," he says. "I worry for in-house legal counsel that this is the panacea to all their spend problems. Because most important legal work is not commodity work."
Suzanne Wood can see potential for problems for companies that take a passive interest in the process and decide to give it a try. Norton Rose Fulbright Canada LLP's national director of legal project management says it's not a one-size-fits-all pricing strategy. It is best suited for large companies that have the resources to do the detailed planning and analysis that's required. For it to work well, she says, the corporation needs to restrict its pool of law firm candidates to large or specialized firms known for their expertise in that particular area of law, have good hiring and training practices, quality control and the internal resources to support the legal staff.
Wood adds that back office staff can be key in helping to stickhandle the auction process for law firms. Norton Rose employs a cross-functional team drawing from legal project management, pricing and financial analysis along with the legal team to scope out the work that needs to be done to prepare to bid. Planning will include fully understanding and breaking down the phases of the work, who will be involved and assessing the cost of their time.
Interestingly, observes Wood, in most auctions in which she's been involved, the lowest bid did not come out as the final winner chosen to do the work. "I suspect it's here to stay for those larger, more sophisticated clients because it really helps them to drive value."
Integral to the company, adds Norton Rose's chief operating officer, Chris Jackson, is ensuring proper due diligence and screening is conducted prior to the bidding process to ensure the right firms are involved so that they have a better chance of getting value in addition to the price certainty they are seeking. "For us, the firms, the trick is to make sure we understand what it is to deliver the work and understand the scope of the work and planning and using all the tools available to us to make sure we can deliver it in a way that works for us," he says.
What helped McCarthys in its first experience with a reverse auction were preparations involving scenario planning and creating what Peters describes as a simple economic model using Excel that could react in real time to determine the impact of any change in its bid. "Running that model in parallel with the first auction process at any given time we knew exactly what the target profitability would be," he says.
Peters sees potential in reverse auctions for corporations seeking to outsource large-volume legal work.
But he warns companies against using that process exclusively to determine price.