Working on Quebec's Charbonneau Commission was a once-in-a-lifetime opportunity for Simon Tremblay.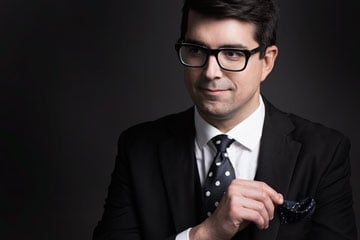 Working on Quebec's Charbonneau Commission was a once-in-a-lifetime opportunity for Simon Tremblay.

Tremblay has a great memory for important dates in his legal career. Take Jan. 25, 2012. That was the day Tremblay, then a lawyer in the civil litigation department of the Attorney General of Quebec's Montreal office, started teaching civil proceedings at the Barreau du Québec's school and officially became the regulative body's treasurer. But then he got a phone call that changed everything.

The caller was Quebec Superior Court Judge France Charbonneau. A few months earlier, she had been named by then-Quebec premier Jean Charest to lead a long-clamoured-for inquiry into corruption in the province's construction industry.

"She was looking for a civil litigator with some criminal experience and asked me to join her team," recalled Tremblay, then 32. He remembered Charbonneau well, he adds, because he had pleaded his first case before her just days after joining the attorney general's office on Jan. 21, 2008.

"I must have made a good impression on her," Tremblay quips about the quirky case, which involved an appeal of a justice of the peace's decision to give serious jail time to an elderly man for unpaid parking tickets. "At least that's what she told me later."

Granted an extended leave of absence by his government employer, Tremblay joined the commission's 135-member team of lawyers, investigators and assistants as fifth counsel, though he ended up as assistant chief counsel.

Housed in a suite of offices over two floors of a highrise office building in downtown Montreal, team members rooted through reams of documents and interviewed and prepared witnesses in an effort to fulfil the commission's triple mandate, which was to examine the existence of collusion and corruption in the awarding of public contracts, the possible infiltration of organized crime in the construction industry and make recommendations on how to identify and stop such problems.

"Unlike a normal commission of inquiry, we had no file or evidence to work from; we only had a mandate," says Tremblay. "We had to find evidence and build cases almost from scratch. That's why it took eight months for the hearings to begin."

It was in the specially built hearing room next to the inquiry team's offices that the many colourful characters who helped to make the commission a daytime ratings hit in Quebec testified during 261 days of televised proceedings.

One witness — Joe Borsellino, a construction entrepreneur in Montreal who frequented the same café where other construction bosses were caught on video delivering cash to the Rizzuto crime family — provided Tremblay with one of the most memorable and challenging examinations of his career.

Called as a last-minute replacement on a Friday morning after a scheduled witness was hospitalized for a panic attack, Borsellino was prepped by Tremblay for only an hour before the proceedings began live on TV.

Though he confessed to bribing public officials and was co-operative with the commission, Borsellino played down links to the mob. Tremblay says he aged two years within a few hours as he tried to pry information out of the witness. "I remember we spent at least an hour talking about the meaning of the word 'bateau,'" recalled Tremblay. "It was extremely nerve wracking and tough. But challenges like that help you to learn and grow."

The hearings also turned Tremblay and his commission colleagues —notably chief counsel Sonia LeBel and assistant chief counsel Denis Gallant, who left in early 2014 to become Montreal's inspector-general and was replaced by Tremblay — into celebrities.

"That was fun and really rewarding," says Tremblay, who lived a 10-minute walk away from the commission's offices. "People would stop you in the street and say, 'Come on, get those guys, don't give up!' But being recognizable 24/7 also means that when you go to the hardware store Saturday morning in grubby clothes and maybe after a late night, somebody's going to say, 'Hey, you're that guy from the commission.'"

He says the time spent in front of the camera, however, paled in comparison to the behind-the-scenes work required to prepare witnesses and, in his case, to deal with the more than 30 court motions that were filed by parties who contested the commissioner's rulings.

The most notable involved Tony Accurso, a former construction magnate in Quebec with deep ties to both organized labour and the mafia in la belle province. For three years, Accurso fought a subpoena to appear before the commission. However, his motion to leave was eventually dismissed by the Supreme Court of Canada, paving the way for two days of riveting testimony in September 2014.

When the commission ended two months later (on Nov. 6, recalls Tremblay), it had laid bare widespread greed and collusion within several municipal governments, notably Montreal and Laval, as well as the influence wielded by organized crime in Quebec's construction industry.

But even before Charbonneau tabled her final report, which contained 60 recommendations that some say have helped to modernize public and corporate governance in Quebec, the commission was roundly criticized for failing to provide a big enough bang for the $1 million a month it cost taxpayers.

"Pfffft — that's the sound of the Charbonneau commission deflating like a huge balloon, ending its hearings after three noisy but inconclusive years," wrote Globe & Mail columnist Lysiane Gagnon, echoing widespread public opinion.

"The commission caught a few small fries at the municipal level . . . [but] [a]t the provincial level . . . [it] didn't or couldn't uncover a single case of corruption, which leaves one to conclude that either there wasn't much dirt to dig, or that the commission was incompetent," Gagnon wrote.

For Tremblay, those barbs marked a low point in what was otherwise a highlight in his professional career.

"It was hard because we were being publicly accused of protecting people, but we couldn't answer back because of the need for confidentiality," he says. "But I can say we always acted in good faith and that serving the public was our only goal."

One high point of the commission, he adds, was "being part of something historical and meaningful." Another was discovering he had a keen interest in law management. "Up to that point in my legal career, I had always wanted to be lead violinist," says Tremblay. "But working with the commission made me realize that I really wanted to be a maestro."

Born in Baie-Comeau and raised in Quebec City, Tremblay's first love was labour law. After graduating from law at the Université du Québec à Montréal, he articled at the International Labour Organization's training centre in Milan, Italy (one of 35 Quebec law school graduates to article internationally that year) and came home to do a master's degree in labour law at McGill University.

He discovered a new love in litigation, however, while working with the late Donald Seal and Leonard Seidman, two senior lawyers in general practice on the 10th-floor of an old office building in downtown Montreal. "I joined them on July 28, 2003 and two days later I pleaded my first case before three judges at the Quebec Court of Appeal," recalls Tremblay.

He says the most valuable lesson he learned in the four years he spent with Seal and Seidman was the importance of knowing the rules and procedures in the Quebec Civil Code and the Quebec Code of Civil Proceedings.

"Whenever I asked Seidman something, he would always say, 'Read your Code,'" recalls Tremblay. "It was a good school."

After joining the attorney general's office, Tremblay started teaching part-time at both the UQAM and the bar school. He also began a seven-year run with the Barreau de Montréal, serving successively as board member, treasurer and, most recently, as the organization's 151st bâtonnier, a one-year term he began on May 4, 2016.

Just a month later, on June 16, Tremblay quit the attorney general's office to take up what he calls "my dream job" as director of the legal department with the city of Laval.

Building on the efforts of his predecessor, Patrice Guay, to reduce outsourcing and increase the city's in-house legal abilities, Tremblay has hired 10 lawyers over the past year.

"We've brought back 80 to 90 cases that were outsourced, including some really big ones," he says. "It's a good trend because it costs the city a third of what it used to, and we get to develop and keep that expertise."

In addition to civil litigation cases, five of Laval's new lawyers work full time with a half-dozen investigators on a Tremblay-led team tasked with unearthing and recouping money from collusion and corruption cases under former Laval mayor Gilles Vaillancourt.

The latter loomed large at the Charbonneau Commission and was sentenced to six years in jail in December after pleading guilty to several corruption-related charges.

"We're turning over every stone," says Tremblay, who is working under the auspices of Quebec's Bill 26. Passed in 2015, the law grants public bodies the right to go back 20 years in their investigation of suspicious contracts of all stripes, not just in construction.

So far, Laval has recouped $8.5 million for Vaillancourt, and it has reached confidential settlements in several other cases. "In the end, we will get back millions," says Tremblay.