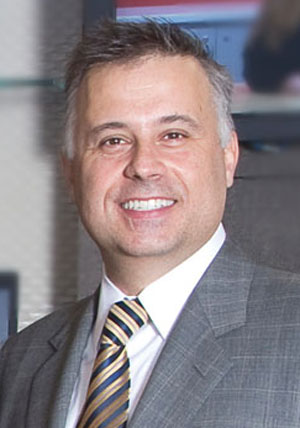 It's not uncommon for clients to do a double take when they open a bill from their law firm, but for those who use Conduit Law Professional Corp., any shock and awe over last month's invoice wasn't because of the amount due — it was probably about the line inviting them to change the price.
When their invoices went out in July, alternative services provider Conduit Law included a
"client value adjustment"
line just above the "total amount due," which invited clients to change the amount of the invoice to reflect their opinion of the value they received for the firm's services.
Conduit Law president Peter Carayiannis says while he knows clients want consistency and transparency, he realized the third leg of the stool that was missing from his firm's offering was ensuring clients felt they received value — what is their perception of the value the firm is providing?
Essentially, he wanted to emphasize value over price.
"I wanted to find a way to get the client to tell me if we gave them value," he says. "So this is our way of saying, 'Tell us if we gave you value.'"
So far the response from clients has been mostly surprise about a law firm giving clients the chance to change the amount of their bill. Despite the client value adjustment line, which lets them scratch out the billed amount and indicate their own price, no one has signed back an invoice requesting a discount.
"It's largely been 'Wow,' or 'Are you crazy?' or 'Bold!'" says Carayiannis, who founded Conduit in June 2012. "Some have picked up the phone and asked, 'What do you mean?' The client response has been really gratifying."
Some clients, like Ottawa-based tech company Momentous Corp. don't have in-house counsel and use Conduit for a range of services including labour and employment, corporate, and real estate matters. Momentous started using Conduit last summer when chief operating officer Aimee Deziel decided she wasn't happy dealing with multiple firms for each area of law and paying what she felt was too much for legal services.
"When we started using Conduit it was such a change because the bills didn't make me nauseous," she says.
When she received the most recent invoice from Conduit, she says she was "really happy" to see the value adjustment line.
While Momentous usually works out a fixed-fee arrangement with the firm, the most recent matter "came out of the blue" and needed quick attention so there wasn't much time to discuss what the fee structure would be.
"The project they did for us had a really quick turnaround," she says. "I was pleasantly surprised by the outcome. They don't know this yet but we're actually going to up their bill," she says.
Carayiannis credits Valorem Law Group, based in Chicago and San Jose, for the idea. He says partners Patrick J. Lamb and Nicole Nehama Auerbach mentored him through the adoption of the concept.
Valorem Law opened its office in January 2008, and the
value adjustment
line has appeared on every invoice the firm has ever sent.
"Some clients never comment on the VAL, but others take comfort in it even if they never use it," says Lamb. "It reinforces their belief that we are committed to the value of the service we provide and that they are the ultimate judge of value, not us."
Carayiannis founded Conduit after many years in-house as general counsel in several positions and seven years as a corporate-commercial lawyer at Gowling Lafleur Henderson LLP.
Conduit has 12 lawyers on staff and clients include tech giant Cisco Systems. Clients can hire the firm's lawyers for long-term embedded situations, short-term gap periods, and specific projects. But his clients are not all in-house counsel. Many include chief financial officers and other C-level executives in companies that do not have legal departments.
However, Carayiannis says he doesn't expect too many will request a discount because if his firm has done its job as promised, it shouldn't be a surprise when the bill arrives on the client's desk.
"We invest a lot of time upfront before taking on a client to understand the scope of work to be done. I don't expect them to be making great changes to the bill because we do the hard work and heavy lifting in advance so our bills aren't usually a surprise. Our collection rate is very close to 100 per cent," he says.
Carayiannis points out there's also the opportunity for clients to adjust the value up and add a bonus if they feel the value was greater than the billed cost.
Conduit offers clients a variety of fee arrangements including flat fixed fees, flat fees done on piecework basis, some involve success-based incentives built into monthly retainers and some hourly rates, but that is rare.
"I would say 90 per cent of our revenue is under some form of alternative fee structure and 10 per cent are on the billable hour," he says.