An appellate-level judge has voiced his frustration with the Supreme Court of Canada for failing to provide sufficient guidance for judicial review in administrative law.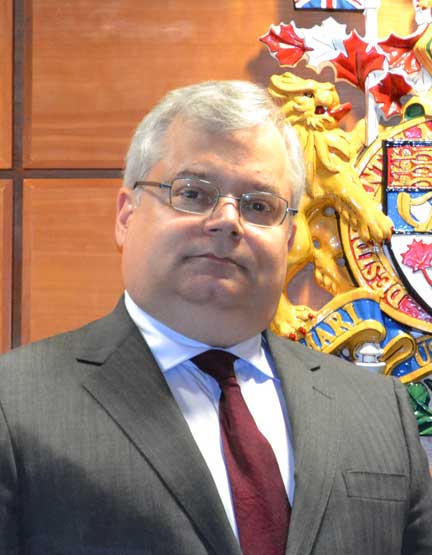 The public criticism was issued last week by Federal Court of Appeal Justice David Stratas, in a paper entitled "The Canadian Law of Judicial Review: A Plea for Doctrinal Coherence and Consistency."
In the paper, Stratas balances abstruse concepts in the esoteric, though critically important, world of administrative law, which governs the circumstances in which government and regulatory decisions may be appealed and how courts are to weigh those appeals.
Theoretically, administrative review relies on a conceptual framework created by the Supreme Court, but Stratas argues that the high court has failed to develop an approach that can be applied by lower courts consistently, preferring rather to deal with case-specific questions of public importance.
Even when the SCC does craft principles around review, Stratas writes, it does so in a way that only tweaks and rebalances the framework, rather than attempting to build a coherent model.
"Our administrative law is a never-ending construction site where one crew builds structures and then a later crew tears them down to build anew, seemingly without an overall plan," Stratas writes.
"Roughly forty years ago, the Supreme Court told us to categorize decisions as judicial, quasi-judicial or administrative. Then, largely comprised of different members, the Court told us to follow a 'pragmatic and functional' test. Then, with further changes in its composition, it added another category of review, reasonableness, to join patent unreasonableness and correctness. Then, with more turnover of judges, it told us to follow the principles and methodology in Dunsmuir."
Stratas cites the SCC's recent decision in Kanthasamy v. Canada (Citizenship and Immigration) (in which the court set aside the rejection of a humanitarian residency application) as a "baffling" case where the court flouted its own principle of "legislative supremacy" by ignoring Parliament's expressly stated intent that the Federal Court of Appeal should have the final say in the matter.
Now Stratas, suspecting that the SCC is about to revisit the doctrine of judicial review, is making a plea for some kind of coherent approach:
"Why this article? I have to work with this jurisprudence every day. I may soon be faced with another reconstruction of this area of law. I have worked for clarity, consistency, unity, and simplicity in this crucial area of law for much of my life. . . . We must pay more attention now to the settlement of the doctrine in this area of law before it is too late."
Paul Daly, a Montreal professor who writes the Administrative Law Matters blog, says Stratas' frustration is widely held by appellate-level judges. Though the SCC has chosen to focus on answering questions of importance, rather than constructing a framework of principles, Daly calls this a "false dichotomy."
"The Federal Court of Appeal, in particular, has done sterling work in demonstrating how you can give guidance on the one hand while doing it within a consistent and coherent framework on the other hand," says Daly.
"So part of the frustration, I think, is that the Supreme Court has not made the same effort, and it very rarely, if ever, refers to what the courts of appeal have been doing. . . . There are a lot of cases where intelligent and very capable appellate judges are trying to navigate the tension between general principles of administrative law and general questions of importance to the legal community. . . . But those efforts are not being taken into account by the Supreme Court."
Indeed, Stratas writes: "the Supreme Court has never cited, let alone considered, any of these cases. Not a single one. However, we in the Federal Court of Appeal should not feel snubbed. The work of every other appellate court in Canada also goes unmentioned and unconsidered. In this area of law — for reasons unknown — the Supreme Court considers only its own decisions."
Stratas' paper advocates for a simpler standard of review that moves away from rigid categories and labels such as "correctness." He also seeks a reaffirmation of "legislative supremacy" and a greater focus on "intensity of review."
Daly, however, demurs when asked whether there are any particular aspects to the current standard of administrative review that should be addressed, instead suggesting that the real problem is the leadership vacuum.
"Administrative law is a ball of wax, it all fits together," he says. "It's difficult to isolate particular problems. But one thing lacking is leadership and guidance from the Supreme Court on the overall framework, and how the various globs of the ball of wax fit together."