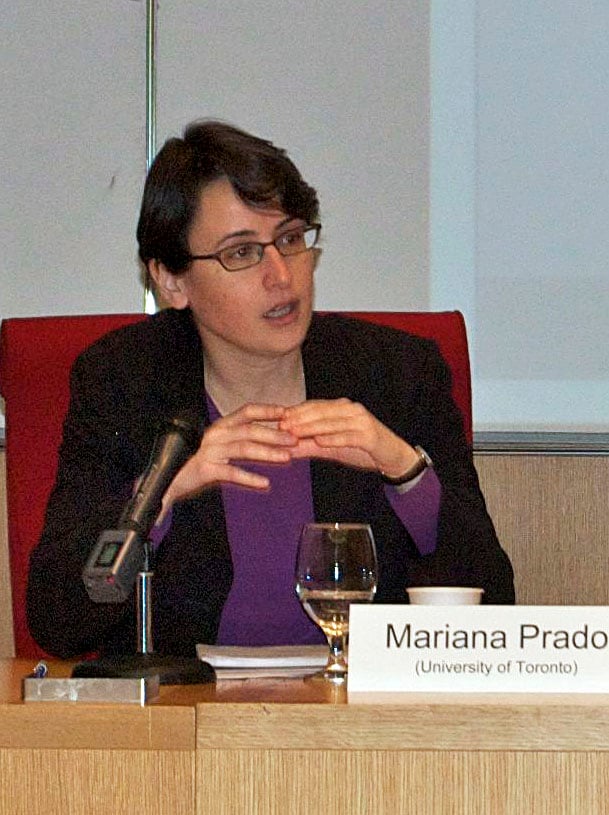 Some scholars say anti-corruption laws in Canada and the United States are too transaction focused and fail to look at the system as a whole.
Implemented in 1997, Canada's Corruption of Foreign Public Officials Act has only had four cases come to fruition. While it attempts to promote greater accountability it stops short of creating a more comprehensive regulatory regime that would create the incentives necessary for businesses to internally address and minimize the risk of corruption by agents and employees.
"Our legislation can be very transaction focused as opposed to looking at the system as a whole or the economy as a whole," said Poonam Puri, a professor of law and associate dean of research, graduate studies, and institutional relations at Osgoode Hall Law School.
Puri was speaking as part of a panel titled: "Foreign corrupt practices acts and the adequacy of whistle-blowing protections" held last Friday at Osgoode, part of a two-day event called Understanding and Taming Public and Private Corruption in the 21st Century.
In her presentation, Ellen Gutterman, an associate professor and political scientist at York University's Glendon College, said while it is clear there has been "across-the-board enforcement" of the Foreign Corrupt Practices Act by the U.S. Department of Justice since 2002, it considers a "narrow idea" of corruption as discrete transactions rather than tackling embedded networks.
As well, there has been an "inconsistent application of extra-territorial jurisdictions," which means it has not been effective at actually curbing corruption.
"It is a strategy of distraction — smoke with no fire," she said.
However, unlike cases in Canada, in addition to increased enforcement actions against corporations, the Department of Justice is also increasing enforcement against individuals. The range of FCPA prison sentences range between 15 months and 15 years with the average sentence being two years. Fines against corporations average in the tens of millions.
"This has been a signal to employees and businesses that the U.S. government intends to hold them responsible," said Gutterman.
In Canada there have been four convictions to date under the CFPOA including one prison sentence in May in
R. v. Karigar
.
Puri said the current enforcement efforts in Canada show a "troubling lack of consistency" in terms of the magnitude of sentences issued under the act and the individuals/entities prosecuted to date.
Most notably in the first Canadian case in 2002 involving Alberta company Hydro Kleen Systems — which was fined $25,000 for bribing U.S. customs officials in the amount of $28,299 — about a 1:1 ratio. The fine, Puri noted, seems "grossly disproportionate" to the fine issued in a subsequent case in
R. v. Niko Resources Ltd.
in which the company was fined $9.5 million for a $200,000 bribe to a Bangladeshi government minister — a much higher sanction.
More recently, in the Griffiths Energy case, the company paid a $10.35-million fine for a $2-million payment involving an official in Chad.
"Given that in almost all of these cases there was quite a bit of voluntary disclosure by the company or by a competitor, it appears [bribery is] very difficult for enforcement officials to detect. It would be my suggestion that fines for egregious cases should be relatively high given the low probability of detection. It should be higher than what the actual payment was or consider what the benefit was that the company received and be a multiple of that value," said Puri.
When it comes to criminal sanctions, currently under the Canadian framework no individuals who have been held responsible have been the ones providing the funds. In
Karigar
, he was the intermediary who assisted the official.
"The official got off in exchange for his testimony," said Puri. "That I find to be interesting, combined with the fact that in all of these cases (apart from
Karigar
) it is the company that is the one fined as opposed to an individual senior officer who may have agreed to the fine or was leading the process.
"I think that raises a policy issue as to what is the most effective way of moving forward in terms of deterrence in this area. Is it better to convict the corporation or is it better to convict individuals we could point fingers to? If we focus on the individuals, case law often suggests it is not the senior officers who end up with the convictions — it's the middle-level employees and that raises another concern."
All of the cases in Canada have come about as a result of competitors blowing the whistle or voluntary disclosures made by the companies.
Puri also looked at Canada's largest, most respected companies to see if they had a whistle-blowing policy. She found there was a lack of independent whistle-blowing hotlines available to employees.
"This troubles me quite a bit," said Puri. "I think to be most effective you need to have an independent third party responding to whistle blowing allegations."
Most issuers also failed to mention corruption as something to be concerned about in their disclosure documents.
"There's a lot companies can do internally to address corruption if they are indeed serious. I think on the front end, in terms of accounting procedures and procurement policies and processing of contracts, there is a lot that can be done and a lot the board of directors and audit committee can do to ensure that procedures are in place," she said.
"I also think there is a role regulators can play, particularly securities regulators in providing best practices."
In Brazil, new legislation doesn't involve criminal sanctions; it's all administrative sanctions outside the justice system. Sanctions will be imposed by an executive body and measures include publicizing the names of companies exposed.
"Brazil has adopted a spectrum of laws that look robust but they have not seen a lot of change. Corruption is still stable," said Mariana Mota Prado, associate dean of graduate studies at the University of Toronto Faculty of Law. "There have been a lot of attempts to curb it, but while a lot of legislation has been introduced there has not been a lot of change in perception by Transparency International."
In Brazil only individuals involved in acts of corruption can be held liable — the law does not provide for corporate criminal liability, except for incidents involving environmental damage.