Ontario arbitrator sides with union – but raises possibility 3-dose policy could make a difference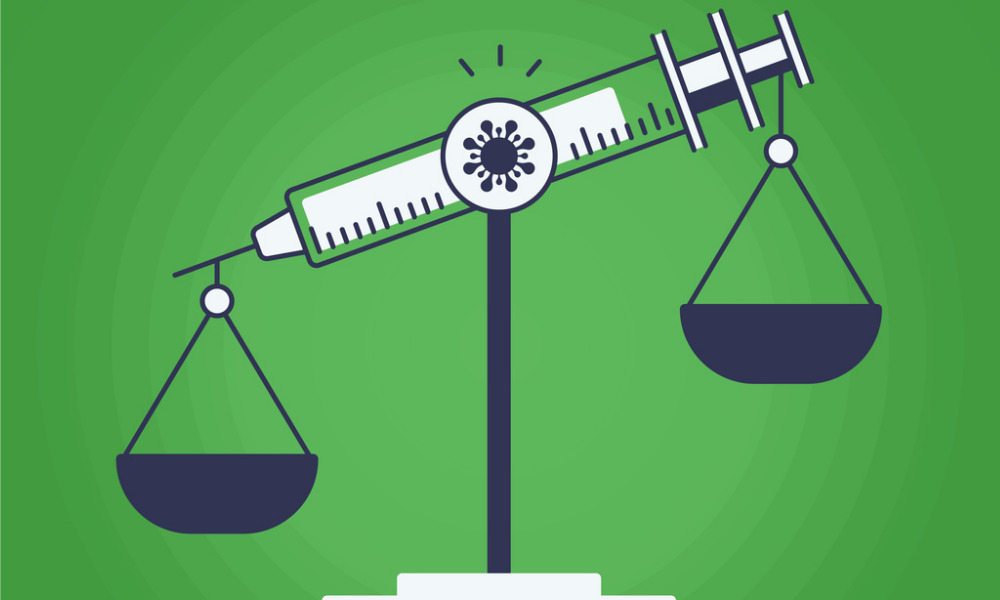 Going against a trend that has seen many mandatory vaccination policies upheld, an Ontario arbitrator recently decided that a company's policy had to end.
"Certainly, it's an outlier decision," says Kathleen Chevalier, a partner at Stikeman Elliott in Toronto.
"This is the first decision of its kind. There have been decisions coming out concurrently with the FCA or Stellantis decision where they're saying, 'No, this is a reasonable exercise of your rights, it's fine — policy upheld.'"
The great weight of arbitral decisions up to this point has been upholding these policies, says Rebecca Glass, lawyer at Dewart Gleason in Toronto, which represented Unifor Locals 195, 444 and 1285 in the grievance.
"I think we may start to see a change, depending on the changing pandemic circumstances," she says.
"COVID is continually evolving, and we need to be flexible and adapt to changing circumstances. Arbitrators will have to determine the cases before them based on the science as it stands and continues to evolve — not on the basis of what it was last fall."
Arbitrator evaluates recent studies on vaccines
The decision related to the reasonableness of a vaccination policy by Stellantis Canada (formerly FCA Canada and Chrysler Canada) that took effect in December 2021.
It required employees, contractors, suppliers and visitors too be fully vaccinated (two doses of a two-dose vaccine) to attend at the employer's worksite, aside from a statutory duty to accommodate workers with medical or religious exemptions.
As of the hearing, 94 per cent of employees involved had been fully vaccinated, with roughly 250 unvaccinated for a variety of reasons. The grievance was filed by three local unions representing employees in Windsor and Brampton, Ont.
In making her decision, arbitrator Marilyn Nairn did a thorough review of relevant studies when it came to the effectiveness of vaccines and the COVID-19 virus in the areas of transmission, hospitalization and severe illness.
"The effectiveness of vaccines has been compromised in the omicron era," she said. "As the omicron wave of the pandemic has surged, emerging evidence suggests that a two-dose course of an MrNA vaccine is significantly less protection against infection than with prior variants."
"The union's fundamental position is that the evolution of the COVID-19 virus has been such that while a vaccine policy may have made sense in the summer and early fall of 2021 in relation to the delta variant, the available science supported a conclusion that a vaccine mandate would not achieve the goal of providing protection for employees in the workplace in relation to omicron and subsequent variants having regard to the waning efficacy of a two-dose vaccination," said Nairn.
The employer, on the other hand, said the reasonableness of the policy was to be considered as of the date of implementation and continuing, not solely at the date of the hearing, she said.
Read more: Arbitrator allows exemption to vax requirement on basis of creed
In the end, Nairn said the policy was reasonable when it was introduced, and it continues to be reasonable in its application.
"However, after careful review and not without considerable personal reservation, I hereby find that a COVID-19 vaccine mandate defined as requiring two doses (of a two-dose vaccine) is no longer reasonable based on the evidence supporting the waning efficacy of that vaccination status, and the failure to establish that there is any notable difference in the degree of risk transmission of the virus as between the vaccinated… and the unvaccinated."
"There is, under the definition of the policy, no longer a basis for removing unvaccinated employees from the workplace."
However, Nairn reiterated that "this pandemic was and is not over… the evidence overwhelmingly supports a conclusion that vaccination against COVID-19 has been and continues to be key in reducing serious outcomes from infection by the virus, regardless of the variant."
Nairn also noted that the company's policy does not incorporate a periodic review, so "some delay in responding to changing circumstances and any resulting risk assessment is inevitable. Providing an acknowledged mechanism for ongoing, periodic review within a vaccine mandate policy may be prudent."
Timing is everything
The local unions who challenged this policy were concerned that members shouldn't lose their jobs over this policy given all the other precautions available and the changing circumstances, says Glass. And the decision really highlights the need to be responsive to changing circumstances
"Certainly, timing means a lot," she says. "I think [Nairn] did conclude this was the right time, given all of the changes that we saw in both the provincial and federal governments determining that mandatory vaccine policies were not necessary or protective at this point in time."
Arbitrators will continue to respond to changing circumstances, she says, "and we don't exactly know what those changes are going to be. And so I think it really depends on how we see changes with the pandemic and with the virus going on into the fall into the winter."
"The policy was not protective, and therefore not reasonable in the circumstances," says Glass, but that's not to say that the arbitrator closes the door to policies being reasonable or unreasonable. "In the circumstances before her, she found that it wasn't."
Read more: A labour relations board dismissed a worker's complaint that her employer's vaccination policy breached protections of employee health information.
Nairn makes it very clear that the epidemiological studies and data continue to evolve, and a study could be released tomorrow that is peer reviewed and differentiates those findings, says Chevalier.
"Therefore, is that same policy now viewed as a reasonable and necessary component of your health and safety program, while the pandemic is ongoing?"
"What [the arbitrator is] leaving open here is the door for positions that things have changed since this decision was issued and, therefore, the reintroduction of the policy is certainly reasonable, given these changing circumstances."
But one important question has cropped up with this decision, says Chevalier. For one, if the policy is changed to include three doses, meaning a booster, does that change the analysis?
"In her decision, [Nairn] does reference that the efficacy in terms of infection rates does seem to improve if the individual is boosted as well… There's certainly those of us reading this decision wondering what that could mean. Is that potentially permitting an outcome whereby if you change the policy to three doses, which then provides arguably greater protection, based on the data, does the policy itself become more reasonable?"
Context is everything
"In assessing reasonableness, context is crucial," said Nairn in her decision.
There are so many factors that go into these types of decisions that they certainly aren't one size fits all, says Chevalier.
"So much depends on the business, the workforce, all of those various factors, and how people are affected by the policies, and to what extent. And also just the type of work you do: How close in proximity are you to each other? What might your clients require from you?"
The arbitrator also mentions the fact that, in this particular organization, upwards of 200 people were placed on an unpaid leave of absence because they were unvaccinated, she says.
"One would think that that would be a more compelling fact if it's juxtaposed against a workplace where 'No, those people could work from home,' or maybe potentially you have one person that is negatively affected in such a way. I don't think that that particular aspect of the fact pattern can be ignored here either in terms of when an arbitrator is lining up all the various pros and cons."
In the coming weeks, it will be interesting to see how this decision is treated by subsequent decisions, says Chevalier.
"If it's differentiated, on what basis? Is it differentiated based on the workplace? Is it differentiated based on the policy itself? Is it differentiated based on different studies they're paying attention to? Or is it followed for those same reasons or factors?"
How should employers handle their vaccine policies?
There are still a lot of employers that have vaccination policies in place, and they'll have to weigh the various factors to decide if those should be lifted, such as the type of work, the ability to work remotely, how many people are affected and the vaccination rate within their workplace, she says.
"We're all so gun shy, coming out of what have been I don't know how many different peaks and valleys and waves and lockdowns. And just when you think you're clearing the hurdle, another one comes up in front of you," says Chevalier.
"To pull back a policy like that, and potentially reintroduce it into your workplace… it's something that, from an employer's perspective, is a very live issue."
Understandably, employers are reluctant to shed the policies, she says, "particularly if you have a workforce that is humming along just fine with the policies in place at the moment."
Read more: How should unvaccinated workers be brought back to the workplace?
Employers are also looking at their workplace, where people are overwhelmingly vaccinated, and seeing many public health measures lifted, such as masking, sanitization and social distancing, says Chevalier.
"[Vaccination] is really, in some workplaces, viewed as the last thing remaining in place that offers employee some comfort, and arguably… some protection," she says.
"It all becomes it all becomes so muddled so quickly, so I can certainly understand why employers are still more comfortable taking a wait-and-see approach for the moment."
If 99 per cent of your employees are vaccinated and they aren't clamouring to have the policy revoked, employers may think, "Why change anything just because this decision came out?" says Chevalier.
"Whereas, if you're an employer that finds yourself in circumstances similar to those set out within this decision, you might be taking this into deep consideration over the next few weeks."