A new report by Deloitte forecasts the elimination of 39 per cent of all legal sector jobs over the next 20 years as automated processes take hold. Law firms, meanwhile, will face a talent crisis in the coming decade as they compete for the kind of employees they really need: non-lawyers.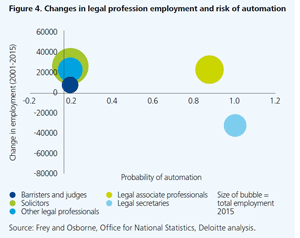 The analysis, entitled "Developing legal talent. Stepping into the future law firm," looks at the potential impact of automation on the U.K. legal-services sector, although many of these findings will apply to other countries as well.
So far, according to the study, legal secretaries have taken the brunt of job losses due to automation over the past 15 years. In the U.K. alone, approximately 30,000 legal secretarial jobs were lost between 2001 and 2015 representing about 10 per cent of the workforce.
The trend, however, may soon shift to associate-level work, as Deloitte forecasts a "tipping point" around 2020 when technical work — such as document review, research, and basic contract work — begins to be replaced by automated processes (see accompanying graphic).
"Advances in technology mean that an ever greater number of traditional, routine tasks within the legal sector can be automated by smart and self-learning algorithms," the report states. "Some firms are already making use of virtual assistants or e-discovery tools."
Law firms will continue to require high-level lawyers, of course, but according to Deloitte, they will also need to entice high-level employees who can manage projects, client accounts and relationships, and technological innovation.
These kinds of highly sought after employees will have the entire corporate landscape to choose from. Deloitte, as a result, is stressing the need to provide attractive career paths for them.
"Law firms will need to transform the way they think about how they attract, develop, retain and change talent in order to succeed," said professional services lead partner Peter Saunders in a statement.
"We expect the more radical changes to take place as 2025 approaches, but firms must prepare their business and talent strategies now to position themselves effectively relative to their competition and the challenges that lie ahead."
Deloitte, moreover, points to a cultural disconnect that may exacerbate the looming talent crisis, as wunderkind millennials steer clear of an industry perceived as elitist and creatively stagnant.
"The Deloitte Millennial Survey 2016 suggested that businesses must review how they nurture loyalty among Millennials or risk losing a large share of their workforce," the report states. "Millennials seek a greater 'purpose' with the desired package including alignment to social values and aspirations as well as money."