A week after stepping down as head of the Canadian Olympic Committee, Marcel Aubut resigned from Quebec regional law firm BCF on Friday and apologized for his behaviour amid allegations he sexually harassed several women.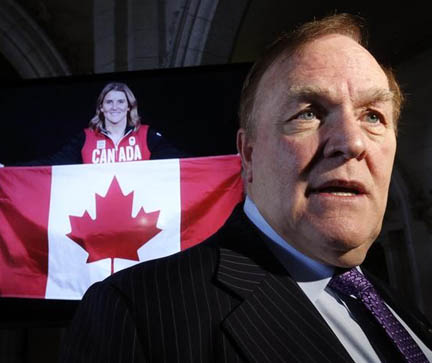 Facing reporters, Aubut said: "For the last 10 days or so, I have been living in torment.
"The crisis brought on by my behaviour also plunged into turmoil my family, my friends, my associates, my employees, and everyone who has been hurt by this behaviour."
Aubut said he was also going to be seeking counseling.
Following Aubut's resignation, BCF's chairman of the board of directors André Morrissette said in a statement:
"Mr. Aubut and his family are going through an extremely difficult time. This morning, Mr. Aubut acknowledged his mistakes and assumed responsibility for his actions. We welcome his acknowledgment, which was without question very difficult for him to make under these circumstances. We have expressed our support for Mr. Aubut's decision to undertake steps to make lasting changes in his behaviour toward others. He will start this new and important chapter in his life surrounded by his loved ones and we wish him well."
The allegations regarding Aubut's conduct toward women during his time at the Canadian Olympic Committee go back to 2011.
The committee said it had had retained Francois Rolland, a former chief justice of the Quebec Superior Court, to head up an independent investigation. However, the COC ended that initial investigation "in light of his resignation and based on the wishes of the complainant."
An independent investigation, however, will continue. "The independent third party process investigating any other complaints will continue uninterrupted. We hope that anyone who has concerns will contact us," the COC said in a statement.
None of the allegations against Aubut have been proven in court and there is no criminal investigation into his actions, Tricia Smith, the interim president of the COC, said recently. Smith is a Vancouver-based lawyer who captured a silver medal in rowing at the 1984 Los Angeles Los Angeles Olympics.
Aubut, a prominent Quebec lawyer, led a group of 30 lawyers from the dissolved Heenan Blaikie LLP to Montreal-based BCF last February — at the same time he was in Sochi, Russia for the Winter Olympic Games serving as president of the COC. In addition to being a partner at BCF, Aubut was vice chairman of BCF's board.
Aubut, who is an Officer of the Order of Canada, founded the firm Aubut Chabot that merged with Heenan in 1998.
He is also the former president of the Quebec Nordiques hockey team.
An allegation has surfaced from a lawyer living outside Canada who says she was inappropriately touched by Aubut when she was a teenager working as a hostess at Nordiques games.
BCF, a firm of more than 200 lawyers and other professionals, focuses on business law in Quebec.