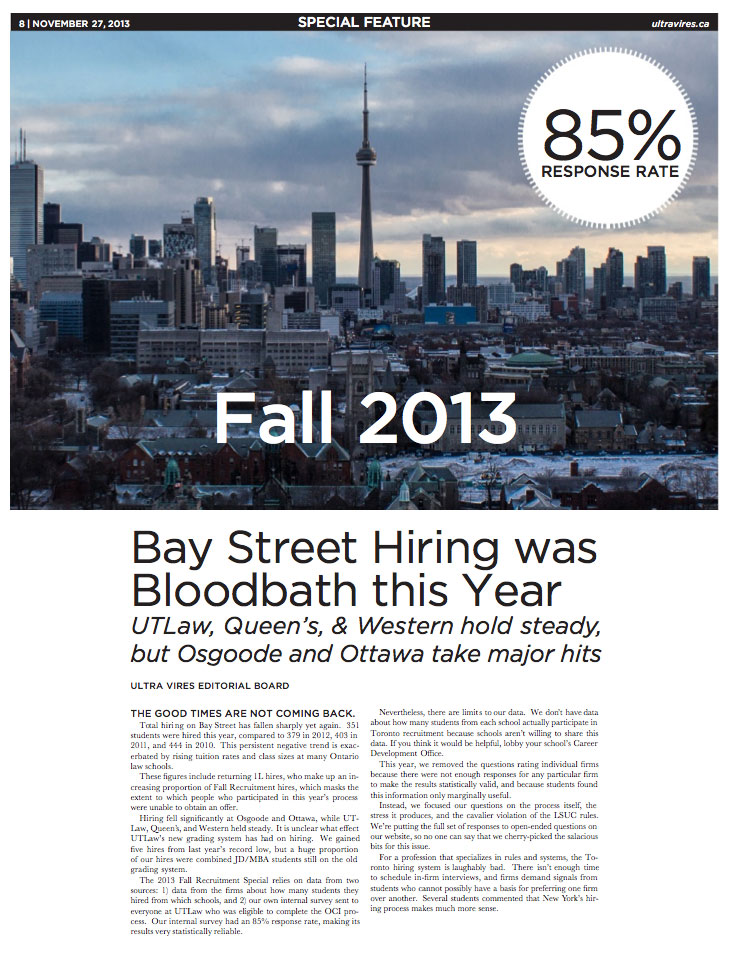 Noting "the good times are not coming back,"
Ultra Vires
, the law student newspaper at the University of Toronto,
reports
the number of law students recruited by firms on Bay Street continues to decline.
Calling it a "bloodbath,"
Ultra Vires
' report shows this year, 351 students were hired on — nearly a 30-position drop from last year's number of 379, according to the paper. In 2011, 403 students were recruited and in 2010 there were 444 recruits — nearly 100 more students than this year.
"Overall hiring is down for the third year in a row, while tuition is rising and class sizes are increasing at a number of schools," says David Feldman, special features editor at
Ultra Vires
. "It's something that I think needs to be part of the national conversation of the legal community."
Both Osgoode Hall Law School and University of Ottawa students experienced a decline in hiring on Bay Street, while U of T, Queen's University, and Western University's numbers stayed steady.
"Our numbers show that U of T's share of the total hired students is still pretty strong and that it is actually up from last year," says Feldman. "But, of course, that's cold comfort for the vast majority of students in the country."
The data was gathered from the firms about how many students they hired from which schools.
Ultra Vires
also internally surveyed every U of T law student eligible to complete the on-campus interview process. There was an 85-per-cent response rate.
Of all students participating in the process, 62 per cent were hired. The survey also showed 69 per cent of students with grades above the 20th percentile were hired and 84 per cent of students above the 80th percentile were hired.
"I think a lot of people are very concerned about it. It's an interesting situation where a student paper is really one of the few sources of transparency on this whole recruitment process and on the state of the market, generally — which is so important to so many students," says Feldman.
The survey found students took issue with the process itself, including there not being enough time to schedule in-firm interviews and that firms demand signals from students "who cannot possibly have a basis for preferring one firm over another."
There may be some logical reasons for the downward trend, according to Rebecca Toth, a partner with the legal division at ZSA Legal Recruitment Ltd. in Toronto.
"Right now, we're definitely seeing a bit of a decline in terms of law firms hiring, generally," she says. "In chatting with my colleagues here internally and also nationally across the country, most of us attribute it to the challenges that we're seeing in the economy."
As the demands from clients decrease, firms don't require as large of a staff to manage the workload.
"When the work itself shrinks, the numbers that they're able to bring on, of course, have to shrink along with it," says Toth.
One firm that was able to hire the same number of students this year was McCarthy Tétrault LLP. For two years now, the firm brought 20 articling students on board during the fall recruitment process.
Gail Wong, McCarthys' director of student programs for the Ontario region, also attributes the declining number of hires to the changing business needs of law firms.
"If you look at the numbers from five years ago, there has been a decline . . . and it's truly just a reflection of the changing business needs of the market as reflected in the economy and new efficiencies in terms of how to deliver service to clients," says Wong.
However, Blake Cassels & Graydon LLP is one firm bucking the trend. It has robust numbers stlll despite a bit of a drop for 2013. For the 2014 hiring season it took 37 students, up from 29 the previous year. For 2012 it hired 39 and the year before that 35.
Wong also says other recruiting methods may have an effect on hiring numbers, including the second-year summer student recruitment process.
"Many of the large- and medium-sized firms will participate in that process," Wong says. "Once that student has summered with them, [the firm] will often hire them back on, so then you don't really have to participate in the articling recruitment process."
Update Dec.3: Numbers from Blakes added.Update Jan.6: Certain quotes from Gail Wong have been removed.
{nomultithumb}