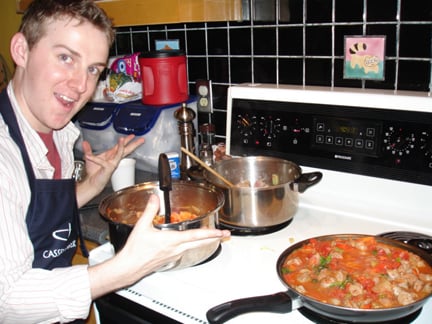 Billion-dollar deals, court filings, and corporate takeovers mean plenty of hard work and long hours for wide-eyed law students when they accept a summer position at big Bay Street firms. Getting home for dinner isn't always an option, but Cassels Brock's 18 summer law students made sure that others in even more challenging circumstances didn't have to worry about a home-cooked meal for at least two nights.
The students and their managers spent two evenings preparing dinner for families at Ronald McDonald House (RMH). It is the Hospital for Sick Children's home away from home for out-of-town families that have children with serious medical conditions and need an affordable, caring, and supportive environment to live in while in Toronto. Close to 80 meals were served by Cassels Brock students over the two nights, as part of RMH's Home for Dinner program.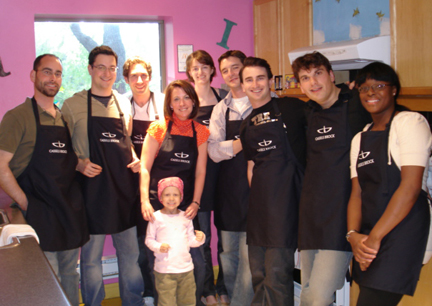 "It was such a positive experience," said Michael Platt, who is entering his third year of law school at the University of Western Ontario. "It reinforces that there is more to being a lawyer than dealing with clients and cases, and that we have a responsibility to contribute to the community. We all definitely left Ronald McDonald House with a bigger smile than when we walked in."
The students were responsible for every aspect of the RMH meals, from planning the menu to clean-up duties. After choosing BBQ and pasta menu themes, the next step was a trip to the grocery store to pick out all of the ingredients, before arriving in the afternoon to begin kitchen preparations.
The Cassels Brock groups also received a tour of RMH, where they met families and patients benefiting from the facility and joined young patients in the playroom for some fun and games.
"Cassels Brock has included at least one major charitable event to kick off our summer student program for a number of years," said Shelby Anderson, assistant director of professional development and student programs for Cassels Brock. "This is our first year bringing the students to Ronald McDonald House. Their reaction was just fantastic and I'm sure we'll want to come back in the future."
Scheduling the student charity program near the beginning of the summer placement helps the group get to know each other better and make a connection with the firm that goes beyond traditional legal work.
"All of the students worked together as a team, which helped us form a bond," said Suhuyini Abudulai from the University of Windsor. "Seeing the immediate results of our efforts made it worthwhile. We gave something back and also got something in return."
Anderson noted, "The students will get more than their share of client work. An activity like Home for Dinner reinforces the importance of social contributions. We want to shape more than just lawyers; it's also about helping shape people."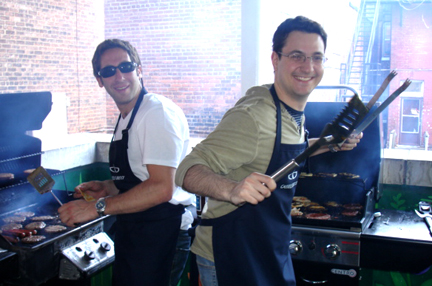 Cassels Brock also sponsors one of the 28 RMH rooms. The firm's community activities are part of its Dare to Care program, which encourages volunteer work, donations, and sponsorships. The program makes volunteering easy for staff by providing paid time off.