Mike Duffy is placing his bets a top Ottawa criminal lawyer and former Queen's University quarterback can carry him to victory in the Senate scandal.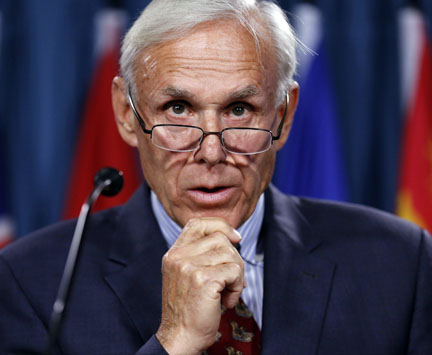 Ottawa criminal defence lawyer Donald Bayne of Bayne Sellar Boxall took to the stage in a press conference Monday to say a series of e-mails will show the Prime Minister's Office intervened directly to get Duffy to repay past claims.
One of Bayne's partners, Mark Ertel, past president of the Defence Counsel Association of Ottawa, says he's not surprised Bayne took on the Duffy case even though he doesn't carry a full caseload anymore and has other business ventures unrelated to the practice of criminal law.
"He's pretty careful about what he does but he's a born advocate; he's taken on all kinds of clients both popular and unpopular," says Ertel who articled under Bayne in 1990 and has worked on some big cases with him.
"It's his calling. He keeps threatening to retire but keeps coming back to what he was born to do. I've never met a more tenacious, prepared, and dedicated lawyer in defending clients. I've just never met anyone like that."
Today the Senate is debating a Conservative motion to suspend Duffy, and fellow senators Pamela Wallin, and Patrick Brazeau from the Red Chamber without pay. According to the motion, the senators committed "gross negligence."
In the press conference Monday, Bayne told Ottawa reporters the motion was "shameful, shocking, unconstitutional."
Toronto lawyer Jeremy Richler says the "spirited defence" Bayne has already provided to Duffy is a sign of things to come.
"He's very high profile and I think he's going to be Stephen Harper's worst nightmare," says Richler.
"Lawyers come from all political stripes and persuasions but I think there is a deep-seated tension between the legal community and this particular government because of its essential disdain for the rule of law. I would be irresponsible to say the prime minister has a direct hand in this — we don't know all the facts yet — but you get the sense they will protect you until it's convenient and when you become a liability you're thrown under the bus."
Bayne has practised criminal law exclusively for the past 36 years and is a designated specialist in criminal litigation by the Law Society of Upper Canada. According to the firm's web site he has conducted trial and appellate advocacy at all levels of courts in Canada and at public inquiries including the Somalia, Maher Arar, Iacobucci inquiries.
He has defended all manner of criminal charges including murder, complicated conspiracies, war crimes cases (in Canada, the Soviet Union, and Ukraine) and charges against corporations.
A former athlete, Bayne is in the Queen's University Football Hall of Fame having quarterbacked the Golden Gaels to victory in the 1968 Vanier Cup.
"He's a blue chip type of guy," says Ertel. "He's the kind of guy every other guy would like to be but they aren't."
He received his LLB from Queen's University, an LLM from the London School of Economics and Political Science and an MBA from Queen's.
Bayne won the G. Arthur Martin award in 2006 for "an individual in Canada who has made a significant contribution to criminal justice."
"It's the highest award given out by the Criminal Lawyers' Association," says Ertel. "I think he was the first one from outside Toronto to win the award."