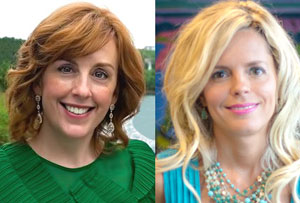 Lawyers regularly navigate complex situations that require thoughtful and strategic decision-making. While knowledge, experience and research are essential to this process, an important and often overlooked tool is inner knowing, or intuition.
As coaches, we regularly help others to learn how to leverage their intuition in their work and personal lives. We believe that intuition is an especially powerful tool for the legal profession.
When we first talked about what we thought about the role of intuition in lawyering, Jennifer replied it was essential to her work. However, as a young lawyer, she feared that being intuitive might diminish her credibility. Yet, she found it helped her to be effective in her work and to develop a keen sense of other people that facilitated strong and trusting relationships. This has been especially helpful in preparing her for leadership roles.
As lawyers, we regularly face serious issues that require research, strategic thinking and the ability to make credible decisions. Jennifer's approach is to gather all of the research and factual evidence first, which she reviews to help her formulate an analysis. Then, she checks in with her intuition to help her reach a final decision.
As lawyers, we have to rely on the facts and evidence. Jennifer has learned to also incorporate her intuition, or inner sense of knowing, in her work. She believes that lawyers can be most successful when they leverage both the facts
and
their intuition in providing legal recommendations and decisions.
Jennifer now coaches her team and other lawyers and legal specialists to rely on their intuition in their personal and professional lives.
What is intuition?
According to Malcolm Gladwell's book
Blink: The Power of Thinking Without Thinking
, intuition is a critical and rigorous process of "rapid cognition" that offers us foresight and help with creative
problem solving
. Far from being a new age fad, it is a critical business skill that can be learned and honed, allowing us "to see ahead of the curve, to generate innovative ideas, to communicate powerfully and to do so without having to study spreadsheets or gather
piles of data.
"
Does intuition have a place in law?
We began our research for this article with an assumption that the topic of intuition might raise eyebrows among lawyers. Suggesting that lawyers can improve their practice by accessing intuitive guidance might seem a bit too far-fetched for some. The law, after all, is a profession that requires critical analysis and evidence-based, dispassionate action.
Yet research has shown that good lawyers are also adept at developing relationships, perspective taking and
problem solving
, all of which are strengthened by emotional intelligence, self-awareness and the ability to see ourselves as part of an interconnected whole. Intuition helps lawyers make connections and recognize and anticipate patterns without needing to spend a lot of time analyzing the
situation
.
We asked a few in-house lawyers what they thought about intuition and they said it is an integral aspect of their practice.
Five ways to boost your intuition
So, how can your intuition work for you?
Start by becoming familiar with what your intuition looks and feels like. For example: Pictures or images that pop into your mind; dreams containing images that help you understand a real-life situation; a physical sensation in your body, like heat or gnawing in your gut; a strong sense that you should or should not do something.
These signals offer direction and they can also warn us about danger ahead. Learning to recognize intuitive signs is the first step in working with their guidance.
Here are five practices that can help you boost your intuition:
Pay attention to synchronistic events:
Did someone pop into your mind shortly before you saw them? Take note of these patterns. Keeping a journal can help.
Make time for quiet:
Try spending 10 to 20 minutes each day in silence with your thoughts. Taming the mind produces great benefits over time.
Stay grounded:
Spending time in nature has proven health benefits. The sense of connection and grounding to the earth can help you to access higher guidance.
Practice yoga:
Yoga teaches you to focus on your internal dialogue rather than the external world. It helps you to listen and be present with subtle forms of feedback.
Hone all your senses:
Learning how your senses affect your intuition can be very powerful. Try stimulating your senses with essential oils, therapeutic massage balls, music and new foods.
Putting it into practice
Lawyers who integrate intuition in their practice experience a range of benefits. It helps to improve the quality and impact of their work, relationships and career opportunities. It also boosts confidence, makes them more self-aware, empathic and able to push beyond their comfort zone with grace.
In other words, honing your intuition can help you to improve your practice, hone your business sense and accelerate your career growth.
Jennifer Mercanti is assistant vice president and senior counsel, Canadian Division, with Manulife Financial Corporation and has more than 15 years' experience in corporate and securities law. She is a member of the bar in Ontario and Massachusetts. She is also vice chairwoman and director of The Charity of Hope. Along with her charity work, she is also a Certified Professional Coach with the International Coaching Federation and a Registered Yoga Teacher with Yoga Alliance. She coaches other women and men to raise their consciousness and fulfil their potential in their careers and life. She can be reached at
[email protected]
or
@jenniemercanti
on Twitter.Lisa Watson helps awakened leaders to build compassionate and impactful organizations that create meaningful and lasting changes in the world. She is a social impact strategist, executive coach and mentor with 20 years of experience leading high-profile initiatives and partnerships involving government and the private, philanthropic and non-profit sectors. She is the founder and CEO of Strategies for Social Impact, a coaching and consulting firm based in Toronto. She holds degrees in psychology, social work and social innovation. She can be reached at
[email protected]
or
@LisaWatsonCo
on Twitter.