Borden Ladner Gervais LLP has named its new chief executive officer, a Montreal-based partner with an extensive background in construction law.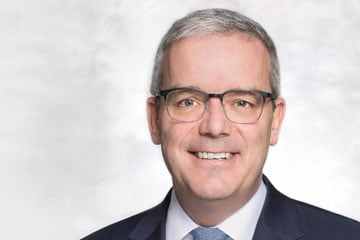 Borden Ladner Gervais LLP has named its new chief executive officer, a Montreal-based partner with an extensive background in construction law.
John Murphy will take on the role of CEO and national managing partner of BLG in July 2018, after Sean Weir spent 18 years at the helm of the firm, including leading the merger of five regional firms in 2000.
Murphy will be responsible for more than 700 lawyers working for the firm across the country, in five offices located in British Columbia, Alberta, Ontario and Quebec. That includes more than 300 partners.
"We have a strategic plan and it's been successful for us, and we will continue to deliver on our strategic plan," says Murphy, who was involved in the development of the plan as a member of the national executive committee.
He says things are going "exceedingly well" at the firm.
"Sean has been the only national managing partner and CEO this firm has ever had, and what is very important for our clients and what's very important to the partners and everybody, the business services personnel, and everyone, is to ensure a smooth transition," he says.
Murphy joined the firm in 1989, and was called to the Quebec bar in 1990.
He was the regional managing partner of BLG's Montreal office from 2006 to 2017.
"I've only known one firm and, obviously, I'm very proud of what it's become," he says. "I didn't join it because it was a national [firm] or it was the largest, I joined it because of the people who interviewed me and I felt most at home here in the firm, and it's proven be a tremendous success. It's a great law firm with a great culture."
Murphy has acted in a range of notable cases, including in private arbitration related to the Champlain Bridge in Montreal. He has also served as board member for organizations such as Catholic Action Montreal and the Sacred Heart School of Montreal, as well as president of the Pillars Trust Fund.
He says he benefited from maintaining his practice in construction law, while also serving other roles within the firm.
"When I was elected as regional managing partner in 2006, I was 41 years old and, obviously, too young to completely divorce myself from the practice of law and so I've always been able to combine a healthy practice with the administrative responsibilities that I assumed over time," he says.
"I think that was a criteria that the partnership board thought was quite advantageous for a candidate, because when you remain in the practice, you continue to engage the clients, realize what the issues are for the clients and you are actually practising, and there's a high level of credibility that must come from assuming this position, and how you get credibility in part is showing good judgment but also having client relationships."
Murphy was selected after the firm's partnership board undertook a process to find a replacement for Weir, with support from a succession planning committee.
"The board went out and engaged several additional partners in order to ensure that the consultation was as wide and as deep as possible through the process," he says.
Murphy says there are 11 elected partners who sit on the partnership board, as well as Weir, who led the process of selecting a new leader.
"They were the ones that put together a transition committee and a selection committee and hired the consultants and drove a process keeping the partners informed every step of the way, so that there were no surprises for anybody," he says.
It culminated in the selection of Murphy for the role in late 2017. He says he'll be meeting with lawyers across the country as part of the transition process.
"[I] need to get out to the five offices and meet with the partners and ensure a smooth transition, so it's nice to have that [transition] time in order to get to know the partners better."