Canadian companies should think about succession planning for their boards and consider efforts to attract a more diverse slate of directors with international experience and a younger profile, according to a new report on governance.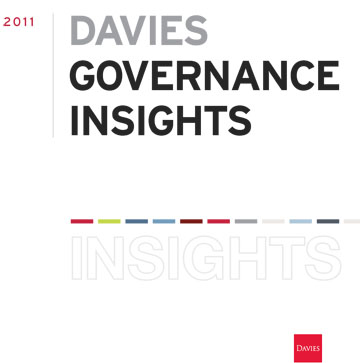 As Canadian issuers prepare for the 2012 proxy season, they should expect continued focus on the individuals being put forward for election as directors — and those directors should expect heightened demands for accountability from shareholders — according to the report "
Davies Governance Insights 2011
" from Davies Ward Phillips & Vineberg LLP.
The report looks at governance trends, practices, and board profiles of the 360 Canadian issuers that make up the Standard & Poor's/Toronto Stock Exchange Composite and S&P/TSX SmallCap indices and the issues that are expected to shape the 2012 proxy season.
The report analyzes the composition of Canadian boards, concluding they are largely homogenous. It found that directors of TSX 60 companies are typically men in their early 60s while directors of smaller companies tend to be slightly younger. And despite the capital markets being global, almost 80 per cent of directors of issuers on the S&P/TSX Composite Index are resident Canadian.
"There's a good reason these people have achieved success, but in terms of succession planning it is useful to try and draw to a board people who are younger and have a diverse profile," says Carol Hansell, a senior partner at Davies and the only Canadian who sits on the International Corporate Governance Network.
She says if a company feels its board is a perfect size, it may be an excellent time to bring someone new on to begin succession planning so they can contribute in a meaningful way when the time comes.
"The last thing a board wants to be doing is addressing the skill gap only when someone retires. A board is there to provide oversight and with companies becoming increasingly global in nature someone with international experience may have experience with other issues such as how compensation may be different around the world."
The report also found that women are making slow progress on many Canadian boards — and even slower progress in assuming leadership positions. Women chaired just seven (three per cent) of the 360 issuers on the combined S&P/TSX Composite and S&P/TSX SmallCap indices in 2011 and only 53 of the more than 1,500 board committees across those same public companies.
"We're not seeking to criticize existing boards," says Hansell. "It may be though that some of these boards aren't drawing the best possible candidates and board turnover is relatively slow."
The report notes that directors who were being put forward for another term had already been serving on the board for an average of eight years and some have term limits up to 10 to 15 years.
As well, most boards are comprised entirely of directors who are independent of management, with the exception of the CEOs.
"Global challenges present an excellent opportunity to rethink some of the accepted practices that may be preventing boards from moving to the next level of effectiveness," says Hansell. "Are boards sacrificing industry knowledge by insisting on the highest levels of independence? Would more international experience at the board level support the company's strategic planning? Are nominating committees considering the best possible candidates from the global talent pool? These are some of the questions boards should be discussing."
The report also identifies a number of trends for 2012:
• Shareholder engagement on composition of the board, strategic direction, and the alignment of compensation with performance will continue.
• Adoption of majority voting (already strong in 2011) will continue, becoming a generally accepted best practice in the next few years.
• Shareholders will have "say on pay" at more annual general meetings. More than two-thirds of TSX 60 issuers are expected to put say-on-pay resolutions to their shareholders during the 2012 proxy season, up from a little more than half in 2011.
• Companies will continue to receive shareholder proposals on a wide variety of issues, although they are expected to have little influence on governance practices in 2012.
• Concerns with the integrity of the proxy voting system will continue to grow, particularly among institutional investors.
"Investors will continue to focus on compensation, particularly with the growing adoption of say on pay," notes Davies partner Jason Saltzman. "In addition, we also expect increased focus on director compensation. Directors of some TSX 60 issuers earn well over $150,000 annually, with some chairs receiving in excess of $500,000. Investors will want to know that these directors are devoting the appropriate time to the company's business. Share-based compensation for directors will also continue to be an issue, particularly the size of equity grants to directors and the form of those grants. Option grants are subject to particular criticism."
Hansell also says very little change has happened in Canada since 2005 with respect to governance issues. "Other jurisdictions have updated their governance practices. We need a fresh perspective on governance in Canada.