Do you know what day the 1867 Constitution Act came into force?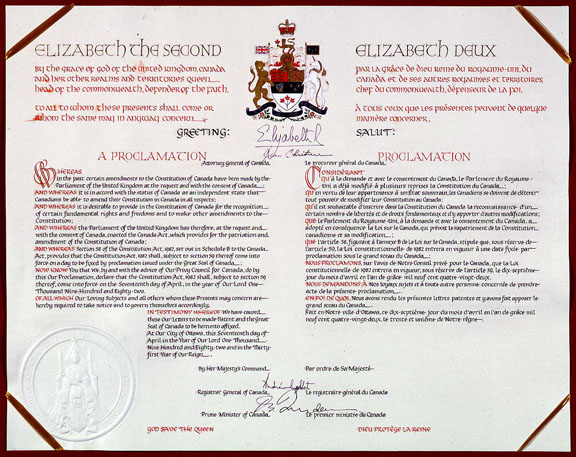 According to a recent
survey
conducted by the Canadian Constitution Foundation, only 54 per cent of respondents knew the answer. (The correct response is July 1, of course.)
With the 30th anniversary of the 1982 Constitution Act quickly approaching, several groups are doing what they can to spread awareness.
The CCF designated March 29 as "Constitution Day" in an effort to improve Canadians' understanding of the act. The date was chosen to align with the constitution acts of 1867 and 1982, which both received Royal assent on that day. The official anniversary is April 17, as that was the day Queen Elizabeth II signed the Constitution Act of 1982.
Chris Schafer, CCF executive director, says the survey results show that Canadians' constitutional knowledge is lacking. For example, only nine per cent of respondents knew the Charter doesn't include protection for private property.
Bruce Elman, a constitutional law professor at the University of Windsor, agrees that there's a general lack of awareness among members of the public. He recalls much discussion about the Constitution leading up to 1982, "but I don't think there's much talk of it now . . . even in terms of whether or not the court is getting the balance right," he says.
Naturally, Elman is a strong supporter of education. During his time as Windsor law's dean, he would speak to high school students about what they should know about the Constitution. "Unless you understand our Constitution, you don't fully understand democracy," he says.
"[The Constitution] really informs how we operate as citizens. Even something as simple as which level of government is responsible for what. In order to be an informed voter in the province of Ontario, you sort of have to know what is actually the responsibility of the provincial government and what's the responsibility of the federal government," he adds.
Elman says there needs to be a greater emphasis on teaching students about the Constitution and the Charter within the Canadian education system. "I think the most obvious way to give the public an understanding of their rights and about constitutional values more generally is first of all in the schools. I think the easiest way to do it is to get young minds thinking about these issues," he says.
The CCF also aims to educate and spread awareness of the Constitution. It has even created a
web site
dedicated to "Constitution Day."
Windsor law students recently
launched
the
Charter Project
to encourage Canadians to start discussions about the Charter. Among their various initiatives, they have produced public service announcements featuring Canadian celebrities and video interviews with legal experts.
As former dean, Elman supported the project from the very beginning. "I'm a huge supporter of anything that will get constitutional issues — Charter or otherwise — out into the public square as opposed to the rarified realm of law firms and judicial forums," he says.