Sustainability and innovation should be rewarded throughout agreements, says industry rep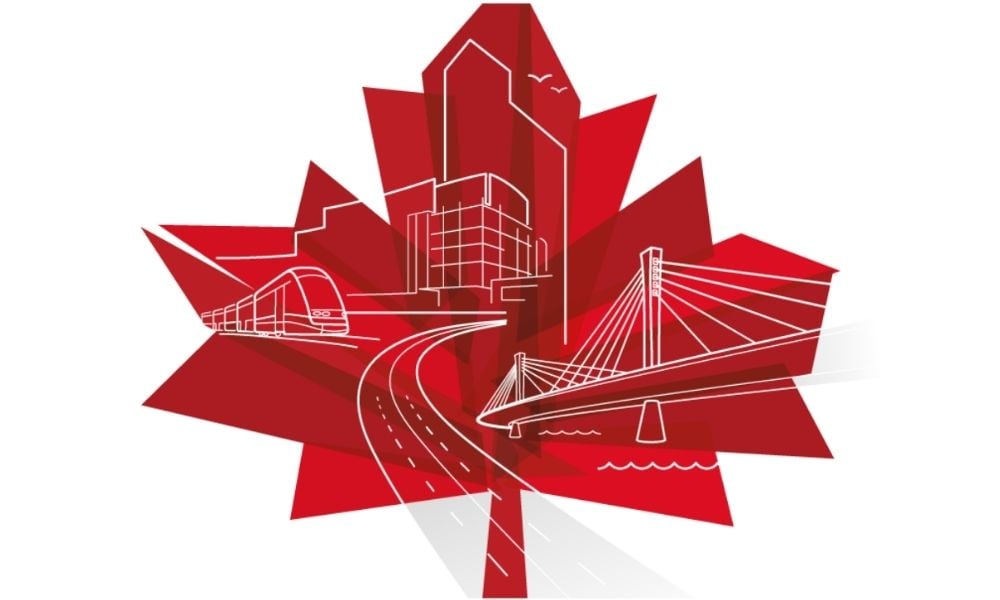 The Canadian Council for Public-Private Partnerships held its 29th annual conference remotely last week for the second time, as COVID-19 restrictions keep conferences and other events virtual.
The conference's two keynote addresses focused on the successes of the integrated project delivery (IPD) model and the traditional public-private partnership (P3) model. And, speakers noted, the infrastructure market is healthy.
"Many of the discussions today are centred around delivery models, which, going back 20 years, there was only really [one] delivery model, and that was design, build, finance, operate and maintain," said John McArthur, a CCPPP 2020 Champion Award winner and former president and chairman of Kiewit Development Company, in opening remarks last Wednesday, the conference's second day.
"As the saying goes, there's not one-size-fits-all," he added, "so having options there is a good thing. The market is, from my perspective, very positive [and] growing opportunities in terms of the models for delivery."
Howard Ashcraft, an author, academic and partner at U.S.-based law firm Hanson Bridgett LLP and a practising construction lawyer with experience in major infrastructure projects, was the opening speaker last Tuesday in a keynote address sponsored by SNC-Lavalin. Aschcraft is especially known for developing the theory and recommended practices for collaborative project delivery approaches, such as Integrated Project Delivery, and in integrating technology with project delivery.
Ashcraft discussed his observations in the context of the IPD model of "relationship contracting," which is based on the relationships of the parties, "where the relationship is so important to the parties" that they will be focussed on more than their own best interests in working on projects. Parties will be motivated to do so because they want to work on other projects as well.
A "resilient agreement" changes the way a project is structured, Ashcraft said. The contract structure of IPDs comprises:
Early involvement of key parties
Joint decision-making
Shared risk/reward
Jointly developed targets; and
Reduced liability amongst parties
Its business model includes profit based on project outcome, and limited change orders, while the "enabling behaviours" include optimizing the whole, not the parts; trust; using appropriate technology; and collaboration.
Ashcraft's research showed that 84 per cent of projects had some increase in profit using this model.
"IPD is doing very well compared to other project delivery systems," he said. "There's a lot of interest internationally in all the ways to do this."
In his keynote address last Wednesday, John Beck described sustainability as "an increasingly critical element in everything we're building, and in particular, how we are building the infrastructure for the future."
This ranges "from the reduction of emissions and GHG targets, to innovative electric construction equipment, carefully working around ecosystems, and energy conservation methods, such as geoexchange, to the very essence of many of the projects we build, such as public transport, transportation systems that reduce GHG emissions, all to the benefit of society," said the founder and chairman of Aecon Group Inc.
"By embracing and rewarding innovation and sustainability in the procurement process, we protect infrastructure assets from the future effect of environmental uncertainties, sometimes over a 30- to 50-year infrastructure lifecycle," Beck said.
"The best way to accomplish our collective goals is to establish mechanisms that allow all parties to collectively win, [and] this is one of the fundamental values of P3 projects," in which Canada has been recognized as a growth leader, he added.
Sustainability and innovation are good examples of what should be rewarded throughout agreements, Beck said; and "we need teams that can operate in a timely manner, and resolve issues before they become disputes. Leaders need to have a collaborative approach. … I see that kind of thinking on the sponsor side, and I welcome it."
Unknown risks must also be better identified, managed and mitigated, and the earlier involvement of builders is critical to managing that risk, he said. Sponsors also want a guaranteed price, and "I am very optimistic that can be done," Beck said, noting a recent McKinsey survey that "showed collaborative contracting and technology to be among the levers with the greatest potential impact.
"Research shows that early adopters of collaborative contracts are seeing improvements to project outcomes on an average of 15 per cent for scheduled and cost improvements on a representative set of collaborative contracts."
The conference, held over three days, from Nov. 16 to 18, saw more than 900 attendees from 23 countries and over 90 speakers – down from last year's attendance records, which saw over a thousand registered delegates from 38 countries, and perhaps not surprising given the event was virtual for the second year in a row.
It was also announced that Lisa Mitchell will be taking up the reins as president and CEO of the Canadian Council for Public-Private Partnerships in December; she will replace Mark Romoff, who retired in May after helming the organization for over ten years.
Related stories