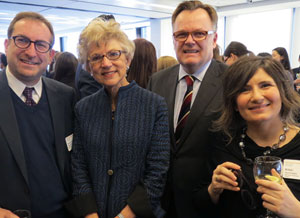 Aspiring law students heard from Canada's top judge last week that the volunteer program they are a part of is something she wishes was available when she was a law student.
"When I went to law school, there was no such thing as a legal clinic or any
pro bono
society or any chance to actually meet somebody who had a legal need and talk to them about it and start doing something about it," said Supreme Court of Canada Chief Justice Beverley McLachlin, adding she remembers when volunteer opportunities at legal clinics began to appear for students in the 1970s.
"I think it gets students seeing the law profession in a different way," she said. "It's not nearly about learning certain skills and being able to go out and make a living — it's about serving the public and it's about helping men and women and children get through the problems that they face in life."
About 100 students were present to hear McLachlin speak, all of them volunteers with Pro Bono Students Canada. The organization pairs about 1,600 law students each year with more than 400 community agencies that have a need for legal services, such as legal clinics and public interest groups.
Having McLachlin there to speak to PBSC volunteers was an honour, said PBSC national director Nikki Gershbain.
"What her efforts reflect is that at the very highest levels of the legal profession, there is a concern about what we are calling — and, in fact what she has called — a crisis in access to justice," said Gershbain. "For us to be able to have somebody who is as pre-eminent as the chief justice of this country come to an event like this sends a message to the profession, to our students, to the law schools, and to other judges that access to justice is a priority for Canadians and it's a priority for the top judge in this country."
In a discussion moderated by Osgoode Hall Law School dean Lorne Sossin, McLachlin shared her perspective on the current state of access to justice in the country and regaled the students with stories from her career.
"When I was an articling student in '69, there was a sense that if you were practising law and making a bit of money off it, you had a duty to spend some of your time helping to ensure that people that might not be able to afford to pay the normal fees would be able to get access," she said.
"For a while I thought it was waning a bit, but I'm glad to see that — what I detect in any event — lawyers are very, very conscious of this."
McLachlin encouraged the volunteers to continue
pro bono
work because there will always be a need to help those who cannot afford legal services.
"I think it's really important to get justice out there for ordinary Canadians and not have some rarefied system of justice that only very wealthy people, corporations, and desperate people who are looking at jail time, and therefore get legal aid, can access," she said. "We need to have a justice system for all Canadians."
Many of PBSC's volunteers will be beginning articling soon and McLachlin told those students to embrace any pro bono opportunities that come across their desks.
"I remember as an articling student getting these files which would come in on a
pro bono
basis. They were some of the best I had," she said.
McLachlin recalled one of her very first
pro bono
cases, which led to a trial she and her team ultimately won. It also resulted in the development of new law.
"To me, that was one of the most exhilarating experiences I could have had," she said.