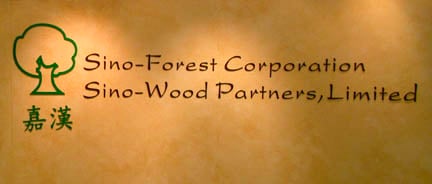 A class action suit has been brought against Sino-Forest Corp., adding yet another element to the drama playing out with what was considered one of the biggest Canadian-based forest products companies operating overseas. Koskie Minsky LLP and Siskinds LLP, counsel in the Sino-Forest Corp. securities class action, have served a statement of claim on Sino-Forest and others. The plaintiffs are claiming $6.5 billion.
This potential class action raises questions about how Sino-Forest conducted its business and the manner in which it raised capital from public markets. It is alleged Sino-Forest falsely maintained that its financial statements complied with Canadian accounting principles and it overstated the size and value of its assets and revenue from the sale of those assets.
The statement of claim in the class action comes on the heels of the company's chief executive officer and founder, Allen Chan, stepping down Aug. 28, just a day after the Ontario Securities Commission issued, and then three hours later rescinded, an order that called for Chan and four executives to resign. The wheels had been in motion for this class action
since June 9
.
The Toronto-based company, which operates large forest operations in China, saw its stock drop 72 per cent on Aug. 26 after trading was halted by the OSC and then in the U.S.
Edward J. Waitzer, a partner with Stikeman Elliott LLP and former chairman of the Ontario Securities Commission, said the OSC didn't have jurisdiction to issue the first order for Chan's resignation.
"The commission went out with an order they didn't have jurisdiction with; an order that the individual resign. If you look at the public interest powers under s. 127 of the Securities Act, there is a list of powers they can do without a hearing and there is another list of powers they can only do after they give people an opportunity to be heard. Taking away directorships can't be done without a hearing," said Waitzer. "Whenever there's a problem regulators want to appear to be in charge and there is a public demand for regulators to say 'we're on top of it' and sometimes the solutions aren't so easy."
Dimitri Lascaris, a partner with Siskinds LLP's class actions department, said he believes the OSC took the steps it did because it felt it had to move fast and not wait any longer for further information to come from the independent committee of company directors that was investigating the company's actions since June following a report accusing Sino-Forest of engaging in fraud.
"I personally find it difficult to believe the OSC had to think very hard about its jurisdiction and scope, but I think they felt the situation was so serious they had to take that step," says Lascaris.
There may also have been a recent update provided from the independent committee which led to the commission taking the steps that it did, says Jay Naster, a former prosecutor and senior litigator with the OSC who is now with Rosen and Co. in Toronto. "It could be that new information was received from an ongoing interface with the independent committee which led them to take steps reflective of the content of that information," he says.
But it didn't take long for the independent committee to remove Chan as CEO the very next day.
Some industry experts suggest the independent committee has taken too long in its process, while others say getting access to corporate records in China is not as easy as it is in North America.
"No question, it is more difficult. That is due in part to the language barrier and structure of their legal system and culture," says Lascaris.
However, Kirk Baert of Koskie Minsky says the two firms were able to pull together the information needed to form the class action suit in one month.
"The external committee said they were going to deal with this in 30 days and that was in June. Now, they're saying it will be the end of the year. They seem to be moving at a pace that is a little on the slow side. The company's shares have ceased trading, the ratings agencies have deleted them, their bonds are worthless, I'm not sure what they're waiting for," says Baert, noting Koskie Minsky and Siskinds were able to put together a 103-page document of information.
"We gathered that on our own. It makes you wonder why it should take the independent committee longer when they have had all the information much longer than that," he says.
Meanwhile, Baert continues to hear from other interested parties involving their interest in Sino-Forest.
"There's certainly a huge amount of interest in this case; we've had a lot of phone calls — co-counsel from media, other law firms, and pension funds that have lost money. People have lost 90 per cent of their investment in less than 90 days," he said. "People have lost billions."
Baert said the plaintiffs are not only pursuing Sino-Forest and its senior management, but also the auditors and other advisers on which the public markets may have relied. The action names as defendants Sino-Forest's auditor, Ernst & Young LLP, as well as financial institutions that acted as underwriters for Sino-Forest in its 2009 prospectus offerings. The claim alleges there were misrepresentations in Sino-Forest's public disclosure that related to numerous aspects of its operations.
The plaintiffs are the trustees of the Labourers' Pension Fund of Central and Eastern Canada and the trustees of the International Union of Operating Engineers Local 793 Pension Plan for Operating Engineers in Ontario.