Legal departments are showing themselves to be cost effective, but they are still sending out a good portion of work to external providers, according to a survey from the Corporate Legal Operations Consortium.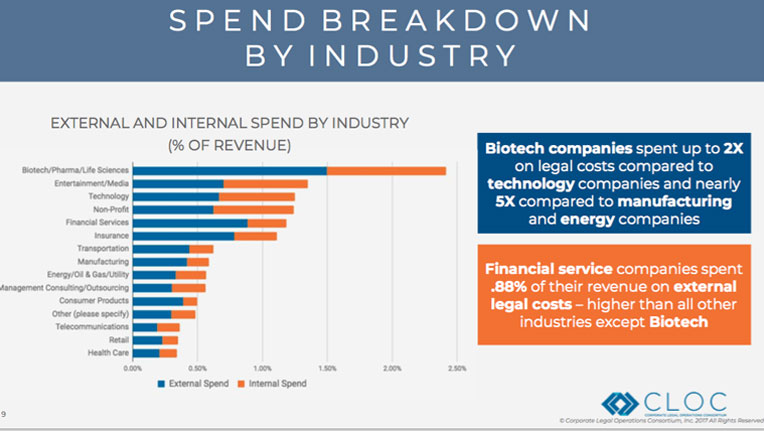 Legal departments are showing themselves to be cost effective, but they are still sending out a good portion of work to external providers, according to a survey from the Corporate Legal Operations Consortium.
CLOC released the results of its 2017 State of the Industry Survey, with findings from 156 member companies with US$10 billion of spend that represent 11 per cent of the Fortune 500 companies from 11 countries across 32 industries. About six per cent of respondents to the survey were from Canada.
The survey shows that 62 cents of every dollar spent on legal costs goes to external legal costs.
"I expected it to be closer to 50/50; that is generally the target for most in-house departments," says Connie Brenton, CEO of CLOC and director of legal operations at NetApp Inc. "We are wondering if it means that funds are being spent to right-size the work, so they may be sending more work out to a third party, not necessarily an outside counsel but to an LSO [legal service outsourcer] in order to run the department efficiently."
Biotech companies spent up to two times on legal costs compared to technology companies and nearly five times compared to manufacturing and energy companies. Financial services companies spent .88 per cent of their revenue on external legal costs — higher than all other industries except biotech.
Jeff Franke, corporate secretary of CLOC and chief of staff and assistant general counsel, legal operations at Yahoo, said the reality is most legal departments have not reached the 50/50 stage.
"I think what was surprising was the distribution relevant to the participant size. Typically, larger corporations do a better job of getting to 50/50, but this survey was fairly heavily weighted toward mid-size and large corporations and that suggests mid-size ones are further," he says. "Any legal department spend will also vary radically based on what's going on in the company. If you're doing a ton of M&A or you have some major litigation going on, it doesn't take very much to really radically shift it."
There is also a significant number of companies that are not using LSOs.
The survey also showed 83 per cent of survey participants said they are using an e-billing and matter management system, and five e-billing vendors account for 84 per cent of the market share amount, according to those with an e-billing system. Thomson Reuters Legal Tracker, Mitratech Collaborati/Team Connect, T360 from TyMetrix, LexisNexis CounselLink and SimpleLegal made up the top five. [Note: Canadian Lawyer InHouse is owned by Thomson Reuters.]
"E-billing is the fundamental technology in any department. It is the first that any department puts in. You need to understand where your funds are being spent in order to make a series of decisions. I'm surprised there is the 17 per cent that did not have an e-billing system; otherwise, you are doing all your invoices by hand," said Brenton.
However, nearly half of respondents have no contract management system. There were 33 different vendors cited as those used by the 84 companies that said they do have a contract management system. Six vendors account for 58 per cent of the market share among respondents with a contract management system. In the top five were Apttus, Ariba, a custom or homegrown system, SpringCM and Icertis with Salesforce in sixth spot.
Nearly two out of three survey respondents do not use alternative service providers, but 15 per cent of companies that use ASPs use three or more. Those in the top five were Elevate Services, Axiom, QuisLex, Integreon and Pangea3.
Franke said one area that was surprising in a positive way was that the average internal spend per legal department FTE is US$221,000, which shows in-house resources are "incredibly efficient."
"That averages out to $110/hour and that's just an average," he says. "If an internal resource costs you $110/hour, it gives you cause for pause to say 'Why am I paying $400, $500 or over $1,000 an hour for outside counsel?' Clearly, they bring experience and expertise in certain areas, but in-house typically have seven to 10 to 20 years experience. That highlights the incredible premium we're paying for things."
The average external legal spend per in-house lawyer was US$607,000.
A Canadian chapter of CLOC was recently formed with about 15 members.
"Canada has been active in an informal way for a year and it looks like legal operations has taken hold in Canada and they're interested in tapping into the CLOC community," says Brenton.
CLOC has grown rapidly since its inception with 25 regional groups forming in 18 months.
"We are re-doing our infrastructure right now because we built two-lane roads and we should have been building highways. We really hit the tipping point and are now trying to make sure we are continuing to service members and provide content so everyone can do their jobs," said Brenton.
CLOC is also working on a number of initiatives including creating a set of definitions of metrics that legal departments should consider capturing when running an efficient legal department. For example, when capturing turnaround time for contracts, it will provide a definition of how to measure it, where to get the data source and how difficult it is to measure as well as whether you need technology to do it.
Other standards already completed include fixed fees for IP, a legal project management checklist and a survey for when preparing for a quarterly business review of a service provider.