One of the most unpleasant bits British lawyer
Mark Stephens
has had to deal with in his high-profile representation of WikiLeaks founder Julian Assange was a telephone call from his young daughter, who was too frightened to leave her bedroom because of an unknown man parked outside of and watching their home.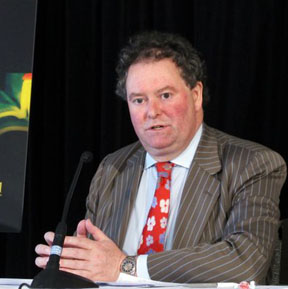 Spies, unlikely to be British or American or Russian, also camped out in an apartment near that of his assistant to record goings-on, says Stephens, who spoke about one of the world's most closely watched legal cases in a session called the "WikiLeaks Case: What You're Not Reading in the Paper" at the annual meeting of Meritas Law Firms Worldwide, the global alliance of independent full-services law firms, in Montreal on Friday.
There were also issues at his firm, Finers Stephens Innocent LLP, a Meritas member, concerning the collection of fees to pay the cost of defending Assange from extradition to Sweden, where he is wanted for questioning in connection with the alleged rape of two women under the county's strict sexual consent laws.
"When a client hasn't got a bank account to pay you that is when I got really worried — not as worried as my partners," Stephens said to great laughter as he held dozens of lawyers in thrall talking about the latest developments in the case.
Joking aside, Stephens said the law firm set up on its web site instructions for contributing to the Julian Assange Defence Fund — an arms-length trust where contributors are verified — after a rash of denial-of-service attacks and a decision by credit card and online payment companies followed the controversial release of information contained in leaked United States diplomatic cables by WikiLeaks in co-operation with big media organizations like
The New York Times
.
The next stage of Assange's legal fight against extradition takes place during two days of hearings at Britain's High Court beginning July 12.
Laying the groundwork for that case and any subsequent extradition request to the United States, Stephens, an established international media law practitioner, described Assange, now out on bail and living on an English country estate, as a new media pioneer whose receipt, verification, and publication of the material was no different than other traditional media organizations handling a scoop.
Assange consulted in writing with the U.S. ambassador and agreed to redact names of certain individuals in the leaked cables, says Stephens, and subsequently "turned down flat" an offer of US$2 million for un-redacted material from "one of the Middle East totalitarian regimes."
It still remains to be seen how the fight to prevent any extradition of Assange to Sweden — where he would appear before "a politically-appointed judge in a secret hearing" — relates to a
grand jury hearing
taking place in Alexandria, Va., just outside of Washington
"We know there have been subpoenas and they are trying to shake the electronic tree to get information which will link Julian Assange to Bradley Manning," the U.S. soldier charged with communicating national defense information to an unauthorized source and the capital offence of "aiding the enemy", says Stephens, who maintains that the e-mail address of all contributors to WikiLeaks are stripped off when they enter the system.