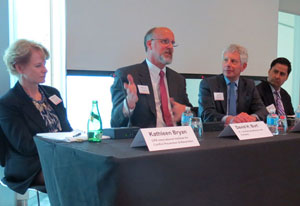 In-house counsel may be developing diverse internal departments and asking their external firms to staff with diversity in mind but when it comes to mediation or arbitration, diversity seems not to be on their radar.

During an Association of Corporate Counsel session held in Toronto May 8 at Norton Rose Canada LLP, a panel of in-house counsel and outside lawyers addressed the issue of why diversity matters in ADR.

Panel moderator Dorothy Quann, vice president and general counsel for Xerox Canada Inc., conceded while she's an executive member of Legal Leaders for Diversity — a group of almost 70 Canadian general counsel committed to diversity in the profession — she hadn't thought about it with respect to ADR matters.

"I really hadn't thought of ADR in this way — it's a topic that has had a lot of profile in the U.S. and we're starting to think about it here in Canada," she said.

Just as research shows corporate boards are more effective when comprised of a diverse group of people that can produce more creativity and better decision making, the same can be applied when a varied group of people provide mediation and arbitration services, said Kathleen Bryan of the International Institute for Conflict Prevention & Resolution in New York.

In order for the marketplace for mediators and arbitrators from diverse backgrounds to grow they need to get the right experience — a challenge when so few are asking for them.

"In order to have a good pool of mediators and arbitrators and get the best decisions possible you have to consider diversity actively," said Bryan.

Compounding the problem in North America is that many people go into mediation and arbitration at the end of their careers and that means it tends to be an "older person's game."

"The statistics are overwhelming both in the U.S. and Canada that most mediators and arbitrators on the selection lists you see are older, white males. You do not have diversity in many of the pools you would have access to," said Bryan.

In many ways, the system in Canada has dictated the demographic of those performing ADR services.

"In Ontario and in some U.S. jurisdictions there was a lot of mediation and arbitration being done by retired judges," said Barry Leon of Ottawa's Perley-Robertson Hill & McDougall LLP. "Initially people were only looking to the retired judge model. In the rest of the world it's different and much more accepted to have younger mediators and arbitrators right out of law school."

He said that is changing in Ontario and British Columbia where there is a greater acceptance of those who are lawyers and the market has opened up.

"Even though we haven't seen that much of it, it has opened up opportunities for women and greater diversity overall," Leon said.

The basic pitch for diversity in ADR is there is more than one way of thinking in the world, said David Burt, corporate counsel for E.I. du Pont de Nemours and Co., who has led the company's global ADR team in Wilmington, Del.

"We're all full of the culture we came from and the locality we came from. The 55 year-old bald white guy thinks a certain way," he said. "My colleague, Ernest Tuckett, may think a different way."

There are also business-oriented reasons to consider diversity in ADR.

"If you think about mediating an employment dispute, for example. What happens if, as the DuPont Company, we take care to mix into our list of mediators people of colour, women, people of diverse backgrounds; it's a way of creating comfort for potentially an opponent who can feel they are being valued and recognized. It's really for the same reason we would want diverse attorney representatives in court," said Burt.

To improve the situation the onus should be on in-house counsel to ask for a list of individuals from different backgrounds and not just relying on the usual roster.

"One of my pet peeves is passive in-house litigation counsel who spin around in the big chair, pay the bills, make yes or no decisions but don't actually get involved in the process," said Burt. "We miss opportunities when we don't get involved.

"You can say: 'Why don't we create an opportunity for a person of colour or a woman to participate as a neutral for us?' When we do that we push the person to the fore and we give a positive experience to ourselves, our clients, to our outside counsel, and everyone involved in the process."

But when it comes down to strategy and winning in an arbitration or mediation case it can be tough to separate wanting to give someone a chance who hasn't had one and going with the tried and true. Barry Fisher, vice president and general counsel of SAP Canada Inc., challenged the panel on whether it is prudent to pursue diversity for diversity's sake when the end goal is to ideally find someone who is best suited for the case.

"Counsel, particularly in an arbitration situation and even in a mediation, is out to win and if you're a middle-aged white guy you know how to argue with higher predictability of success when you're talking the same language and have the same cultural norms as the person you are advocating before," said Fisher.

"We are engaged to come out of this process with a favourable result for our client. Are we not better served to put the nice social part of this aside for other events than those for which we gain remuneration and therefore become the crass, select people who look and sound like us?"

Bryan said it's a concern she hears a lot but noted what is familiar should not be equated with "quality" and what is unfamiliar shouldn't be viewed as "inferior."

"One of the things we've been trying to advocate for is to say there is an implicit bias issue that what we see as familiar becomes what we determine as quality," she said. "It requires us to recognize that we all have it and it's an issue in determining a level of comfort and the only way to get around it is to understand the role it is playing in our decision-making process."

In choosing arbitrators in-house counsel need to give a green light that it's OK to suggest people who aren't the best known in the field or the most popular — but rather a range of people.

"I think there is a need for leadership in the corporate counsel community to give comfort to outside counsel on this issue," said Leon.

The key is to get diverse arbitrators and mediators known not only in the greater in-house community but within a company's own business units, said Sanjeev Dhawan of Hydro One Networks Inc.

"We have to give them a chance and we need to speak to our client groups and sell them on their competence and I think everyone agrees confidence is the key. At the end of the day you're not going to sell your organization short but you can achieve dual objectives," he said.