Pitblado LLP captured the gold medal in the mixed recreational division of the 2012 Canadian Cancer Society Dragon Boat Festival. It was the first time the Winnipeg law firm was involved in the race, making the victory a surprise even to the team.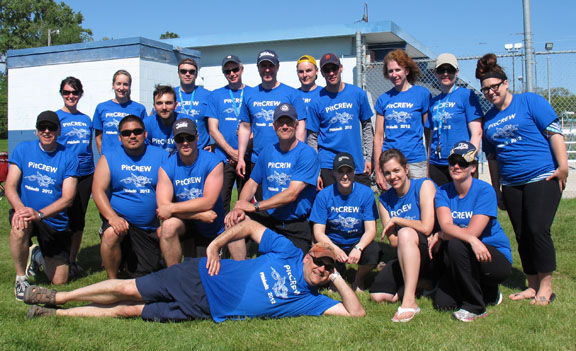 Mark Wallace, an associate with Pitblado LLP, says his team didn't expect to win and actually left to enjoy the good weather, discovering later that they had won.
"We were losing up until the finish," says Wallace. "We passed just at the finish line. As a steerer, I could see how we were doing. It was great to pull ahead just then."
The race took place on June 23 at the Winnipeg Rowing Club on the Red River. The Pitblado team included 17 people from the law firm, with a mix of lawyers and support staff. The firm got involved with the race through partner Joe Barnsley, who is part of the Winnipeg Rowing Club. The club worked with the Canadian Cancer Society to host the event.
"It's a good cause. It seemed like a great team-building event as well," says Wallace.
Dragon boating has been around since the fourth century BC, originating in China. The modern day races consist of corporate or community teams racing to complete a 500-metre course in long, skinny boats with a dragon's head on the front. Inside the boat are 20 paddlers, guided by a steerperson. The drummer at the front of the boat provides the paddlers with a beat to keep them in sync.
Pitblado faced off against 27 other teams, including two Winnipeg law firms.
The reason the Pitblado team won? Wallace says the victory was due to hard work on the team's part.
"The team really meshed well and everyone that was rowing put in a lot of effort."
Wallace says his firm plans to race again next year.