Innovation, finding efficiencies key: Canadian Law Awards panel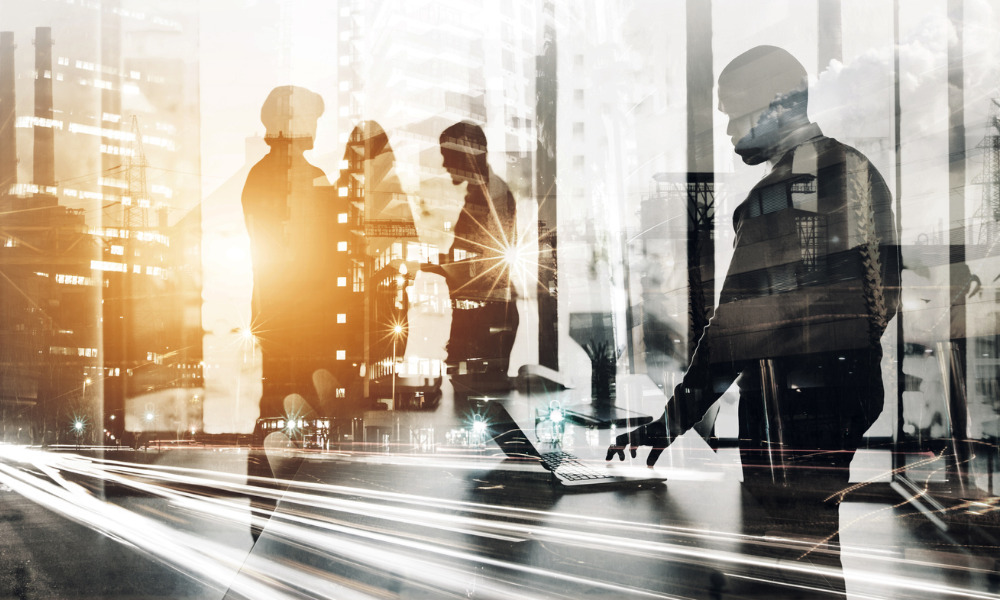 Sponsored content
As the business and legal landscape changes, so must the professionals who work in the tech-heavy field of intellectual property (IP). Discussion of the challenges IP firms and lawyers face as they strive to stay at the top of their game dominated the conversation at a 2021 Canadian Law Awards panel on the future of the IP boutique and adapting to a new era of innovation.
As companies move into new markets and embrace emerging technologies, they need counsel from IP lawyers who are "able to really understand what they're talking about and provide the right advice," says Chris Day, director of payments and partnerships at CLA sponsor Western Union Business Solutions, who moderated the panel.
"These lawyers are dealing with clients that have a new way of thinking, so they have to adapt — they've got to be experts in the law and in new, cutting edge technologies coming out to be able to service their clients," Day notes. "These emerging technology markets present a suite of new challenges that have to be contemplated by law firms and boutiques that focus on IP ."
Western Union Business Solutions sponsored the award for 'IP Boutique Law Firm of the Year,' and Smart & Biggar LLP was honoured to take home the title for the second consecutive year.
"Our expertise in all areas of intellectual property law has been the hallmark of Smart & Biggar for over a century," says Matthew Zischka, managing partner at the firm. "We have maintained our standing as a leader, by continuing to focus on the quality and innovativeness of our legal work, and our drive and commitment to client service and excellence."
Keeping on top of the ever-advancing technologies in the field is no small feat — not only do IP lawyers have to think locally about how new products and service affect their clients' IP in Canada, but they must also partner with IP lawyers internationally to consider the impact on a client's IP globally. That's where Day says his company's solutions overlap with the needs of IP law firms, by providing a "very specific solution" for them to manage their finances across borders. Spanning 200 countries/territories and offering 130 currencies, combined with the support of a skilled team of financial specialists who provide market insight and risk management consultations, Western Union Business Solutions helps organizations and law firms of all sizes optimize cross-border payment.
"They're able to use our global network to make sure whenever they're getting service from overseas from other agents, they are able to deliver those payments efficiently," Day says. "And they can easily receive payments for their services as well."
Western Union Business Solutions helps firms run at optimum efficiency, which is something else the panel participants talked a lot about. Bob H. Sotiriadis, partner, lawyer and trademark agent at ROBIC LLP — a finalist for the IP Boutique Law Firm of the Year award — says major Canadian IP boutiques "have to master the art of developing business in the virtual space, in parallel to in-person strategies and keep emphasizing the advantages of dealing with a highly competent IP firm with a deep bench."
"IP boutiques have to continuously optimize everything, from workflows to processes for invoice review and approval, or they will end up working hard for little reward," he adds.
Western Union Business Solutions creates efficiencies within a firm's invoicing department by completely integrating with existing workflows, docketing platforms and CRMs and the firm's financial invoicing and payments software. Firms used to send tens and thousands of cheques overseas to pay bills, which was inefficient, or send wire transfers, which can be expensive, but with Western Union Business Solutions "the entire payment and receiving process is fully automated," Day says, which optimizes the critical workflow.
As moderator, Day enjoyed the opportunity to stay up to date on IP developments and take away insight into how Western Union Business Solutions can be leveraged to meet some of the challenges the field is facing.
"I want to thank the finalists and congratulate the winners," Day says. "They are all at the top of their game in an exciting and ever-changing field, and we are proud to offer a solution that helps them continue to innovate and create efficiencies where they need them most."
*The law firms mentioned in this article may not be clients of Western Union Business Solutions and the comments included here are not provided as endorsement.