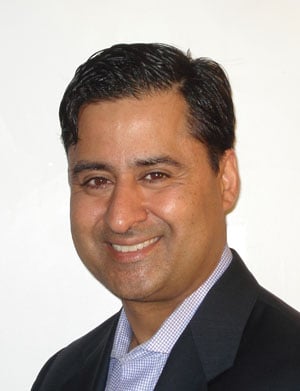 Continued uncertainty in the global economy may have an impact on in-house positions in Canada prompting the Association of Corporate Counsel in Ontario to launch an initiative for its members who may find themselves between jobs.
ACC Ontario chapter president Sanjeev Dhawan says it appears some U.S. companies are looking at their subsidiaries in Canada and making cuts to their legal departments here.
"At minimum we're vulnerable," says Dhawan. "Obviously it's a move necessitated by the economic situation in the States. Because the decision-makers are there they are going to look for ways of cost cutting and consolidate their in-house legal operations somehow."
Dhawan says last winter the ACC in Ontario began to notice at its regular continuing legal education events that lawyers who did not have jobs were attending events to not only get their credits but also to network.
"That is the right thing to do and so we thought why not have an event just for lawyers in transition and anyone else who wants to support them," says Dhawan.
Examples of legal departments that have cut in-house staff are largely anecdotal at some technology companies such as Research In Motion Ltd., and the
CBC also eliminated senior legal counsel Daniel Henry's position
last month as part of cuts to federal funding.
"I think the tech sector is one where it has been felt the most. When they need lawyers they are going to outside counsel now," says Dhawan. "I don't have any hard numbers but I think it's higher than we are actually seeing. So far it has been mostly through self-identification to us."
Often the moves are invisible because, for example, people keep their old job title on a LinkedIn profile even when they are without or in transition to another job.
"I think there are a lot more people in transition unofficially — meaning they know downsizing is happening or about to happen — so they are not officially out of work but know things don't look good on the horizon," he says.
Andrew Wood doesn't live in Ontario but found himself out of a job recently as senior legal officer and corporate secretary at a British Columbia-based technology manufacturer with international subsidiaries in the research, communications, and defence sector. His job ended last year as the fallout of the recession prompted a major restructuring of the company.
He's now looking to reinvent his career and has moved back to New Brunswick where he had a second home.
"I've decided to do two things I like:
"(a) build a boutique law practice based on a revival of the old country doctor concept applied to lawyering, and
"(b) provide contract in-house corporate services to large corporations that would benefit from temporary services by experienced in-house counsel, and provide specific in-house services for small and medium-sized businesses," says Wood.
"It's about adapting, being open to opportunities, and rolling up the sleeves. It feels good."
Late last month, the ACC Ontario chapter launched a
Members in Transition
program that will include hosting quarterly networking events for ACC members who are seeking new opportunities and a "hire ACC Ontario experience" program that offers members a listserv notification of job opportunities and networking events.
The ACC Ontario has 300 companies that are members or who have members with the ACC.
"We're saying if you know of anything let us know and we can help out another ACC member," says Dhawan. "It's that hidden job market that never gets advertised or by the time most listings appear in the [
Ontario Reports
] they are well along into the recruitment process."
The first Ontario MIT event was held May 28 and about 20 members attended, but not all were between jobs.
"They can exchange information and network with no strings attached — that was really the idea of providing a forum as an association for in-house counsel. We had a pretty good response and intend to do this regularly and we think it will have some traction. You didn't have to identify if you're in transition or not. Some may have just come to network and chat with other lawyers," he says.
The New York chapter of the ACC has a similar program. The N.Y. chapter of MIT has a "bring your own lunch" meeting at noon on the first and third Wednesdays of every month at the offices of Kraft & Kennedy Inc., a company that provides technology and strategic consulting services to law firms and corporate legal departments.
"I've been talking to them about it and they've seen good success," says Dhawan.
Dhawan says a list of factors may contribute to shrinking legal departments in some sectors over the long term. Last week, the Association of Legal Professionals issued a
report
saying 2011 law grads in the United States face the worst market yet with less than half finding jobs in private practice — the lowest since 1994. NALP also stated that one-third of new grads in the U.S. were going into positions where they didn't need to be a member of the bar.
"That's for new grads but it's instructive on the rest of the market as well because of what's happening in terms of entry-level positions. Something is also happening at the mid-level and further up. The trend is worrisome and clearly indicates the vulnerability of corporate counsel," says Dhawan.
Some find it hard to fathom that in-house departments may be losing jobs in an age when in-house counsel are largely growing in number at Canadian companies that have recognized the value of bringing work in from external firms.
"In fact we've found the opposite to some degree," says Joe Milstone of Cognition LLP — a "virtual" in-house law firm based in Toronto. "The bigger American-based enterprises are seeing the value of hiring in-house here or using a model like ours to counter the multiple bodies and increasing costs associated with simply using an outside law firm presence here."
The ACC is also providing MIT free membership for the first year and discounted membership for the first year they are employed again.
"If you're an in-house lawyer and intend to remain in-house and you can't afford to cover the membership fee, we will also cover it," says Dhawan. "The last thing you want to do is have somebody who is in transition leave the in-house networking."
To post jobs or to sign up for the Ontario Member In Transition registry, e-mail [email protected]