Seven lawyers were among a group of 95 Canadians appointed to the Order of Canada last week including the former speaker of the House of Commons.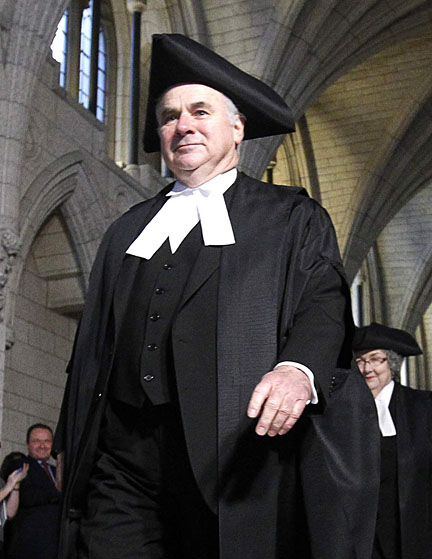 Governor General David Johnston named the appointees Dec. 26 including three Companions, 13 Officers, and 79 Members.
Donald Malcolm McRae of Ottawa and Dick Pound of Montréal were named Companions of the Order of Canada, a promotion within the order.
McRae was recognized for his "seminal contributions" to the law of the sea and to international trade law as a scholar and advocate.
Pound was recognized for his contributions as a champion of fairness in sport and of the Olympic spirit, as well as for his engagement in civic, legal and educational causes.
Officers of the Order of Canada included Jean-Louis Baudouin, an internationally renowned legal scholar and senior partner with Fasken Martineau DuMoulin LLP in Montréal, for his contributions to the advancement of civil law in Canada as a professor and judge for the Quebec Court of Appeal.
As well, Peter Milliken was named an Officer for his public service and commitment to parliamentary democracy as Canada's longest-serving speaker of the House of Commons. Milliken was a member of the House of Commons from 1988 until his retirement in 2011. He served as Speaker of the House for 10 years.
Former Liberal minister of foreign affairs and defence, Bill Graham, was named a Member of the Order. The former lawyer and law professor was recognized for his many years of political service.
Retired senator and Vancouver lawyer Jacob "Jack" Austin was honoured as a Member of the Order of Canada for his work in advancing Canada's foreign trade relations, notably within the Asia-Pacific region.
Michael Meighen, also a former senator, and now counsel at Norton Rose Fulbright Canada LLP in Toronto, was named an Officer of the Order of Canada for his contributions to public life as a lawyer, politician, and philanthropist.
Recipients will be invited to accept their insignia at a ceremony to be held at a later date.
The Order of Canada is one of Canada's highest civilian honours, established in 1967 to recognize outstanding achievement, dedication to the community and service to the nation. Over the last 45 years, more than 6 000 people from all sectors of society have been invested into the Order.
Read the full list of appointees
here
.