Former CBC radio star Jian Ghomeshi was charged with three more counts of sexual assault in a court appearance on Thursday in a widening sex scandal that has prompted suspensions at the country's national public broadcaster.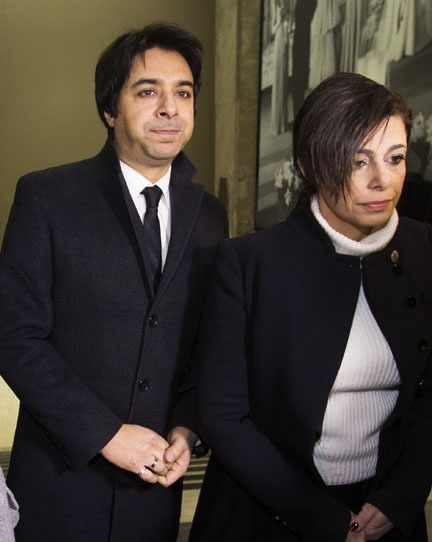 The three new charges, linked to three more women, bring the total number of charges facing Ghomeshi to eight and the number of complainants to six. A publication ban prevents naming any of the women.
Today's court appearance was expected to simply be the setting of a date for a preliminary inquiry on previous sexual assault and choking charges. But the new charges
The CBC fired Ghomeshi as host of Q, an internationally syndicated CBC Radio music and arts program, in October. The network said it had seen graphic evidence that he had injured a woman in what Ghomeshi said were consensual sex acts involving bondage, discipline, sadism and masochism.
Ghomeshi, 47, who interviewed a long roster of A-list celebrities including Woody Allen, Barbra Streisand ,and Paul McCartney in seven years at the helm of Q, initially defended his sexual tastes as a "mild form of 'Fifty Shades of Grey,'" referring to the bestselling erotic novel.
Since his November arrest and the initial charges, which include four counts of sexual assault and one of choking, the CBC has begun an internal investigation into whether senior managers ignored Ghomeshi's behavior because he boosted the broadcaster's ratings, particularly among a younger audience.
The Q show, now being hosted by other people, is carried on Public Radio International and has had a wide following on National Public Radio in the United States.
Ghomeshi is due back in court on Feb. 4, when a preliminary hearing is expected to begin but he will likely not attend.
Ghomeshi's lawyer Marie Henein said outside court Thursday that he will plead not guilty.
He is not in custody and his bail was renewed today at $100,000. The conditions include living with his mother in Toronto's north end.
The CBC is struggling to contain the fallout from the allegations, which recall the Jimmy Savile sex abuse scandal at the British Broadcasting Corp. The BBC was accused of turning a blind eye to the sexual assaults because of Savile's celebrity.
The CBC placed two executives — radio executive Chris Boyce and human resources executive Todd Spencer — on leaves of absence on Monday.