An Ontario judge on Thursday found former Canadian radio host Jian Ghomeshi not guilty on four sexual assault charges and one count of choking in a high-profile case that stoked a public discussion on celebrity and consent.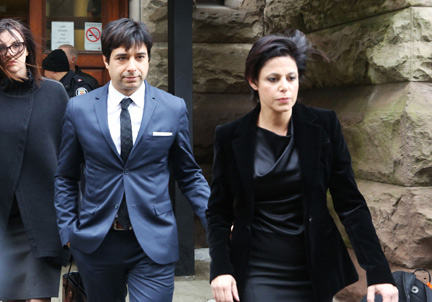 The former host of Q, an internationally syndicated Canadian Broadcasting Corporation music and arts program, had pleaded not guilty to all charges.
Ghomeshi, 48, did not testify in response to three women who told the court that he hit them, pulled their hair, or choked them during intimacy.
In a 2014 Facebook post after being fired by the CBC for "consistently" breaching behavior standards, Ghomeshi admitted that he participates in rough sex, including bondage and discipline, but only with the consent of his partner.
After spending about 90 minutes reading his judgment, Ontario Court Justice William Horkins said inconsistencies in the testimony of the three complainants meant the charges could not be proven beyond a reasonable doubt.
"The evidence of each complainant suffered not just from inconsistencies and questionable behavior, but was tainted by outright deception," Horkins said in his decision.
However, he did note near the end of the ruling: "My conclusion that the evidence in this case raises a reasonable doubt is not the same as deciding in any positive way that these events never happened. At the end of this trial, a reasonable doubt exists because it is impossible to determine, with any acceptable degree of certainty or comfort, what is true and what is false."
The two-week trial in February stirred up anger among feminists and victims' rights advocates, who said the three women were attacked on the witness stand. Protesters gathered at the downtown Toronto courtroom on Thursday, chanting that they believed the women.
Social media debate roared on hashtags #Ghomeshi and #ibelievesurvivors after the verdict was announced, while protesters gathered at the downtown Toronto courtroom chanting that they believed the women. One woman was arrested after she charged the front steps of the courthouse, topless, as the prosecutor spoke to media.
Prosecutor Michael Callaghan said his office would consider its options after studying the verdict.
Ghomeshi and his lawyer declined to comment and avoided the protesters by leaving through a back door at the court. His sister Jila Ghomeshi told reporters the family would try to heal after more than a year of "punishment" delivered before due process.
Ghomeshi is scheduled to stand trial on a separate sexual assault charge in June.