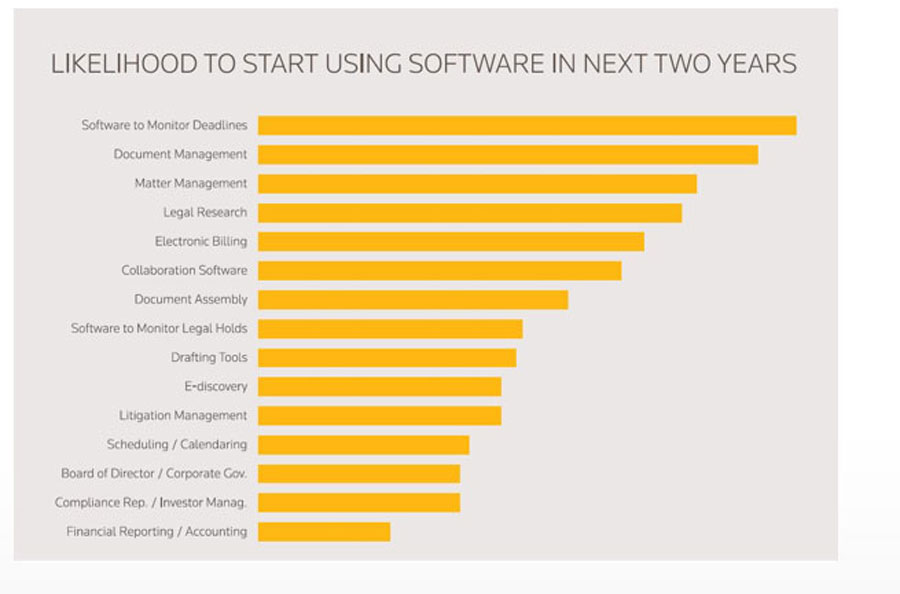 In order to tame the documents and processes swirling around them, in-house departments are embracing technology tools as a way to become more efficient and improve relations with other business units.

A recent Thomson Reuters survey found more than half of law departments' time is spent on four activities:
• contracts/transactional work;
• litigation;
• advising the business, including executive management and operational departments; and,
• regulatory and compliance matters.

The rest include managing outside counsel, patents/trademarks/corporate governance, business strategy, managing board of directors, and mergers and acquisitions.

The survey includes responses from about 600 in-house lawyers and was conducted to study law department trends and needs, as well as opportunities to increase efficiency and reduce costs.

Those who responded indicated they are most likely to start using software in the next two years for the following tasks:

• monitor deadlines;
• document management;
• matter management;
• legal research;
• electronic billing; and,
• collaboration.

Of those who answered the survey, 48 per cent said they are using collaboration software, 44 per cent are using e-billing software, and 28 per cent have legal hold software.

Automated software is certainly paying off in terms of collaboration and investor management at Manulife Investments, says Jennifer Mercanti, assistant vice president and chief counsel for the Canadian division.

"We are using it for our prospectuses and fund fact documents," she says, noting Manulife Investments uses RR Donnelley in Canada and Data Communiqué in the U.S. "The automation of these documents has significantly improved our workflow process and created efficiencies within the legal department and other departments in our organization."

Mercanti says the department has saved productivity time in connection with the review of materials and it now has an automated sign-off process whereby internal and external sub-advisers, auditors, and outside legal firms are able to provide electronic comments and sign off through the software.

"We currently produce multiple prospectus documents and over 1,300 fund fact documents; therefore the automation of these documents was necessary in order to keep up with current regulations," she says.

The need to get contracts under control is something Lorne O'Reilly, associate general counsel at Superior Plus Corp. in Calgary, can relate to. He is currently helping lead the Superior Propane business unit implementation of a contract management solution, which will start with the procurement, legal, and IT groups. It will ultimately include all documents and assist in the document retention and sales processes.

"We are only at the early stages in this game, identifying external providers as well as internal requirements for the software. It is expected that we will implement our software this fall," says O'Reilly.

The department uses practice management software to track litigation actions and legal spend. Amicus Attorney was implemented by O'Reilly's predecessor at Superior Propane.

"As a practice management tool I do find it to be geared toward the private practice market (and the litigation lawyers) and have found it difficult to mesh with the corporate legal requirements," he says. "Outlook and Excel seem to work effectively to track the same inputs so we are proceeding with the contract management solution efforts and hopefully legal matter management bolt-ons."

One of Superior's U.S. businesses, Superior Plus Energy Services, also utilizes ClearRisk, a risk management and incident-tracking program. Legal is able to utilize the information from the software for the purposes of identifying risk issues that need focus, and for insurance purposes, to track events, statistics, and claim progress (as they may result in a legal response).

"Further implementation of the software for the entire energy business in the near future will help to provide a larger picture of the organization's issues," he says.