With
Law Times
once again taking a look at the Justice on Target program this week, particularly in regards to several Toronto-area courthouses reviewed during an earlier evaluation, it's worth looking at how the project has fared in some other parts of the province as well.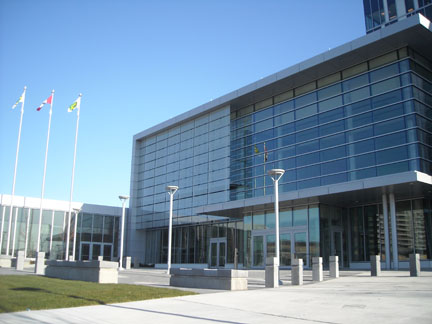 While the project has fallen short of its ambitious targets overall, in some towns and cities there have been striking improvements in criminal court efficiency. In Oshawa, Ont., for example, the average days to disposition is down to 169 from 231 in 2007. The average number of appearances, meanwhile, is now 8.5 from 10.9 five years ago. That's according to the latest statistics released by the Ministry of the Attorney General about the project launched with the aim of reducing both days to disposition and appearances by 30 per cent by 2012.
Attorney General John Gerretsen credits simple things for the improvements at courthouses like the one in Oshawa. "The signage is a lot better," he says, noting efforts to provide more information to criminal accused from the outset, particularly when it comes to disclosure, have been making a difference in terms of ensuring court appearances are more meaningful. As well, technological improvements have played a role.
Other courthouses that have seen significant success include Kingston, Ont., where the average days to disposition was 125 this year. That's down from 177 in 2007. Appearances have fallen as well to 6.9 from 9.7. The courthouse in Barrie, Ont., has also show positive results with days to disposition down to 171 from 240 and appearances down to 7.5 from 8.5.
Some cities, however, saw worsening numbers. In Ottawa, days to disposition increased slightly to 208 from 207 and appearances rose to 9.3 from 9.2. But that situation pales in comparison to Hamilton, Ont., where days to disposition skyrocketed to 237 from 157 five years ago and appearances rose to 9.3 from 8.5.
Of course, finding out what caused the numbers to change in either direction is never easy. But overall, the province believes the modest improvements in the efficiency of the criminal courts over the 2007 baseline are proof of the usefulness of Justice on Target.
It appears, however, that the province has learned its lesson about setting expectations too high. With the project's initial period having wrapped up, the government is continuing it with new benchmarks based on the severity of the case. The goal is to resolve less complex cases within 90 days and five appearances; more serious ones (until committal to trial) within 240 days and 10 appearances; and matters involving combined federal and provincial charges within 180 days and nine appearances.
But one thing the revamped project won't include is timelines. "Specific timelines are not part of this new phase," said Ministry of the Attorney General spokesman Brendan Crawley, who noted the need to account for each courthouse's specific circumstances. "Rather, local and regional leaders across the province continue to work to improve the effectiveness of their criminal courts using the benchmarks as a yardstick to measure the impact of their efforts."