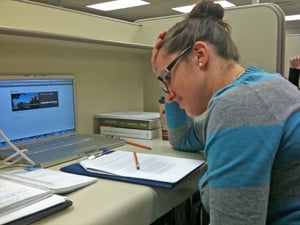 Everyone being in the same but ultimately unknown boat makes life much easier when trying to mingle with 300 new faces. I can confidently say that being in undergrad for four years became quite routinized; everyone knew everyone. Law school is a whole new kettle of fish, just as undergrad was in the beginning. And so begin the questions of self-belonging and existential placement.
Trying to navigate an unfamiliar school system is quite an intimidating task, especially when entering a professional school, as you have no sense of how to manage your time. The transition can be somewhat overbearing. However, there was more help than I anticipated, which made getting into the swing of things a bit more calming. Not knowing what to expect from your new classes, along with a new method of learning, are also daunting elements of law school so far.
Despite my restlessness, I have found that the University of Ottawa's Faculty of Law has done all it can to facilitate a smooth shift into our new niches.
Not having to choose our own classes for first year was a tremendous relief from the "newbie" law school distress. As very few of us are familiar with the underlying, foundational principles of the legal field, the mandatory courses provide piece of mind in knowing we will be as prepared as possible for elective courses upon diving into second year. It is hard enough getting used to a new city, new school, new people, and new studying techniques, so the thought of having missed a key area is relatively frightening. Thank goodness the primary step in entering law school is a comprehensive orientation session that relays information about this new adventure.
During our three-day orientation session, we were given a great mix of academic, social, and financial facts that will be critical to our survival of first year. The most unfamiliar aspect of our new environment was the emphasis on taking part in social ventures, yes you heard it, being social and having fun is a necessary component. I have never been to a school where the importance of unwinding is praised and encouraged. I have been told, but yet to discover for myself, that rest, relaxation, and a little bit of fun are essential ingredients in the recipe to law school success.
During lunch we mingled with our new classmates, professors, and upper-year students. The Common Law Student Society also arranged a formal event at the prestigious Château Laurier, a pub night, and a boat cruise. These events allowed us to loosen up in a more comfortable setting and kick the year off with a bang!
It may be hard to believe, but we have also been told that our previous study habits tend to change almost immediately as the material we are learning is brand new and the understanding processes are much different than what was the norm in undergrad. We start with a clean slate and are expected to be dry sponges who can forget our old selves and adapt to the essential elements of learning the law.
It is very easy to become overwhelmed and feel powerless, as control is usually non-existent during your first few weeks. Just because getting accepted was such a courageous and priding feat does not mean any of us are lawyers in the least. But it is easy to think of ourselves as lawyers as our professors speak to us with a sense of dignity and respect. However, keeping grounded and remembering to move one day at a time is just as commonsensical as knowing that we aren't yet legal professionals.
Do not try and do it all in one week because we will all retreat to the ostrich's natural defence of sticking its head in the sand before we even know we've dug a hole — believe me, I've already tried.
Monica Russell is a first-year student at the University of Ottawa Faculty of Law. She can be reached at
[email protected]
.