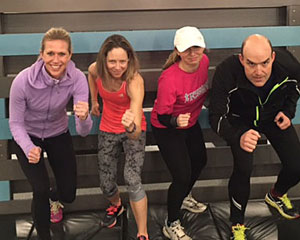 While everyone struggles to achieve work-life balance these days, it's not always easy to get through a day of work and stay active at the same time — especially in the dark days of winter.
If you've had one too many Netflix nights on the couch this winter, it may be time to dust off your running gear and get some fresh air.
This week, the Ontario Bar Association and Canadian Corporate Counsel Association are launching a health-and-well-being initiative to kick-start in-house members into embracing spring with an activity challenge.
Sponsored by Alterna Savings, Chubb Insurance, and Ryerson University — all with members on the CCCA board — the inaugural OBA CCCA Spring Training for the Sporting Life 10K is a special initiative for CCCA members only.
Even if you've never done a 10K or just want to try on the training regime being offered, all members are welcome.
Those who
register
will receive tailored coaching consisting of either an introduction to running or walking or a boost to existing skills — all with an experienced running coach. Any level of training or motivation will be accepted.
Training begins today (March 7) and will continue for eight weeks until the Sporting Life 10K on May 8.
Participants will receive a training plan for their own individual goal and level of ability.
There will also be weekly instructional videos on various topics such as tackling hills, nutrition, intervals, shoe selection, exercise in the cold, and more.
To keep everyone motivated, there will also be a team challenge for accountability and competition.
There is also the option of weekly group runs with the coach.
The coach on board for the challenge is Seanna Robinson, founder of RunningWell, a corporate wellness company. She will answer e-mail queries to participants throughout the program.
The initiative is being offered at a reduced cost depending on the number of participants. The program will also provide for team registration to the Sporting Life 10K to run or walk 10K.
CCCA Ontario chapter vice chairwoman Alena Thouin, general counsel with Alterna Savings, says the idea is to provide an opportunity for in-house counsel to "mix and mingle" out of the boardroom or corporate setting and get healthy — both mentally and physically — at the same time.
The other CCCA execs behind the 10K training program are Laila Brabander of Chubb and Ryerson's Julia Shin Doi.
"We're issuing this as a call to members, and if we get enough people we will create teams for the 10K such as by sector," says Thouin.