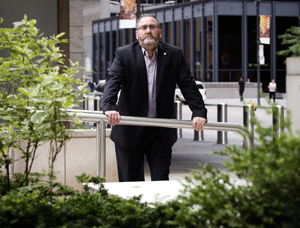 Lawyer Patrick Shea likes to joke he has an unusual part-time gig. The Gowling Lafleur Henderson LLP partner has been travelling across the country, on his own dime, in search of stories about lawyers and law students who died in the First World War.
In the last few months, he has visited Quebec, Manitoba, and Alberta to scour archives that might hold details on the fallen soldiers and if he's lucky, their photos. He also plans to travel to British Columbia and Saskatchewan soon.
"It's fundamentally important that we recognize the sacrifice of these people and their families," says Shea, a former officer in the Canadian Forces reserves.
"For some of them, there are no more families left. . . . So I think if falls upon us on the 100th anniversary of the First World War to sort of reflect back and remember."
Last year, Shea wrote the biographies of about 60 Ontario law students who died in the war to mark the 100th anniversary. His compilations told the stories of the students' lives, sometimes through the letters they wrote while abroad.
"I felt wretched leaving you looking so wretched and so we're pretty wretched all around," wrote one of those students, Capt. Gerald Blake, in a letter to his fiancée dated June 19, 1915.
"But someday if I hadn't gone we all would have been ashamed. I would have been a grouch for the rest of my days — and now perhaps I will be only half the time!" wrote Blake, the great grandchild of the founder of Blake Cassels & Graydon LLP.
Last year, the Law Society of Upper Canada honoured Blake and 57 other students at an honorary call to the bar ceremony.
While other law societies may not have the resources to hold a similar ceremony, Shea still plans to approach them to see what they can do. "I'm going to approach all of the law societies to do something to honour their students," he says.
Shea has so far compiled 500 biographies of lawyers and law students across the country who died in the war.
"I'm able to produce basic biographies — military records and other information like ancestry — from databases, but to get pictures of them and other detailed information, I'm actually going out to the archives," he says.
Shea's goal is to publish the biographies both online and in a book format by 2018, a year that will mark the 100th anniversary of the end of the war.