Roundtable of senior mining executives discuss challenges, including supply chains and inflation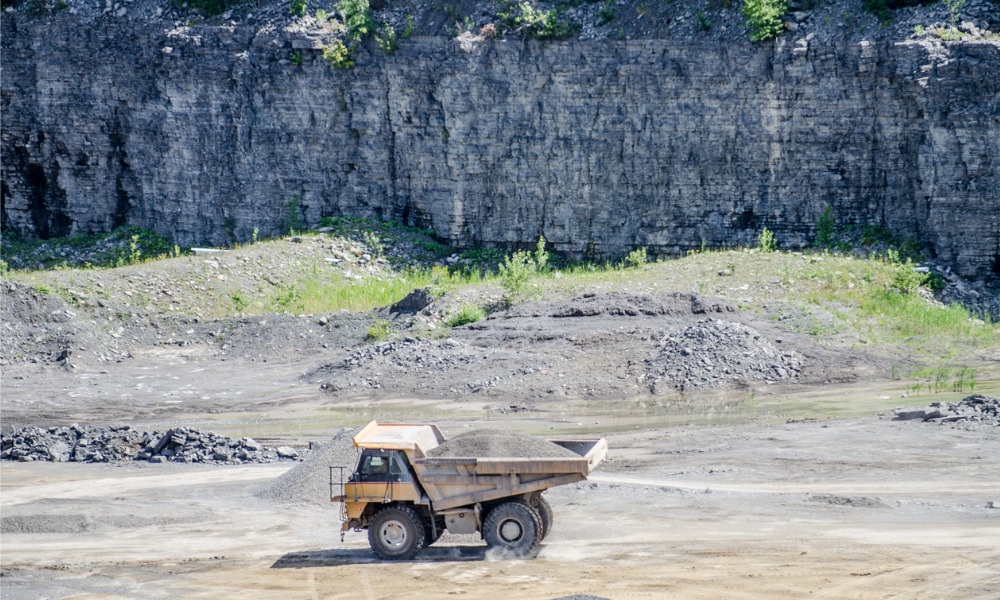 Commodity prices have generally been strong in the mining industry, with prices for battery metals having increased significantly, for example, and the infrastructure boom boosting the value of other metals as well.
But there is also an ongoing pandemic, which has created challenges for mining, participants in a roundtable of senior mining executives heard on Wednesday.
"We had a lot of casualties in the mining sector for badly developed and executed projects" related to poor due diligence, inflation, supply chain and other problems, said Aya Gold & Silver Inc. CEO Benoit La Salle during the roundtable presented by Fasken Martineau & Dumoulin LLP.
Panellists discussed the major challenges they faced in the past 18 months, including government shutdowns of operations that were deemed non-essential. Other issues concerned keeping employees healthy and doing testing, quarantining and work rotations, travel to and from work sites, and supply chain problems -- much if not all of which has added to the cost of doing business.
"In Suriname, we were able to maintain operations, but we have had more than 25 per cent of our workforce who have had COVID," said Daniella Dimitrov, CFO of Ontario-based IAMGOLD Corporation, which has three operating mines located in Canada, Burkina Faso and Suriname.
The impact of that on labour availability initially, and then subsequently on productivity "has been significant in that jurisdiction," where the IAMGOLD added about 340 beds in its camp in order to restrict mobility of the workforce back into community. In Burkina Faso, the company implemented longer rotations of 28 days in and 28 days out the camp, which "has an impact on morale and productivity" when workers are kept away from home for so long.
And for the Côté Gold Project in northern Ontario, many additional measures have been implemented, including testing everyone who comes into the site from Timmins and Sudbury, both on the buses going in and on the site. The company also installed a system attached to the wastewater of its dormitories at the Côté camps and periodically tests that wastewater; it has identified a few COVID-positive results that way.
At Hudbay Minerals Inc.'s copper mine in Constancia, Peru, antigen tests were introduced early on, and workers would be expected to self-quarantine for 11 days before going into the mine, said Cashel Meagher, COO of Hudbay Minerals, which has operations in Latin America, Canada and the United States.
"We've also had to accelerate the process by which Constancia management would have to work from home and not go to the mine, and rely on communication tools, cellphones, and video conferences to be able to accommodate it," Meagher said.
Travel to sites has also been restricted, especially internationally, as countries such as Morocco, where Aya Gold & Silver has operations, was badly hit by the pandemic and flights to Casablanca were severely curtailed. And, says La Salle, many workers preferred to stay at home, creating a labour shortage.
The remote effect also challenged communications; Quebec Precious Metals Corp. works with northern Quebec's Cree community on projects, and "half of communication is in body language," says CEO Normand Champigny, which is lost on even the best Zoom call. "That creates issues in my view" for both sides, he said; "It's hard to communicate what we really want."
This also highlights the need for increased digital technology investment in the sector, to get the best communications possible to replace face-to-face, Champigny says, and to move toward doing mining "as much as possible remotely," which will accelerate projects.
Logistics, supply chains and costs
A major theme of the pandemic's impact on operations has been its impact on logistics: both for supply and for accommodations, Meagher said.
There were difficulties obtaining personal protective equipment such as N95 respirator masks, and oxygen in Peru, he said. Accommodation needed to be increased at Hudbay's Manitoba and Peru sites in order to maintain social distancing, and the number of workers in the mines at a time had to be restricted.
"You're constantly changing mine plans; there's a lot of stress on the system."
And operations are, not surprisingly, moving at a slower pace. A laboratory that Quebec Precious Metals uses for analysis is "overloaded," including by its own difficulties managing its supply chain, said Champigny.
"That supply chain effect is ongoing and is increasing those bottlenecks," Dimitrov said, adding that the impact of inflation on freight alone over the previous two months had gone up by a factor of four times. In the summer of 2020, "having heard news about the vaccines progressing, I don't know that we would have seen the supply chain disruption as something that was going to be such a logjam … in the second half of 2021."
Mining companies can no longer rely on parts coming in from Asian countries such as China and India, said La Salle. There's the manufacturing risk – including blackouts last winter that affected production – and then the costs and distance of shipping from port to port. Parts made in Europe may cost a little more, but may be worth it to avoid delays and shorten the delivery routes, he says -- especially for companies that have large capital expenditure projects on the go.
Environmental, Social and Governance
The pandemic has also accelerated the focus on ESG in respect of climate change, income equality and diversity, Dimitrov said, and "highlighted pockets of inequality.
"We saw our own health systems in Canada be crippled by this; countries in Africa don't have the resources to deal with it. The expectations of communities [that miners operate in] are that you step in, provide oxygen and PPE."
And weather events, including floods, "are everywhere," including in Africa, and many countries don't have the "balance sheet" to deal with those, La Salle noted.
Responsibility "comes down to mining companies that are there, taking something out of the earth," he said. ESG issues are "becoming even more important, and communication with the government and with the local communities extremely, extremely important."