Joshua D'Cunha feels pretty pumped about landing a full-time job at Infrastructure Ontario as legal counsel. The University of Windsor Faculty of Law grad found his way to the legal department of 32 lawyers this past spring after completing Ryerson University's inaugural Law Practice Program — the first cohort to come through the Law Society of Upper Canada's three-year pilot project aimed at providing an alternative route to traditional articling.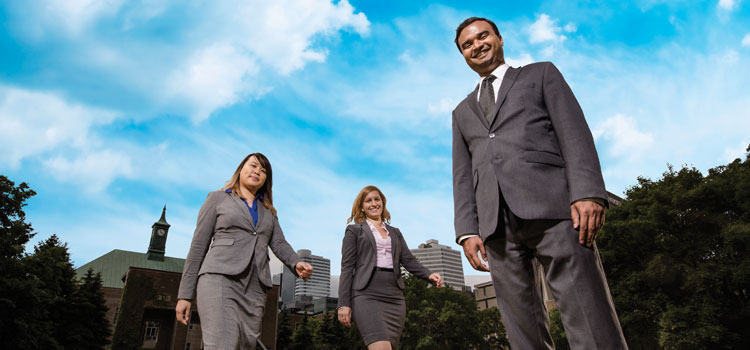 Joshua D'Cunha feels pretty pumped about landing a full-time job at Infrastructure Ontario as legal counsel. The University of Windsor Faculty of Law grad found his way to the legal department of 32 lawyers this past spring after completing Ryerson University's inaugural Law Practice Program — the first cohort to come through the Law Society of Upper Canada's three-year pilot project aimed at providing an alternative route to traditional articling. "I really love the work, it's fabulous," says an enthusiastic D'Cunha, who is now legal counsel, contract management at IO, an agency of the Ontario government.
The job meshes together two of his passions: law and public policy. Prior to law school, he was a research assistant at York University's School of Public Policy and Administration. When he was looking for an articling placement as law school was ending, he found an opportunity similar to a summer position he' d had at a small Mississauga, Ont., law firm doing insolvency, foreclosures, and bankruptcy matters — but he realized he wanted to do something different with a broader experience, so he looked at the eight-month LPP, which includes a four-month work placement.
Despite the criticism from traditionalists in the legal community who feel the program might be a "second-tier" option to traditional articling, D'Cunha says he doesn't care what the detractors say, it was right for him, and taking a chance on the program paid off. "It worked out well for me," says D'Cunha. "No one cared where I got my undergrad or how I came to Infrastructure Ontario or where I went to law school; they just wanted to make sure I could deliver. Can this guy actually do it?"
According to Infrastructure Ontario's executive vice president, general counsel, and corporate secretary, D'Cunha did indeed deliver. Marni Dicker hired him over the articling student the legal department had working for it at the same time D'Cunha was doing his placement. "I had a vacancy and I was going to go to the marketplace to recruit a second- or third-year lawyer. Then when I sat back and thought about it, I felt Josh was armed with the tools that made him excellent for this role," says Dicker. "The other articling student was not well suited for the vacancy I had. She will be an excellent lawyer somewhere else."
The difference in skill set, says Dicker, is that D'Cunha came out of the LPP armed with the ability to manage files, with some supervision, but to a greater degree than an articling student right out of law school. "Josh was able to come in here in January and do exactly what I hoped he would be able to do and that was carry files," says Dicker. "At our place, I don't need research memos galore, I don't have frequent appearances before masters or judges, and so if I'm going to hire a student or a junior lawyer it's because they're going to be able to do the work that I need done. Josh very quickly proved to us it was a skill set he had."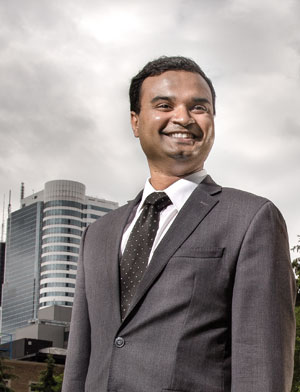 By comparison, Dicker says an articling student in his or her first month would still need to be taught how to interview a client and how to write a proper legal opinion. "Those are not skills taught in law school, but they are acquired during articling," she says. "At Ryerson those are skills that were acquired in the first four months."
During the LPP's first half, Dicker says candidates "learn how to actually be a lawyer." She says it prepares candidates to hang up a shingle when they get called to the bar, whereas an articling program may not prepare students to do that if they aren't hired back. "With articling they may be doing tons of cool things on interesting files but just components of the file and then articling ends and if you're not asked back you think 'oh no, now what?'"
Dicker served on the advisory steering committee setting up the LPP and was a senior partner in the mock firms the candidates are part of during the September to December period of the program.
During that training component, candidates received assignments from their "senior partners" through a virtual blackboard and covered administrative law, business law, civil litigation, criminal/family, and real estate. Sometimes, they would get video messages from the partners to help guide them.
The LSUC says it will be assessing the LPP over the three-year pilot with a report evaluating years one and two to be provided to the LSUC's professional development and competence committee in September 2016.
"The first year of the program has now been completed and the first of the LPP candidates who fulfilled all of the requirements were called to the bar in June. The LPP is now moving into its second year of the three-year pilot, and we'll know the final number of candidates registered with Ryerson and the University of Ottawa at the end of August/early September," said Diana Miles, executive director, organizational strategy and professional competence with the LSUC in June. "We've received some very positive feedback from candidates about the LPP and will continue to evaluate and gather feedback as the program continues."
The 2014-15 Ryerson LPP started with 260 candidates and 221 successfully completed it; all had work placements. At press time, Ryerson was still working to track how many were hired back. They expect the hire-back rate will be similar to that of traditional articling, which is about 50 per cent.
In the French LPP, based at the University of Ottawa, 19 students started and 17 completed the requirements. Anne Levesque, director of the French LPP says the program drew many social justice placements including legal aid and some in-house positions with unions.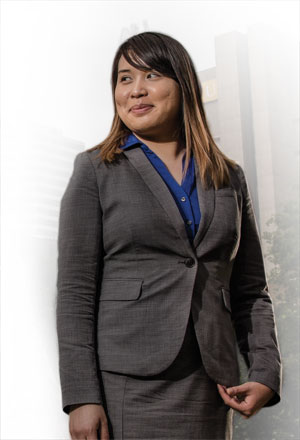 The LPP offered the broad experience Anne Nguyen of Brampton, Ont., says she was looking for. Nguyen graduated from the University of Manitoba law school and started the LPP last August. She said the biggest draw for her was the means it provided to be called to the bar. "I wasn't having much luck with the articling stream," she says. "While there were jobs in Manitoba, I was focusing my job search on Ontario. I was getting calls in Winnipeg but none in Ontario. Toward my last semester of law school, I heard about the LPP program and what interested me was that it was a simulated work environment with a greater range of experience, as opposed to going to a small firm and getting a more narrow range of experience," she says.
Nguyen was interested in corporate-commercial and employment law. After the first four months, she landed a work placement in-house with Nissan Canada's legal team from January to the end of April. It was her first choice — described in the job posting at the LPP as an automotive company.
Nguyen worked with an arbitration specialist during her time at Nissan and helped prepare cases. In one situation, she had the opportunity to go to Small Claims Court and presented the case to the judge because her colleague was giving evidence. "It was nerve wracking, but we were successful in the end and it was a really good experience," she says.
She admits she went into the LPP with some concerns based on all the criticism about it. "There was the idea that these candidates would be 'second tier' and a lot were skeptical that it wouldn't give candidates the right training or that it would be another school-like experience, but even on the first day it put my mind at ease," she says. "It all felt like work and something I would expect from an articling experience. I think it was an even wider experience than if I had gotten an articling position."
Nguyen was not hired back at Nissan, but she says the opportunity gave her the chance to broaden her network and she feels positive about building on her network to find a job in the Greater Toronto Area. She admits she wishes the work placement was longer, perhaps six months, to match the LPP up with the traditional 10-month articling term. "In the beginning I was getting involved in the business, but the legal work came more at the end and I would have liked to stay longer to get more of that experience," she says. "I really enjoyed my time in-house, but I realized I need some law firm experience working with corporate clients."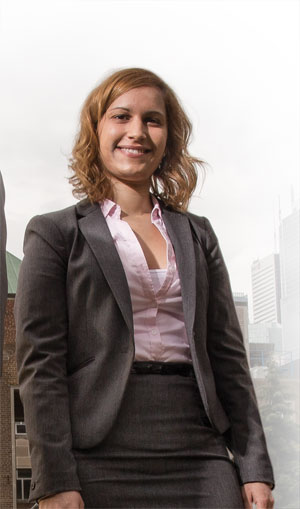 Amanda Amiri went to law school at the University of Montreal and did an undergrad in finance at Concordia University. "My plan was to stay in Quebec, but when I did common law in my final year, I realized I liked it better than civil law and I decided I wanted to go to Ontario and work in Toronto," she says. "But I had never done on-campus interviews and Ontario firms weren't really recruiting at my law school. I had some second-round interviews, but nothing was really panning out."
Nearing the end of her law degree, she found all the opportunities were for the following year. "I wanted to start right away and that's when I heard about LPP," she says. "It was backed by the law society so to me that was as legitimate as it could be, so while I had some concerns I thought I would give it a shot."
She landed an in-house placement with RBC doing corporate commercial work including litigation and privacy law as well as e-commerce and wills and estates. "The highlight for me was the connections I made and the principals who acted as mentors to me. I really came out with two solid mentors," she says. "The form of training was intense but really helpful. I think some articling positions don't get the broad exposure or training on running their own firm."
Amiri reported in to Jeffrey Francis, senior counsel at RBC. He says he too wondred about the LPP program when it was launched and whether it would give students what they needed to know.
"When I was articling I estimate it took me at least six months to get up to where Amanda was when she joined us. She knew what an NDA was, an indemnity, and a lot of other things you aren't taught in law school," says Francis.
Like Nguyen, Amiri questions the length of the placement, wondering if it would be more competitive if it was longer. Jobs she has looked at since are asking for one or two years of experience. The four-month unpaid training period can also be tough financially, she says. Although the fact it was online for the first half means she was able to stay at her parents' home in Montreal.
While her placement was paid, Amiri questions whether it was paid at the same rate as an articling student. While she wasn't hired back in the legal department, she did land a job in wealth management at RBC as a consultant. "It's a good starting point for me," she says. "I knew if I wanted to stay within RBC I would have to check the job postings in legal."
Dicker feels strongly, as a senior member of the bar who articled at a large firm, that the program is a good solution to help law students looking for an alternative to get the credentials they need to practise law. "I do caution this is for people who are diligent," says Dicker. "In this program you are not a student — you are working and you have to treat the August to December time period as work. If you don't you aren't going to get through all of your assignments."
The assignments include hearings or applications, closing a real estate deal, or doing an agreement of purchase and sale with tight deadlines. They may even get an emergency client walk in at 4:45 p.m. on a Friday and need to bring an emergency injunction on a Monday.
Chris Bentley, executive director of Ryerson's LPP, and director Gina Alexandris say they are evaluating all aspects of the program over the summer, such as doing more work on client development and the access to justice innovation challenge. "There is a lot of learning that comes by experience and what the law society has emphasized in this approach is that the keys to success are to be found in the core skills — analytical research, written and oral communication, ethics and practice management. If you get those right, you can practise those at the largest of the large firms or at a sole practice," he says. "At Ryerson, we also say you have to be innovative and entrepreneurial to be successful in the future."
In terms of the work placement, Bentley says the law society chose a four-month term recognizing the candidates would have also had four months of intensive training to prepare them for life beyond the job placement. He says more than half the people who start at large law firms aren't there three years later. "It was also chosen so it would be an accessible amount of time for corporations, practitioners who wouldn't normally be able to take an articling student but would take a four-month placement after they have been pre-trained," he says.
While some suggested the LPP seemed to attract primarily minority or foreign trained law students to the program, Bentley argues that doesn't mean those students could not find placements elsewhere.
He says much of the "fiction" in commentary about the LPP program is unfair to the candidates. "For a profession [that] insists on evidence before judgment is rendered, I think it's helpful to look at the evidence," says Bentley. "The LPP cohort reflects the province of Ontario. Almost half were from Ontario and Canadian law schools and in this next year more than half will be from Ontario and Canadian law schools. The position we took from the beginning is the evidence will triumph over the fiction."
Levesque says the feedback they've received is that the French LPP is "very intensive and rigorous." "In the francophone community I think there is the attitude that for every extra lawyer who can provide quality legal services in French is a gain for the whole community. It's good for the whole community and survival of the language and to promote access to justice in French," she says.
Mariane Gravelle went through the French LPP and completed her work placement at the Stormont, Dundas, and Glengarry Legal Clinic in Cornwall, Ont. Like D'Cunha, she turned down an articling position she had been offered — with a family law sole practitioner — to pursue the LPP instead. "I think it's a misconception people have that candidates in the LPP are second class and couldn't get anything else," says Gravelle. "I turned down an articling position because I felt this [LPP] would just be a lot better for me. I would have the chance to look at several different types of law and meet more people. The networking opportunities were really great."
Her placement gave her access to clients right away and to handling hearings. The Ottawa U law grad says she developed interests in areas of law she didn't think she would such as immigration and wills and estates. This summer, she worked as a project officer for the LPP program, getting it ready for the next group of candidates.
The program also proved to be the right experience for Anna-Carolle Bougie, who graduated in 2001 from law school as a mature student. As the owner of a small company when she graduated, she wasn't sure if she wanted to practise law. Last year, after talking to one of her professors she decided to explore the LPP route. "I realized it was probably going to be the best option for me. The program offered me the opportunity to get back into the process of law but it also has the advantage of the practical side," she says. "I also really lucked out in getting a placement with the Ministry of the Attorney General of Ontario doing work for the Ministry of the Environment."
Choosing the LPP route, especially in its first year, came with challenges. Even at her placement she felt it was not viewed the same as traditional articling. At one point, she did a presentation for her department on the LPP program. She says it helped clear up some misconceptions. "There was a negative perception about what the LPP was, but when I spoke to them and as they saw the work I did, I got a lot better feedback about the LPP program," she says. "They said in some cases I was better prepared because the practical experience we had in the fictional firm allowed me to know what documents they were talking about. I'm also bilingual and I was able to work in either language."
To get her placement, Bougie applied to seven different job postings. "The only negative thing I thought was once you got an offer, even if you interviewed for others, you had to pull back from the positions you applied for," she says. "That's how I ended up in Toronto. As difficult as it was to move to Toronto, the experience there was excellent."
She worked on policy issues, did research for hearings related to wind turbine farms in Ontario, prepared disclosure documents, and worked on the prosecutors' side to impose fines or jail sentences to violators of the Environmental Protection Act. She also appeared in court to do plea agreements and sentencing. "The first few times you appear in court it doesn't matter what the job is, it's a little daunting," says Bougie. "But once you get the hang of the pleading and the sentencing, it was easier to do.
"I spoke to some of my colleagues who graduated with me who went to big law firms or other government jobs and, compared to their articling positions, while some of them got really great opportunities, some said their job was just following a lawyer around doing photocopying, research and they never had the experience I did."
While many of the placements were in-house and with government agencies, there were some at law firms. Some did not want to comment about their experience, but Simon Mortimer, of Toronto labour and employment firm Hicks Morley Hamilton Stewart Storie LLP, says the firm is "committed to traditional articling and are believers in the traditional program; however, we recognized the need for others to have a passage to their call. We saw no reason not to look at supporting the LPP," says Mortimer who was a mentor and professional partner of one of the LPP firms in the program. "We did see it as distinct from our articling program."
The firm took one LPP candidate for the four-month term and will be taking one again next year. Hicks Morley usually takes on about 10 articling students. "The LPP student we were fortunate to have arrived with a very good technical knowledge through the LPP training, much of which was not applicable directly to our practice, but he was ready to step in and much like any other new student arriving in need of the real life experience," he says. "I think around eight weeks in, he was up and running as any other student."
Mortimer says the LPP candidate was a welcome addition to the articling group but wasn't hired back — something he knew going into the experience. "We believed it was more of an internship than articling to a path of associateship. We spoke openly about that from the beginning," he says.
Mortimer says four months is a short period of time to learn the actual practice of law. "In our mind it's enough time for the LPP candidate to have a good experience and learn a fair amount about the operation of a law firm, yet the length of articles provides a far greater opportunity for students to really experience a specific practice area," he says, "recognizing we are a niche firm. Our view is if this is the profession supporting people in getting their training to be called to the bar, then it's effective," he says. "We believe it can be effective for the candidate. We don't believe it's as effective for training future associates at a firm."
Bentley says it's important to realize it's not only the profession of law that is having a hard time placing graduates of professional programs. "You look at any cohorts from professional schools or general programs it's tough to get connected to the workplace — look at teachers' colleges in Ontario and throughout Canada," he says. "The law is struggling with what many are struggling with and what we provide is a two-fold opportunity — to complete the experience required to be called, but more than that the opportunity to benefit from 21st-century training for the legal practice it is and the legal practice it will become in the years to come."