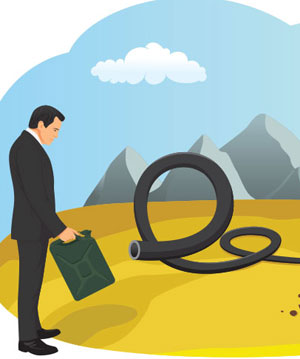 Ask those in the oil patch how things are these days and they will probably take a deep breath and pause before launching into a careful answer that goes something like this: Things are "OK" but it's a different time indeed. All those projects that were in play a year ago may now be on hold or being restructured. For their colleagues in Canada's North, their work towards developing and renewing infrastructure continues to be a challenge but one they love.

Overall, the picture for Canada's western and northern region is still one of breaking new ground and the work for legal departments only becomes more challenging as they are asked to help business happen. "There is a different climate in town than there was six months ago," says Grant Borbridge, vice president, legal, general counsel, and corporate secretary at MEG Energy in Calgary. "It changes the tone of everything from social activities to discussions in meetings, but I think people who have been around a while understand it's a cyclical industry. Once you've lived through two or three cycles, it becomes something you learn how to manage."

In many respects, Borbridge says it is business as usual for many companies, like MEG Energy. "We still have over 80,000 barrels a day going to market and all the employees that go with that," he says. It may be business as usual for some but the current economic circumstances are creating a somewhat different focus for some legal departments when it comes to what work they are doing. "Companies have cut back on capital spending on a lot of projects," says Borbridge "It's not that they won't be completed but it may mean delays, postponement, or cancellation."

That means lawyers in-house find themselves working with the various service providers and vendors to postpone or terminate those arrangements. "That's something that hasn't been a focus of activity for some time," says Borbridge.

With business somewhat slower, legal departments are doing proactive work in other areas. "We're taking the opportunity to educate internal clients such as the procurement group and those involved in negotiations about how to have tough conversations," he says.

The legal department at MEG Energy decided to let one lawyer's contract expire and Borbridge says he won't staff up again until there is "a little more stability in the industry."

At Capital Power in Edmonton, the slowdown in the oil patch has had an impact on operations with the power producer. "All business in Alberta is to some extent reliant on the energy industry. If you're not employed in it directly, you are providing services to it," says Kate Chisholm, senior vice president legal and external relations at Capital Power. "You want to be introducing new supply into this market when demand dictates, and so everyone is watching oil prices very carefully."

Capital Power is developing a number of projects including, in partnership with Enmax Corp., Genesee 4 and 5 which will have a generation capacity just over 1,050 megawatts. It was announced in January that all major regulatory approvals had been received to proceed with construction of the facility, located west of Edmonton.

Previously, Capital Power had expected demand to increase at a certain rate given the rate of growth in Fort McMurray and with upgrader projects. "We had previously said that project could hit commercial operation as soon as 2018 but given what's going on here and the fact many of those projects are being delayed somewhat because their commercial operation dates are also dictated by demand in oil or natural gas or natural gas liquids, we're keeping an eye on the market to see how soon we need to bring that on. We also have wind sites and some biomass sites."

The economic changes in Alberta aren't translating into cuts in Capital Power's legal department of 25 lawyers, it just means a juggling where lawyers are working and what projects they are focused on. "In my department we are developing generation sites all over North America, so what that means for us is the lawyers who would otherwise be going full bore ahead on some Alberta projects are redeployed to the U.S. southwest or the mid-west of the U.S.," says Chisholm. Due to a glut of power supply on the market prices have been in the basement for a long time.
Chisholm reduced the size of the legal department in 2013 but hasn't had to do anything further since then.

As well, the regulatory department is separate from legal at Capital Power but also reports to Chisholm. They are working on a number of issues in Alberta including some regulatory litigation as well as changes to market rules always in other markets such as Texas. "We have increasing compliance requirements as well," says Chisholm. "At the moment, the Canadian securities regulators are looking at fashioning a Canadian version of Dodd Frank that would govern commodity trading. All of the energy companies are looking at that now, having just spent millions to comply with Dodd Frank. All of us have our fingers crossed hoping there aren't completely different requirements. We hope we can use our Dodd Frank technology to comply in Canada as well."

The new New Democratic Party government in Alberta also has some wondering what the impact will be on the economy and for future projects. "We're all hoping to work very constructively with the NDP but it will be hard to know where we can help them because they are still getting their feet on the ground," says Chisholm. "We have to assume the policy currently in place is going to continue until they tell us otherwise. I think it's just business as usual until we determine there's a need for something to change."

Borbridge thinks there will be consolidation in the oil and gas industry with some dispositions of assets to raise capital, and spin offs of various segments of businesses to try and separate underperforming portions of business from the well performing portions.

In British Colimbia. business is still steady at the Vancouver Fraser Port Authority, says Dean Readman, director of legal services and corporate secretary at the port.

"Right now, for commodities some are up, some are dow, but the port generally is seeing a year over year increase of commodities going through. Containers are up," he says.

In fact when the economy is softer that's when many projects move ahead when labour is more available and less expensive.

"Some of our tenants are completing the second phase of projects they started a few years ago. Port projects look at 30 year return periods. They may have started a project three years ago and now there's a shock to oil prices, but that doesn't materially affect lumber prices because it's getting shipped down to the U.S where housing starts are picking up so they are taking a lot of Canadian softwood lumber," he says.

Moving north from B.C., geography plays one of the biggest factors in the work Margaret Hollis does as in-house counsel — and the only one — for Qulliq Energy Corp. in Nunavut, an electrical company that serves 25 communities, many with under 2,000 people, not accessible by road. There are no power lines. Every community has to have its own standalone power plant — all of them built in the 1960s and 1970s.

Nunavut was created in the late 1990s, around the time the power plants were nearing their end of life and it can be difficult to get parts. "The challenge for the company is to keep people from freezing in the dark," says Hollis. "Part of what I like about my job is how often do lawyers get to deal with critical life and death issues?"

A big part of her job is compliance. In emergencies, she says sometimes it's necessary to bend the rules. "That's the struggle here," says Hollis who has been working in Nunavut off and on and has owned a house there for 12 years. She now calls it home. As the only lawyer in-house at the utility she is often stretched a little thin. Most of her work involves governance and government contracting or procurement. "Fortunately, my president and the board understand I can't do everything and I do absolutely engage outside counsel," she says.

The challenge in the North as well is that high turnover for many jobs means there are often gaps when a job hasn't been filled for a while. That was the case when Hollis arrived in her job a year ago — there had not been an in-house lawyer at Qulliq for several months.

Earlier this spring a fire broke out in a power plant in Pangnirtung, a community on Baffin Island. "A fire in a power plant is kind of like a fire at sea," says Hollis. "The power plant was consumed and it was still pretty cold at -30. The personal injury and property damage were real possibilities. All our communications depend on satellites and that depends on electricity."

It meant generators had to be flown in using a Sikorsky Sky Crane helicopter which was brought in on an Antonov cargo airplane. "The energy corporation is not relieved from its legal obligations ens. The procurement was complicated but the governance was every bit as complicated," she says.

Hollis used to work with John MacLean at the Government of Nunavut. MacLean, who is legal counsel with the legal and constitutional law division with the Nunavut Department of Justice, has been in his job for five years. His department serves all nine departments of the government of Nunavut and is their principle source of legal advice. When fully staffed there are nine lawyers plus a director. "For a most part we are generalists," says MacLean who can at any one time be working on a bidding and tendering question for procurement, in addition to privacy questions, human resources, Charter issues, to contract review and drafting and litigation and representation of the government in court and more.

Environmental assessment hearings for mining development across the territory are also happening. "We are a full service legal department, we are quite small and in fact a lot of us are in our first 10 years of practice," says MacLean.