The first self-identified transgender judge has been appointed in Manitoba.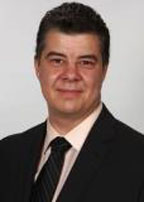 Kael McKenzie is Manitoba's newest provincial court judge, officially appointed on Thursday. According to his former professors at the University of Manitoba where he studied law — the first transgender judge in Manitoba and possibly Canada — is unequivocally an excellent choice.
"I'm just one example of many of my colleagues and people who are attaining certain levels of notoriety that can show people we are just people," McKenzie told the CBC. "We are just doing what everyone else does and we can achieve whatever we want to do with hard work and dedication."
Reacting to the call, McKenzie told CBC: "I had to ask them to clarify: 'What do you mean I've been appointed?' It was surreal for me."
"Of course he is thrilled," says Lorna A. Turnbull, the dean and McKenzie's former professor and research partner at University of Manitoba's Robson Hall Faculty of Law. "He is really modest which is true and so he was surprised, the rest of us weren't surprised. It is a perfect appointment."
While McKenzie, a former Crown, took much of the spotlight, the province also appointed Margaret Wiebe as chief judge of the Provincial Court last week.
"Judge Wiebe's experience in handling complex matters as a lawyer and most recently as a judge, have demonstrated her expertise and commitment to the principles of justice that we all share," said attorney general Gord Mackintosh in the press release.
Manitoba is a leader when it comes to provincial court appointments "in the last 15 years, in terms of appointing a very diverse bench," says Debra Parkes, associate dean at Robson Hall.
In 2003, Tim Preston was appointed to the provincial court of Manitoba, "and he is an 'out' gay man, and at that time there wasn't very many gays or lesbians who are 'out on the bench,'" she notes.
For Turnbull, the news of McKenzie's appointment came during a bencher meeting at the Law Society of Manitoba where she sits as faculty bencher. She says applause broke out and reaction over the course of the day was, "unequivocally, across the board, everybody thinks this is a fantastic appointment."
And is McKenzie the first self-identified transgender judge in the province?
"I think it is true. There may well be other transgendered judges that we don't know, because sometimes people make a transition without [publicly speaking out] . . . and earlier in their career so it isn't something that is known," she notes.
"I am not aware of anybody who has been appointed . . . who is a transgender person," says Parkes.
The Canadian Bar Association says it cannot verify whether McKenzie is the first transgender judge, because it does not keep records of judicial appointments. It does address needs and concerns of lesbian, gay, bisexual, transgendered and "two-spirited people" within the CBA according to its website, but that is done strictly on a volunteer basis.
McKenzie's transition was a very public affair, because he transitioned following law school and during the beginning of his legal career says Turnbull.
After receiving his law degree from the University of Manitoba in 2006, McKenzie practised family, commercial and civil law with Chapman Goddard Kagan in Manitoba. He has been a Crown attorney in the province for five years. Previously, McKenzie served in the Canadian Forces and managed on-campus security services at a local university.
The way the Manitoba community accepted the gender change was particularly remarkable says Turnbull.
"It was simply a non-issue in this community when he made that transition," his colleagues, the profession, politicians and the judges accepted it seamlessly. "We know you, you are one of us," was the gist, she says.
Turnbull says he has a good range of experience and is someone "who understands the average person."
The real story — she says — is about what a great judge he will make.
Parkes agrees. "The point is that Kael is very well qualified, [an] incredibly competent lawyer, bright, all of that, so you don't want that to overshadow, or have people somehow think that . . . it wasn't an appointment based on merit, of course it was."
"I think the bench should be representative of Manitobans, and I think my legal qualifications are probably the biggest part of what has gotten me here today," McKenzie told the Winnipeg Free Press.
During his third year in law school — as president of the law student association — McKenzie was really able to position the students and faculty as "co-creators of the learning environment," there had been a spell prior to that where the student government was really all about parties says Turnbull.
He worked with student groups making sure that the bursary and financial support system really was accessible. McKenzie was always "really thinking deeply about what a law school should be from a student point of view, but with that longer term perspective" she says.