This area of law is made for people with a deep passion for helping others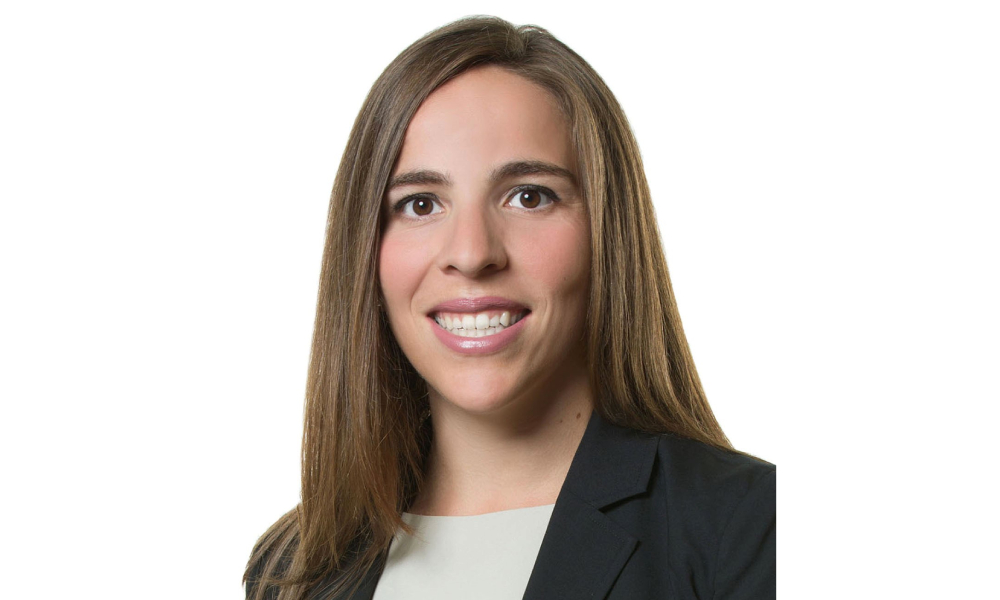 Sponsored article
Canadian Lawyer sat down with Lindsay Charles to talk about her career so far, and the lessons she's learned along the way.
Q: What motivated you to become a personal injury lawyer? Was it always the plan when you got into law?
A: I've always loved to help people, and I knew going into law school I wanted to litigate as opposed to being a corporate lawyer or a solicitor but I didn't know exactly what type of law would lend its hand best to that. During my interview process, I looked at several different types of firms and I read some of the testimonials on the McLeish Orlando website and that really intrigued me. Ultimately it was the people at the firm — I could tell they were deeply passionate about helping people and genuinely cared and I knew I wanted to be a part of that. That's how I'm here!
Q: Tell me about the focus of your practice. Do any cases stick out to you? Lessons learned, big wins?
A: We work with critically injured individuals. That could be from a motor vehicle accident, from a fire where there could be fault placed upon another person, boating accident — any person who is critically injured due to the negligence of someone else.
Lessons learned might be different from what you'd expect me to say. Virtually all my clients teach me things that really can't be taught in books or at school. Their resilience is really inspiring and it's great to be able to work for them. I've definitely argued a few bigger motions and hearings from an academic standpoint, but I would say the biggest victories generally come in the form of a hug from a relieved and happy client when their case ends.
I always recount this case because it sticks out to me — this was 2012 and my first summer working at the firm. I was going to a discovery with one of the partners at the office, and the case involved a 16-year-old boy who was a quadriplegic. I was trying to be polite and ask questions and be a good law student essentially, and I asked him what he was excited for in the summer and he promptly responded that the most exciting thing was being able to watch the Blue Jays because they were finally back on TV. Then I listened to his mom at the discovery talk about how he lived in a hospital bed in the family's living room and she had to change him nightly, and I think that's when I realized the gravity of the situations the people we were working with are in and I also realized how privileged I was just to be able to walk into the building to meet this family. This was one of those things that made me realize how much I wanted to work in personal injury and do the best work possible for people like him in securing their future.
Q: Why did you decide to come onboard at McLeish Orlando?
A: Besides the area of law, I could tell the lawyers and staff at the firm really cared about their clients. They're hard workers, the firm is well respected in the legal community, but ultimately it's a tight-knit group. A lot of us have similar interest and I could tell it would be a great climate to work in.
Q: What does it mean to you to be named partner at the firm?
A: That's a tough one. It's a huge honour — that's the only way I can really describe it. It's a huge honour.
Q: What advice do you have for other young lawyers who might be considering personal injury law?
A: This area of law is made for people with a deep passion for helping others. There's a lot of emotion that is tied to what we do, which I personally love but that's not for everyone. The lives of the people we work with will seep into your own personal home life which is a benefit most of the time but it can definitely be hard at times too. I do love that we get to use our hearts and our brains when we litigate difficult cases. You have the one side of things that's very compassionate and you're speaking with someone and deducing complex law to a lay person who's going through the hardest thing they've ever been through, and then flip it over you could be in court or at trial and you have to use your academic, tactical sense too so you get both pieces. Now that I've been in this area for a while and I've seen what my colleagues and friends have done, I now know how rare it is to find a job you really do love. If it's right for you, it can be a wonderful career and it's something I feel very fortunate for.
Q: What are your plans for the future?
A: To continue to grow my practice. I'd like to continue to expand the firm's outreach to vulnerable communities through education and injury prevention initiatives. Another important part of my practice has been dedicating time to educating the PI bar, I plan to dedicate as much time as possible. I want to continue to foster the McLeish Orlando work environment that I was lucky enough to be welcomed into.